CartonCloud BI allows you to view advanced reports on volumes, drivers, pickers, packers, efficiency, revenue and automation levels. You can use it to see where you can save time and money on data entry, which pickers are the most efficient, which drivers deliver the most revenue, how your volumes and revenues are changing over time, how important particular clients are and much, much more.
The insights that BI can provide are extremely valuable in a time of change, and with the changes and challenges logistics companies are facing right now due to the impact of COVID-19, we've fast-tracked a public beta release of the tool to this Friday, March 27th so clients can begin using it to make decisions.
CartonCloud BI has been developed as an add-on to CartonCloud, available for an additional charge.
However, we're offering it for free, to all clients, until June 30, 2020.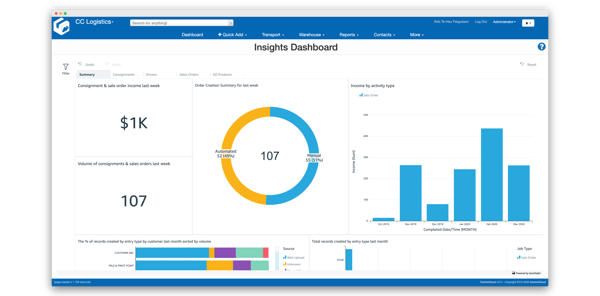 How to access
To access CartonCloud BI, you'll need to attend one of our three 30 minute live webinars where we will be walking you through the tool and showing how to use it most effectively. By registering and attending our webinar you'll then be given access to CartonCloud BI.
We have spread the times of webinars to make it easier for clients in various timezones, please note that you will need to register prior to the webinar starting.
Date

Time

Registration Link

Friday, March 27

11:00am – 11:30am ADST
10:00am - 10:30am AEST
1:00pm - 1:30pm NZDT
Webinar 1 Registration
Tuesday, March 31

⋅

3

:00pm – 3:30pm ADST
2:00pm - 2:30pm AEST
5:00pm - 5:30pm NZDT
Webinar 2 Registration

Thursday, April 2

5:00pm – 5:30pm ADST
4:00pm - 4:30pm AEST
7:00pm - 7:30pm NZDT
Webinar 3 Registration
Things to note
We will be providing CartonCloud BI access to two users per organisation for free.
The tool be being provided for free until June 30, we will be in contact with you prior to this date and will require you to opt-in before any charges are incurred. Indicative pricing information is available here.
More Information
More information on CartonCloud BI is available on our website