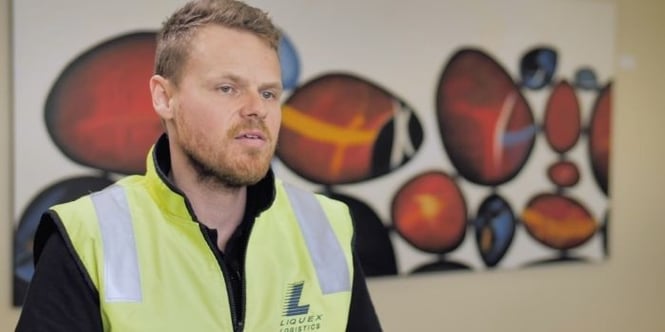 Ryan Thomson - General Manager, Liquex Logistics.
Liquex Logistics has been using CartonCloud to drive improvements across its business for more than two years now and believes that the CartonCloud BI insights dashboard introduced this year has taken its decision-making to the next level.
CartonCloud BI insights dashboard enables users to analyse data to make better decisions –whether it's preparing for rate changes, reviewing which warehouse pickers are the most efficient, or identifying which customers require the most data entry. All of this is available to the user at the click of a button.
Victoria-based Liquex provides warehousing and logistics solutions to around 120 clients across the beverage industry, with 15 vehicles of its own, and between 35 to 60 staff depending upon seasonality.
Liquex general manager Ryan Thomson said that the practical information provided by the Business Intelligence Dashboard gives an accurate snapshot of key metrics for the business to make informed decisions.
"It's very good for both internal and external analysis and reporting and spotting trends," Thomson said. "We're able to have conversations with customers, staff, and suppliers based on data which we're able to access quickly. We can look at performance for individual staff members and also can anticipate conversations or re-ratings with customers.
"We have been using the dashboard this year – it is a natural extension of the CartonCloud platform, and I fully recommend everyone uses it to get the most out of CartonCloud."
Thomson said that Liquex had benefited from the extra time during lockdown in 2020 and incorporated the dashboard to enhance the practical information they have available.
"We can easily drill down into how a driver or warehouse staff member is performing, or how a client is going. We may have previously had a hunch, but now we can turn that into actual concrete facts. This gives us the certainty in decision-making and supports us in what we think is happening."
Liquex has been using CartonCloud for two-and-a-half years and Thomson says the improvements that have been made across the business, wouldn't have been possible without it. "We are basically paperless, having eliminated 97 percent of all forms of paper in our operation," Thomson said. "Invoices are now issued promptly; the overall flow of work is miles ahead of where we used to be and is vastly more accurate. The change has been so dramatic, it is almost unrecognisable in how we do things now compared to how it used to be done.
"We're just a big fan of the software. We don't look at the fees as a cost as it's greatly transformed our operation and our relationships with clients and having more efficient, satisfied staff. It has paid for itself more than 10 times over".
"The support we receive from CartonCloud is fantastic. They provide a very high level of assistance, much higher than a previous software supplier was able to, where we sometimes could wait for two days. With CartonCloud, queries are usually resolved in an hour or two."
CartonCloud is logistics software made by logistics people. CartonCloud is an integrated warehouse management system and transport management system. It was developed specifically to focus on automating administration processes and accounting tasks to speed up cash-flow and create total transparency for customers while making it really easy-to-use.
To learn more about CartonCloud's Business Intelligence Dashboard visit our Knowledge Base article here