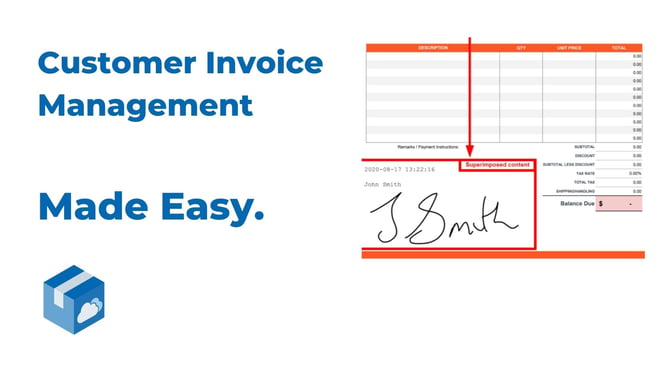 CartonCloud provides a completely digital solution for handling and signing customers' original invoices during the delivery process. Your customers will love this feature because it incorporates their own, original invoice documentation, and signatures into the process.
The system incorporates a range of integrated functions to ensure customers are supplied with a copy of their original PDF invoice with the proof of delivery signature superimposed wherever they want it for view by email or download.
Import Invoices
The first step is to get your customer invoice into CartonCloud. This can be done automatically with our parsers using email, FTP, or web upload. CartonCloud can even link up scanned PDF documents. If your're an existing CartonCloud customer, you can request to set up a parser here and select 'new integration'.
Once imported, CartonCloud has the ability to automatically link an invoice to its relevant sales order by matching the invoice number on the document to the customer reference within CartonCloud. Customers no longer need to provide paper copies of their invoices with their stock, removing the need for you to manually sort paperwork and hope it makes it onto the same truck as the physical stock.
Check out the knowledge base article here.
---
Copy Invoices from Sales Orders to Consignments
One of the newest CartonCloud features is the ability to copy customer invoice documents from sales orders to their associated consignments. This allows PDF invoice files to be automatically matched to their originating sale order, then transferred to the consignment when it is created. This enables consignments coming from sales orders to be handled the same way as consignments coming straight from imported manifests.
Check out the knowledge base article here.
---
Print Invoices 'In Order' of how they'll be delivered
.
Once run sheets have been created, and consignments have been ordered into their preferred delivery sequence, the invoice documents for those consignments can be downloaded and printed in the order of the run. This prevents the need to physically handle any paperwork prior and ensures that drivers have the right invoices for the jobs they're delivering, in the correct order.
Check out the knowledge base article here.
---
Signing the Proof of Delivery
New feature alert! Once the delivery has been completed, and the signature has been captured on the mobile app, the signature can be superimposed on top of the customer's original PDF invoice document. Customers love this feature, as it provides them with a signed copy of their invoice for their own records. The position and size of the signature and other information can be controlled to ensure it is superimposed in the right place on the invoice.
Combining these four features allows a complete end-to-end workflow providing digital solutions for consignment operations. It is another way that CartonCloud helps you to do more, with less.
Check out the knowledge base article here