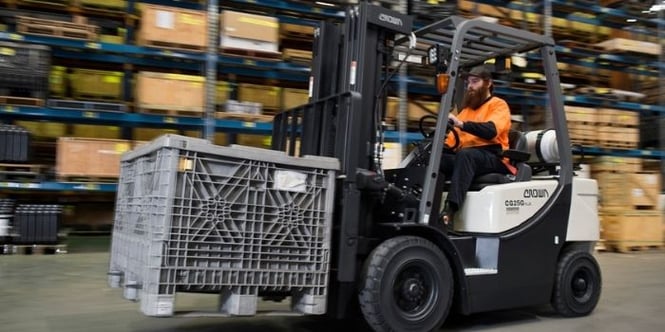 The speed of change in the global and domestic 3PL industry reached a new level in 2020 as the COVID-19 pandemic and the consumer pivot to eCommerce created havoc with supply chains.
Amid all the chaos, 3PL industry participants of all sizes must continue to invest in innovative new technologies and service delivery models to ensure their businesses keep pace with changing client and consumer expectations.
The rapid pace of change is not expected to diminish any time soon and businesses that focus on disruption by challenging the status quo of their competitors and adopt new ways of doing business efficiently, sustainably, and more profitably will prosper.
More than any industry in Australia, 3PL is ripe for disruption for companies prepared to take their opportunities. Globally, the 3PL sector is now approaching $US1 trillion dollars in economic value. In less than a decade, the 3PL market has expanded by roughly 40%.
We've taken a look at some of the opportunities where local 3PL operators can get the jump on their competitors.
Robots
According to a new report, the global warehouse robotics market was valued at $US3.5 billion in 2019 and it is expected to reach $US6.8 billion by 2025, registering a CAGR of 11.54%, from 2020 to 2025.
Connected robotic systems can help 3PL businesses perform a multitude of tasks, such as material batching, picking, ordering, packaging, warehouse security, and inspection, as well as improve operational efficiency by huge margins.
In 2020, robotics will no longer be only for companies with big pockets (based on research from Mckinsey); over the past 30 years, the average robot price has reduced by half.
Robotics-as-a-Service (RaaS) will also continue to grow. With zero additional infrastructure requirements and little upfront cost to get started, the RaaS model will offer 3PL companies a scalable way of adopting robotics.
Automation
The 3PL industry is only beginning to understand the full potential of automation. Technologies like blockchain, the internet of things, artificial intelligence, and machine learning can deliver massive efficiency in an industry still struggling with accuracy.
While many of these new technologies appear complex (and expensive) they are all underpinned by the one thing every 3PL business has access to – data. Collecting, organising, and analysing data across your business is the first step to finding opportunities for automation.
Automation in warehousing offers extreme convenience when it comes to cutting down overall business costs and reducing errors in product deliveries. According to DHL, a prominent 3PL company and a significant end-user of warehouse automation solutions, despite the advantages, 80% of warehouses are "still manually operated with no supporting automation."
DHL found that warehouses that use conveyors, sorters, pick and place solutions, among other equipment (not necessarily automated), account for 15% of total warehouses. In contrast, only 5% of current warehouses are automatic.
Integration
To deliver the best results for stakeholders, all players across the supply chain need to be in sync. Consumers don't care that their retailer's eCommerce platform doesn't talk to their 3PL partner's platform, they just care that their package was lost and late.
The future will see more integration through data sharing, insight-driven strategies, and possibly, a greater shift towards blockchain technology, to encourage visibility, transparency, and accountability by all parties involved.
While warehouse management systems and transport management systems become increasingly specialised, the need to integrate with other platforms becomes even more critical. In a space where no one platform can manage an entire supply chain, the ability to integrate with other platforms in a simple, timely fashion will be critical.
These are just three areas where 3PL businesses can gain a competitive advantage and build stronger, more agile operations.
Why Choose CartonCloud?
CartonCloud, Australia's best warehouse management software, it's logistics software made by logistics people. With the development of CartonCloud, the aim was to build a warehouse management system with a transport management system integrated, whilst focusing on automating administration processes, accounting tasks to speed up cash-flow and create total transparency for customers while making it really easy-to-use.