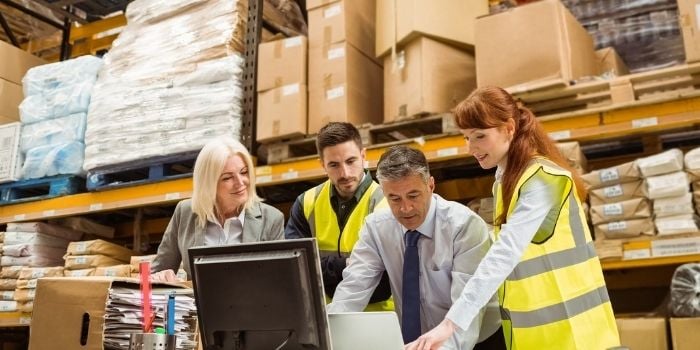 Key Benefits of Best Warehouse Management Software
Utilising the best warehouse management software is essential to ensuring efficiency in tracking inventory and enhancing the processes of your 3PL warehouse or distribution centre.
Incorporating warehouse management software into your operation will optimise tasks, save money and help you better serve your customers. By automating fundamental warehouse operations you can gain a competitive advantage over other competitors, grow your business, boost productivity and increase transparency and communication with your customers.
CartonCloud is a logistics software solution, designed to streamline your workflow so that your business can accomplish more.
If you have outdated manual processes to allocate jobs, fulfil orders and perform general operational functions then a warehouse management system can significantly improve the efficiency of your business.
CartonCloud has many features designed to solve the common issues found in warehouse management. Through long experience working in warehouse management, CartonCloud has the advantage of taking all your needs into account and having them easily accessible in one place. From all your administration processes, accounting tasks through to data entry and invoice creation, CartonCloud is Australia's best warehouse management software.
The benefits flow to everyone on your team and importantly, also to your customers.
Automating Data-Entry
With electronic data interchange (EDI) software, tasks that once took all day can be completed in minutes. By automating data entry you can improve customer service by having your clients login online to create their own jobs, or even easier, your clients can email a spreadsheet with the jobs being created automatically within CartonCloud.

With CartonCloud's open API, we can even set you up to seamlessly manage complicated integrations from large ERP software.
Reducing pick errors
Reducing pick errors will help increase productivity and ultimately profitability. Importantly, it will also help impact customer satisfaction. CartonCloud allows you to remove pick errors and increase picking speed by using either an android or iOS smartphone paired with a laser barcode scanner to scan pick jobs. Mobile barcode scanning will increase picking accuracy especially where you have similar looking and named products.
Automating Your Invoicing
With a simple interface you can load in your rate cards for each client and then once the job is completed, CartonCloud will automatically calculate all the rates and invoice your client.
Rates can be very difficult to calculate manually. In CartonCloud, you load your rates in once and then they're calculated automatically based on the events and triggers that you decide. Storage and handling charges can also be automated so you don't miss any fees.
With CartonCloud you can also create your own charges for things like unloading containers, wrapping or cleaning pallets, or pallet rental. By automating your invoicing with CartonCloud's warehouse management system you will stop revenue leakages and ensure correct charges are being included.
Providing Transparency
Thanks to a wealth of data at your disposal you're able to provide better transparency with your clients, warehouse staff or heads of departments which in turn will improve the relationship and your company's customer service.
Integrated Warehouse Management System & Transport Management System
Save time communicating between your warehouse and transport staff as CartonCloud has both a warehouse management system and a transport management system integrated into the platform. This integration takes efficiency to a whole new level.
Why CartonCloud?
With many features to streamline your warehouse, CartonCloud can handle multiple warehouses across the country, provide historic stock reports at the touch of a button, define location efficiencies in your warehouse, and the web app is tablet friendly - amongst many other defining features.
CartonCloud, Australia's best warehouse management software, it's logistics software made by logistics people. CartonCloud is an integrated warehouse management system and transport management system. It was developed specifically to focus on automating administration processes and accounting tasks to speed up cash-flow and create total transparency for customers while making it really easy-to-use.