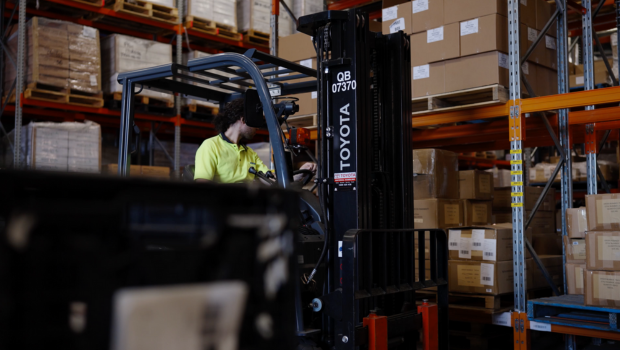 Concerns over a potential recession have dominated logistics industry discussion for the better half of the year. It's essential to know how to scale your business with ease and ensure adaptability, in order to navigate times of economic disruption.

The logistics industry has undergone significant changes and faced numerous challenges over the past two years — rising to meet booming demand, amidst port congestion, border closures, workforce shortages, and rising operational costs.

As the demand for faster and more flexible delivery options continues to rise, logistics companies have to adapt to meet customer expectations while overcoming rising operational costs and navigating workforce shortages.
Scaling for growth in 2023

Small and medium-sized operators especially have been required to adapt; building proactive partnerships to outsource and specialize in services, implementing accountable and trackable collaboration, and offering value-added services to their customers by assuming oversight and end-to-end management of logistics operations.

In order to achieve sustainable growth despite industry changes and disruptions, many SMB logistics companies are focusing investment in operational efficiency, workforce capacity, and technology adoption, to overcome disruptions and meet the growing demand.

CartonCloud Logistics Index report findings 2021-2023 highlight the transformation of logistics providers in dealing with economic uncertainty, changes in industry protocol, and the adoption of new technologies.

Companies adapted through implementing safety protocols and adopting new technologies for contactless delivery in early 2021; the following year, companies optimized operations and expanded to meet growing demand. Now, focuses have shifted to navigating economic uncertainty.
Navigating uncertain economic conditions for scalable growth
Logistics companies need to make the most of their resources, their network, and customer demand, in order to grow in times of economic disruption. This means focusing on strategic partnerships, building traceability, and capitalizing on opportunities to add value with additional revenue streams.
Partnerships, outsourcing, and specialization
A trend emerged last year showing logistics companies going beyond the traditional roles of 3PLs, stepping into the realm of advisors, helpers, and supporters for their customers.
To offer more to customers, capitalize on demand and win business, many 3PLs sought to provide valuable insights, anticipate potential disruptions, and help customers navigate challenges. To meet customer requirements for omnichannel ordering and delivery, shipping options, and delivery timing, logistics operators looked to the established network of services and niche providers to navigate the best options for their customers, a service made possible by seamless data flow and real-time updates.

Secure integrations play a pivotal role in streamlining operations by enabling seamless data flow between systems, boosting efficiency, and optimizing supply chain processes. A cloud-based warehouse management system or transport management system with easy-to-set-up software integrations provides real-time data that is simple, and easy to use.
The 2022 CCLI report revealed that businesses were increasingly looking to outsource services as a growth strategy to capitalize on demand – highlighting the integral role software integrations play in ensuring seamless collaboration between partners and service providers. With the right integrations, logistics partners can access real-time data, improve visibility, and make informed decisions.


Building traceability
Order tracking, stock reports, and real-time data have become an expectation in logistics, with accountability and traceability at the front of mind for all operations throughout the supply chain.
Warehouse management system automation and technology play a crucial role in boosting capacity and preparing for growth — especially in terms of capturing and sharing real-time data.
Integrated WMS/TMS software, cloud-based data management, and automated processes can help to streamline operations, reduce administrative tasks, and increase accuracy and efficiency.
The ability to barcode scan serial barcodes allows you to capture real-time data instantly from pop labels, pallet labels, incoming stock, outgoing freight, warehouse locations, consignments, deliveries, and more.
With a cloud-based system, this data is instantly entered into your system, updating stock records, order records, and customer dashboards with the most up-to-date information.
Automating tracking and order updates not only provides greater transparency to customers, but it can also remove manual data entry workload from the provider — by automating data management, and sending updates as certain order or delivery milestones are met.
Value-adding and service diversification
The final key tactic to achieving scalable logistics during economic instability is the ability to be flexible and add value or new services as needed.
This may be through offering new in-house services, such as offering warehousing to your transport clients, offering specific handling or custom packaging, cross-docking, and data analysis— or through leveraging strategic partnerships to manage distribution on your customer's behalf across a network of suppliers.
The first step is to understand your customer needs. From there, you can evaluate the feasibility of adding new services in-house or through partnerships. Next, you need to be able to track the services and operations, and capture billable rates.
CartonCloud is an integrated WMS/TMS, making service addition easy to set up, track and manage. Rate cards can be set up on product, service or customer level, allowing you to set specific rates for specific seasons, services, or customers; and automatically captured and calculated through workflow triggers you set up!
Despite the challenges faced, the industry has demonstrated resilience and maintained a positive outlook, focusing on growth and customer satisfaction. As the logistics boom shows no signs of slowing, professionals in the industry must continue to adapt and embrace innovation to thrive in the ever-evolving landscape.
Want to know more?
You can book a free demo of our software with our friendly and experienced team, to see our features and workflows in action.
Book a free demo today and see how CartonCloud can revolutionize your operations.