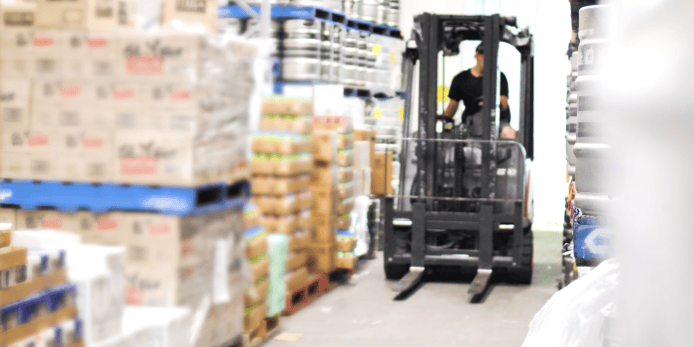 If you're considering a better management system for your warehouse operations, there are a number of key features you should be looking for.

You may be moving away from a dated manual system or looking to upgrade from a software package that really doesn't address your needs or grow as you do.Utilising the best warehouse management software is essential to ensuring efficiency in tracking inventory and enhancing the processes of your warehouse or distribution centre.

Incorporating the right warehouse management software into your operation will optimise tasks, save money and help you better serve your customers. By automating fundamental warehouse operations you can gain a competitive advantage over other competitors, grow your business, boost productivity and increase transparency and communication with your customers.

CartonCloud is a logistics software solution, designed to streamline your workflow so that your business can accomplish more.

So, what are some of the features you should be looking for and which are central to the success of businesses using a platform like CartonCloud?

Cloud-based
Modern software platforms usually reside in the cloud, which means the platform is available on any device that can access the internet, providing mobility and flexibility in use. CartonCloud backs up your data and protects it with multiple layers of security including industry-standard data encryption and secure data-centres located in Australia. It's also available 24/7 for your convenience.

Automated data entry
Automated data entry is a time saver and also ensures accuracy compared to using manual systems. Data entry, automated from stored rate cards through to scanning important stock information from barcodes, will ensure ease of operations and reduce time consuming paperwork. Invoices are also produced automatically meaning they can be issued with just a few keystrokes, and which will help improve your vital cash flow.

Integrations
A warehouse management system should feature electronic data interchange (EDI) software, allowing easy integration with a range of enterprise software suites, like Oracle. CartonCloud has other popular integrations with accounting packages like Xero or MYOB, and retail platforms including Shopify, to further streamline information flow. With EDI software, your client can send you a spreadsheet and then the software will automatically enter the data into the correct fields. This will benefit your staff, eliminate errors and provide a better experience for clients.

Rate Cards
The use of rate cards is a key feature of the CartonCloud platform and a very important feature of warehouse and transport operations and used extensively within (3PL) Third Party Logistics companies to calculate charges for their clients.
With CartonCloud, you can build rate cards to automate a variety of calculations and produce a resulting invoice for all charges, picking and packing, and the storage and transport for all jobs that have occurred. It provides peace of mind in calculating your rates correctly and ensuring you're maximising revenue and helping to eliminate manual data entry.

Mobile barcode scanning
Scanning barcodes will confirm that you are picking the right product. Improving accuracy is one of the key benefits of scanning barcodes. You can use a normal iPhone by connecting a Bluetooth scanner, or use a commercial scanning device. The scanned data will update stock levels and is used to create delivery runs and customer invoicing.

Automated invoicing
When it comes time for invoicing, your software platform should be able to automatically create and send invoices from your accounting package. It should use all the job and rate data being entered into the platform and automate invoicing. With all your jobs being entered, you'll never miss an invoice, charge or fee again.

Multiple warehouses
f you run warehouses at multiple locations your warehouse management system must be able to separate stock into different physical locations. It should also be flexible enough to isolate users into different warehouses if needed. With CartonCloud, you can create a Warehouse in the system for each site. Providing visibility across multiple sites from the one platform will give you greater control and improve decision making.

Transport integration
You can save time communicating between your warehouse and transport staff as CartonCloud has both a warehouse management system and a transport management system integrated into the platform. This integration takes efficiency to a whole new level. CartonCloud is also a feature rich transport management system (TMS) that automates the logistics side of your distribution function. It will help you grow your business, significantly reduce revenue leakage and time wasting through using manual systems.

Knowledge base/support
Having support at your fingertips will help you get the most benefit from your warehouse management system. From onboarding support through to ongoing service, CartonCloud is with you every step of the way. Based here in Australia, CartonCloud provides a service desk and email support. A Knowledge Base provides detailed, yet easy to follow instructions on how to use the various parts of CartonCloud. There is a whole range of self-service documentation available to answer most questions you will have.

Client dashboard
The client dashboard in CartonCloud provides you with an overview of what's currently happening, and any action items that you need to take care of within either the warehouse management system or the transport management system. Business intelligence insights enables users to analyse data to make better decisions – whether it's preparing for rate changes, reviewing which warehouse pickers are the most efficient, or identifying which customers require the most data entry.
Why CartonCloud?
With many features to streamline your warehouse, CartonCloud can handle multiple warehouses across the country or internationally, provide historic stock reports at the touch of a button, define location efficiencies in your warehouse, and the web app is tablet friendly - amongst many other defining features.

CartonCloud, Australia's best warehouse management software, is logistics software made by logistics people. With the development of CartonCloud, the aim was to build a warehouse management system with a transport management system integrated, whilst focusing on automating administration processes, accounting tasks to speed up cash-flow and create total transparency for customers while making it really easy-to-use.