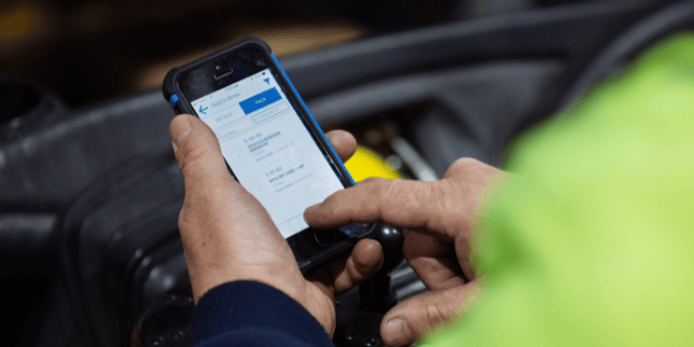 Let's look at how barcode scanning takes the guesswork out of your warehouse operations.
Looking to build more accuracy into your warehouse operations? From scanning incoming deliveries for efficient put-away, to easily finding warehouse locations and tracking inventory movement— using barcode scanning in your warehouse management system (WMS) will improve accuracy and efficiency across the board.
Use mobile barcode scanning to enhance your operations and improve accuracy from delivery to dispatch. From inventory data entry on delivery to tracking and locations, picking and packing, customer support and more. Barcode scanning helps you confirm locations, inventory selection, and keep track of movement and orders.
Take the guesswork out of your warehouse operations, with mobile barcode scanning
Do it once, do it right
Barcode scanning can reduce your margin for error, by scanning and confirming inventory and warehouse location data directly to your WMS mobile app. You can look up inventory by scanning any location, and assign locations to inventory by scanning the freight.
Scan barcodes for your pallets, individual inventory items and warehouse locations also adds another level of confirmation during picking and put away, so you can avoid costly and time-consuming mistakes.
Use mobile barcode scanning in your warehouse for;
Receiving incoming deliveries and entering inventory into your WMS,
Allocating warehouse locations for put away,
Identifying warehouse locations and confirming inventory for picking accuracy,
Tracking inventory movement and updating warehouse locations with new stock,
Updating WMS inventory data with ease.
Eliminate costly mistakes
With the barcode scanner and iOS or Android native app, you can immediately confirm your inventory selection as you pick to ensure you're picking the right item, and scan warehouse location barcodes to ensure your depositing inventory in the correct location every time.
Barcode scanning as you go means you, your team and your customers can easily track inventory movement at any point.
What's more, you can also ensure the correct storage specifics for each order during put-away, with inventory-specific rules included in your WMS. If you try to put away an item with specific storage requirements in the wrong area, an error message will appear with information on the correct storage location.
Using mobile barcode scanning across your warehouse activities not only equips your staff to increase efficiency and accuracy, but also keeps your WMS data clean and up to date.
So, how does it work?
There are a range of mobile barcode scanners (which we will explore further down in this blog) that are suited to different warehouse operations and requirements. A mobile WMS app like CartonCloud allows staff to view, access and update inventory data and orders directly through the mobile app. Implementing scan barcode as an option allows you to easily scan in new inventory and assign to a location, confirm warehouse locations and inventory for picking, and efficiently allocate new locations on the move. Barcodes for inventory, pallets and warehouse locations can contain specific information on the product or location to ensure your selections and allocated locations are correct every time.
Barcode scanner app for iPhone and Android
Inventory tracking in the palm of your hand. You can streamline your entire operation, using mobile barcode scanners directly inputting to your WMS. There are a range of mobile barcode scanners that can be used directly with the CartonCloud WMS mobile app, giving you greater accuracy at any point in your operation.
The CartonCloud mobile app lets you access, update and verify data at any time or location in the warehouse, keeping your WMS up to date and consignments running smoothly.
With CartonCloud's WMS, data input is simple. You can create custom barcodes and print on the go, to detail inventory levels and locations from delivery to dispatch.
Increase inventory efficiency with warehouse barcode scanning
The number one error in warehouse logistics is inventory management efficiency. Lost inventory, incorrectly picked items, incorrectly stored goods and out-of-date inventory data can be costly errors setting you back financially and wasting time.


Use barcode scan for delivery and put away
As you accept a freight delivery, you can simply print a barcode that details the items of the delivery order, and attach that to the pallet or warehouse location the delivery is allocated to before put away. This means you can scan consignments at the moment of delivery, and assign a warehouse location instantly.
That way, you have the incoming inventory already logged in your WMS, and can easily locate it for put away by scanning the new custom label. The CartonCloud WMS allows you to print custom barcodes based on inventory updates as you go, so your warehouse locations remain up to date with changing inventory throughout the day.


Track inventory movement between warehouse locations
The WMS mobile barcode scanner app simply allows you to input and update data in your WMS on the move. Using your phone barcode scanner app, you can scan any warehouse location and view all inventory that is currently stored there.
When you have a warehouse location with multiple pallets or freight boxes in one place, the ability to scan each bin and pallet within the location means you can confirm you have the correct item, every time — saving you time looking through each freight pallet, and reducing picking errors.
You can also track inventory movement with greater accuracy, with mobile scan move tracking. Simply use your phone barcode scanner to scan individual items at a time, or scan the freight pallet and manually enter the number of items you're taking to update the removal of the items in your WMS. Next, assign a new location and print an updated barcode that includes the additional items at that location.
Minimise put away errors
During scan move, the CartonCloud WMS has yet another in-built efficiency to help minimise errors. For any inventory, you can create rules within your WMS, for certain locations to accept only certain product types (eg temperature specific, best before dates, etc). It will even reject inventory movement to a new location if it's outside of the product rules, displaying an error message explaining the correct location conditions for that particular item.
Increase picking accuracy and efficiency
Using your WMS with mobile barcode scanning gives you a greater opportunity to build efficiencies into your warehouse operations, to save time and resources. No more searching through pallets for the right box or bin, and comparing inventory against a printed list, with barcode scanning you can instantly confirm the correct freight and item for picking.
For example; CartonCloud's WMS allows you to wave pick up to one hundred different orders at a time, saving you time on picking. Using the mobile barcode scanner, you can also find and confirm the correct warehouse location with ease, and identify the correct inventory to pick.
With barcode scanning set up correctly, you can accurately view all inventory at any location, any time.
One-stop native iOS and Android apps
We're not taking sides here. At CartonCloud, we've designed our WMS to let you get on with the job, with ease. That's why the CartonCloud WMS app (yes, that's your phone barcode scanning app) is native to both iOS and Android.
Using the native iOS and Android app for CartonCloud, you can track your inventory levels and movement on the go. The benefit of using your Android or iPhone barcode scanner with your WMS mobile app is the ability to assign logic and custom automations to increase efficiencies. What's more, no matter what tech your team is more comfortable using, the mobile app works with barcode scanners for iPad, iPhone barcode scanners, android phones and tablets.
Setting up barcode scanning for your warehouse
When you've made the decision to optimise your operations, increase accuracy and enhance inventory tracking through your WMS with barcode scanning, it's time to look at implementation.
Before you start, it's important to consider the kind of inventory you store, your warehouse location set up and the data you can, or need, to capture. This information is the information you will want to access when you scan a barcode.
Setting up your warehouse locations in your WMS will allow you to create custom barcodes for each, which you can assign inventory to. You may wish to set up custom logic and rules that will mandate the type of inventory that can be stored in this location (ie dry storage, cold storage etc).
You may wish to scan barcodes for freight in full, or as individual items within a pallet. Individual barcodes can be useful if you need to pick by batch, due date or other identifiers.
Different scanning hardware have different features and may be better suited to some operations. For instance, if you operate in cold storage, you will need a scanner that works in sub temperatures.
Check out this video for more information on how to set up your CartonCloud mobile app for barcode scanning with picking and packing and read through our customer checklist for onboarding customers for efficient barcode scanning.
Want to implement barcode scanning in your warehouse?
If you're interested in finding out more about how to use scan barcode systems in your warehouse operations, or want to know more about mobile WMS apps and barcode scanning, contact our team today.
Speak to the team at CartonCloud today to find out what hardware will suit your operations, and see how to implement barcode scanning to your WMS.
Ask for your free demo today.