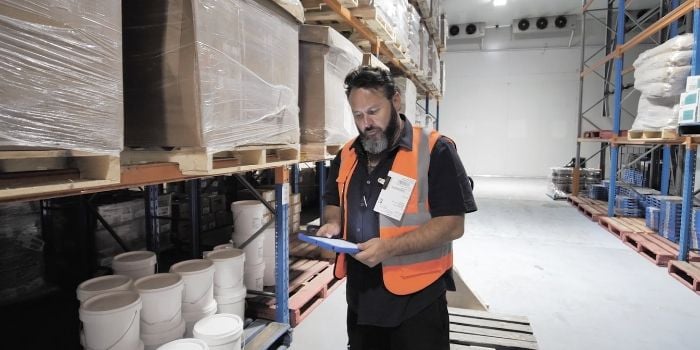 With a cloud-based warehouse management system, you can boost customer service, while optimising stock in and out, for greater transparency, and reduced chances of pick errors.
Deliver on customer service with a Cloud-based WMS for stock control, inventory management and easy reporting.
With a cloud-based inventory management system, your customers can view their stock levels, stock movement, and order updates with ease — and without you needing to intervene. What's more, with a cloud-based system, your customers also benefit from more efficient operations, minimal errors, streamlined workflow and seamless invoicing.
1. Plan for fast-moving stock with replenishment
Optimise your stock locations to have fast-moving or frequently ordered stock close on hand for picking and packing with replenishment. You can access your stock history and check stock movement in your WMS data stored in the cloud, to see what stock is moving the fastest, and then optimise your stock locations in the warehouse for faster access. If you know you have high-frequency orders on a certain item, you can locate it at BIN locations closest to the receiving and dispatch areas.
Not only are you reducing labour time and unnecessary wear and tear on machines, but customers with high-frequency stock also benefit from more efficient order fulfilment.
2. Simplify navigation with racking barcodes
You've gone to the trouble of planning your warehouse location efficiency to maximise capacity, and with barcode racking labels, you can maximise picking accuracy as well. Setting up warehouse location barcodes not only allows you to simplify warehouse navigation and picking, but also allows you to update warehouse location barcodes with up to date inventory data as you go. It also allows you to simplify storage charges based on warehouse locations, for more efficient invoicing and rate transparency for your customers.
Empower your staff with more information and streamlined processes, and keep your inventory levels up to date for customers.
3. Labels make the system work
A key aspect of inventory management software is correct use of barcodes. Barcode labelling (goodbye permanent markers) allows you to save key information about the stock for all staff to access, including its receiving date, correct storage location, and even expiry or best before — to ensure no picking errors are made.While the trusty pen has served us well in the past, barcodes can offer greater accuracy and flexibility. Using CartonCloud's custom fields feature, you can enter any information you need to keep your operations running smoothly.
Employees are then able to scan inventory pick lists and work out the location in real-time without the guesswork.
4. Simple, online stocktake for each customer
Stocktake has never been more simple, thanks to cloud-based inventory management software. With CartonCloud's stocktake module, you can perform complete stock reconciliation for each customer, with greater accuracy and faster reporting.

The stocktake module allows you to split stock onto separate lines for counting based on attributes such as Batch, Expiry Date, or any other custom field set up against the Purchase order Product giving you more control over how you wish to count stock for each customer. Once the stocktake is completed, the system can automatically generate a final report which can be exported as an excel spreadsheet and sent directly to your customers.
5. Continuous enhancements
Say goodbye to a culture of "This is the way it's always been done...", while that may be true, with a cloud-based WMS, your warehouse manager's focus can be on continuous improvement. CartonCloud's logistics software was founded in a 3PL warehouse, designed to streamline day to day logistics —and this is still the case. We're working day in and out to ensure our software remains the top pick for SME logistics businesses, with regular product updates and enhancements based on customer feedback and our ideas portal.
This means you and your customers can enjoy leading logistics software, designed for your needs.

Onboard your network with CartonCloud Link
CartonCloud's integrated software is ideal for logistics networks. You can streamline your system between vendors, integrate order and consignment details, streamline invoicing and so much more with CartonCloud Link.

CartonCloud Link connects two separate CartonCloud accounts so data can be passed in both directions as required, sending information such as consignments, PODs, orders, status updates and more.

Want to know more?
Contact our friendly team today for a free demo, or speak to the integrations team about setting up CartonCloud Link with your network partners.