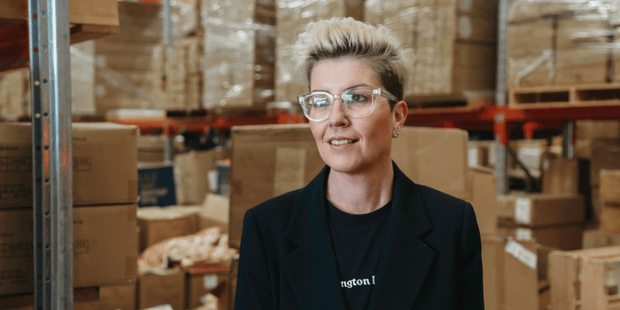 For this 3PL, delivering goods is just one part of what they set out to achieve. Lexington provides white glove pick, pack, and fulfillment services to a range of emerging and boutique brands, allowing them to take the next step in building and expanding their business — and they do it with style.
A neon sign perched above racks of ruffles, sequins, and prints lights up an entryway to the warehouse. Meet Deanne Luke, founder of Lexington Logistics, one of Australia's leading white glove 3PLs — delivering bespoke pick, pack, and fulfillment services from the heart of Brisbane.

"We treat each of our brands like they were our own and take care when looking after your products from warehousing through to pick, pack and distribution," said Lexington Logistics founder Deanne Luke.

"We want to ensure that we are an extension of their business, not a separate entity.

"To hand over your brand to a third party is a big thing and we want to make sure that we can uphold their values, their brand messaging, and their key themes to be able to ship out their product exactly the same way they would in-house."

We stepped behind the roller doors at Lexington Logistics 3PL warehouse to join Deanne and the team, and see how they put exceptional customer service at the center of what they do.

Ms Luke's story started in the fashion industry, as a business consultant, providing advice and business support for many years before identifying a gap in the market. That gap was the grey area from purchase to product delivery — the area between clicking 'buy now' and having your boutique parcel arrive at your door.

More specifically, to help emerging brands make the jump from boxing orders in their living room, to outsourcing their logistics completely, and with confidence.

"We work with brands that we absolutely love, and that we want to be around," she said. "It's something that is really important to us, that we aren't a complete third party, we are part of their integrated process and an extension to their operation."

This is no metaphor, she explains. Providing outsourced logistics services for omnichannel and e-commerce clients requires effective software integrations for online ordering, and this is one of the key areas they rely on their WMS software, to enable them to provide exceptional service to their customers.
"When we onboard a client, the first part of that is to ensure we have CartonCloud set up, to ensure their integration is spot on.
"Once we have everything connected, [our customers] actually don't need to touch what we do or how it operates — we're able to integrate our systems together to a complete, autonomous process."


Indeed, the first step they take when bringing on any new customer is to ensure they are set up in CartonCloud, with integrations from their online stores to the WMS software. This ensures;
Inventory is correctly set up and mapped between the store and warehouse items
Online ordering is integrated directly from the shopfront into the warehouse system
Custom packaging can be selected and fulfilled with ease
Orders are sent directly to the warehouse for picking and packing
Invoicing is automated
The customer has full access to view order processing, inventory levels and stock reports directly from their own online dashboard.
To simplify processes even further for their customers, Lexington also provides access for each customer into CartonCloud's WMS system, using the secure customer dashboard, where they can see orders, track fulfillment and manage stock levels directly, 24/7.
"It brings them closer together," she said. "They don't feel that they are completely separated from their brand and the transparency is there, so they can see stock levels in the warehouse, and the orders that are being placed and processed.
"For us, to take them on board and see them flourish, and actually start to do 20, 30, up to 100 orders a day — that's why we do the work that we do."
With their quest for excellent customer service and a streamlined, scalable business in mind, Lexington reached out to CartonCloud when they had only a few initial customers.
"We came onboard with CartonCloud when we were quite small," she said.
"I've seen the retrospect when working with other businesses implementing different software, where they do it so late in the game, and it's such a big catch-up.
"I probably only had 3 clients on board, but they didn't see that as a problem — they just said ok, what can we do to set up some really good systems and processes now to enable you to bring on clients quicker and much more effectively in future.
"There are so many things a system can provide you that you think was possible! That was a crucial part in identifying what we could be doing differently we could be doing better — and also letting go of the things we were doing, that we may not have been doing as productively.
"By having CartonCloud come on board, it's been one of the best moves that I could have made, and I don't think we would have won as much business as what we do."
For Ms Luke, delivering logistics services for her customers doesn't stop there. Her podcast Delivering Joy explores how brands and businesses are going above and beyond, to share their passion and provide joy through their operations.
Want to know more?
Speak to our team about setting up your WMS for success and exceptional customer service today. Explore our library of customer case studies to see how CartonCloud has helped shape and enhance over 400 companies from all over the world.
Or see our powerful software in action by contacting our friendly team for a free demo of our software.