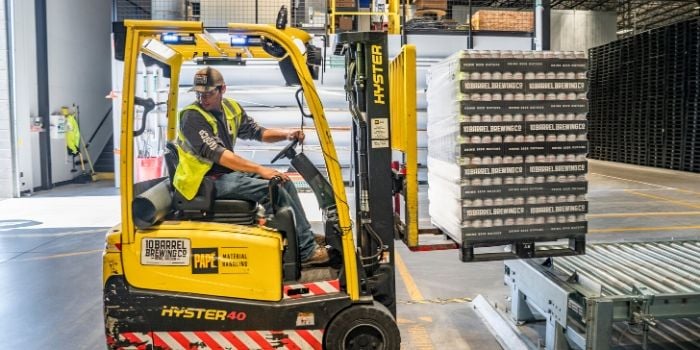 Using a reliable 3PL warehouse management system is something of significant interest to Australia's leading operators. The challenge is: How do you know what's actually worth the spend?
Expectations from 3PL warehouse management systems
In this article, we'll be showing you the features you should be expecting, or rather, demanding, from any mainstream provider.
1. Cloud-based processes
The margins are already tight enough and spending tens of thousands on infrastructure including servers, PDA devices and closed-circuit wiring inside your warehouse isn't going to impress the bean counters. In recent years, the rise of cloud-based systems has allowed warehousing and freight systems to move away from expensive systems that are not just expensive, but slow and require expert knowledge.
When auditing a 3PL warehouse management system, validate that they're actually cloud-based. Essentially, you shouldn't need to invest into expensive IT systems to run more efficiently.
2. Secure user groups
There are users on the floor that need to know everything that's going on, while there are those that only need to know the bare minimum. For example - forklift drivers don't need to know the financial metrics of 4 pallets being picked on behalf of a customers.
By having the ability to allocate people into different groups, you're able to segment the information which not only leads to greater security, but also ease of use. After all, pick/packers simply want a clean and easy to use interface that helps them get on with the task at hand without the other distractions.
3. Endless configurations
A lot of off-the-shelf systems just aren't that configurable, unfortunately. When it comes to a 3PL operation, you'll certainly want a lot of configurations since you're very likely dealing with a multitude of clients who have a multitude of product differentiation.
Through being able to configure your inventory size, weight, regular order quantities and compliance specifics such as DG, you'll be able to better properly organize and streamline your operation for faster pick times and client retention.
4. Detailed client reporting
You'll want a system that works for you. One that saves you time and money. Especially one where your clients can simply log in and see their order quantities at any time as well as view monthly storage and shipping reports both SKU-specific and their inventory as a whole.
As we just mentioned endless configurations, being able to classify freight into classes also means accurate charging. Users can see how and why they were charged the specific rates for receiving, storage and dispatch.
5. Multi-warehouse capabilities
Some 3PL providers run multi-warehouse operations across various states in Australia so their clients can serve their customers with faster dispatch. With older systems, it can be both difficult and expensive to run multi-warehouse operations within the same system.
By opting to use a cloud-based system, deployment into several locations becomes significantly easier. Users from other warehouse can also see overviews of inventory volumes and availability of storage space.
Getting started
There aren't too many software providers that cater towards 3PL providers in Australia AND are able to accomplish all these core features. Luckily, CartonCloud does this and a whole lot more!
We'd love the opportunity to book you in for a free demo today.