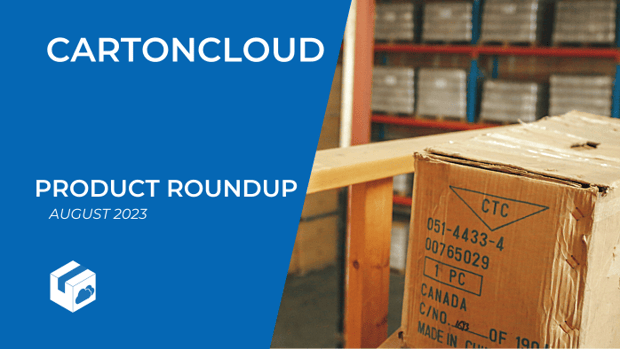 Welcome to the August CartonCloud Product Round-up! We have a suite of WMS and TMS system updates this month, giving you more transparency across charging, custom field inventory data, printer troubleshooting, greater control using API software integrations, and the ability to offer more competitive pricing to your customers.
View a run-through of this month's CartonCloud Product Updates, and see feature details below!
Consignment level view of Fuel levy calculations
This TMS update gives you greater visibility over charge calculations by providing details of fuel levy rates and charges within the Consignment page view.

The update provides increased visibility to the Consignment charges tab, including a breakdown of the fuel levy percentage and the dollar amount charged, to ensure you have full transparency of the charge breakdown before the Consignment is invoiced.

For transport companies using fuel levy rates, this update provides greater transparency, and more control over invoicing, ensuring you have full visibility over consignment charges before invoicing is sent to your customers. For more information, visit the CartonCloud Help Consignment Charges Page.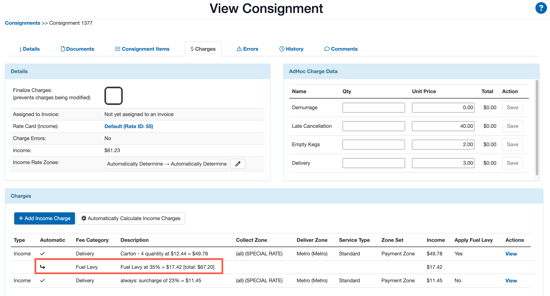 First and Last Month Split billing
This month we have released* additional WMS functionality within the CartonCloud Split Month Billing feature; introducing First and Last Month Split Billing for selected charging methods.
CartonCloud's Last Month Billing allows you to apply discounts to early-leaving stock in their final month of storage, giving you more ability to offer competitive billing arrangements for your customers.
Additionally, you can now combine the first and last month discount options, using the new First and Last Month Split Billing combined option. Combining both allows you to offer even more competitive pricing plans and flexible storage arrangements for your customers.
These two additional discount settings - Last Month, and First & Last Month combined - will be available across existing storage charge methods Per Pallet and Per Location.
Using Storage Charge Period Generation set to Monthly, you'll now see additional options to:
Apply discounts for the Last Month (Depletion)
First & Last Months (Allocation and Depletion)
This setting is available at organizational and customer levels.
Organization-level configuration by visiting the Organisations Settings page and going to the Invoice tab (see more information at CartonCloud Help here)
Customer-level configuration by editing your customer's Rate Card (see more information at CartonCloud Help here)
For more information on the CartonCloud Split Billing feature, visit the CartonCloud Help Storage Periods and Storage Charge page here.
*Note, this update is a Beta release only at this time, please get in touch with customer service if you would like to inquire about early access.

Revamped POP Custom Field Settings
With this update to the web app interface, we've simplified custom field creation within purchase order products, giving you greater oversight of your data and important stock information.
Purchase Order Product (POP) custom fields are a key feature of CartonCloud, which give you the ability to capture important information against stock logged in your system. Using the Purchase Order Product Custom Field, you can easily record information directly against a line of stock on a Purchase Order, enabling you to custom workflows and handling to the specifications of that order.
Using POP custom fields, you can customize workflows in your system, based on inventory and customer requirements.
This is especially useful for those who need to record additional information against certain stock, such as a batch number, serial number, SSCC number, production date or pallet ID.
With our recent web app design update, we've made it easier to review POP custom fields within customer settings, so you can ensure all fields are set up correctly and the settings selected match the desired workflow you wish to achieve.
For more information, visit the CartonCloud Help Page on setting up Custom Fields here.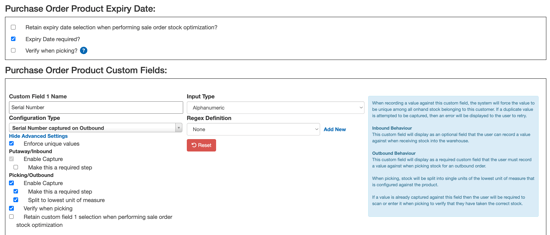 Cancel/ delete Sale and Purchase Orders via API
Building upon the existing CartonCloud API capabilities, API endpoint users now have the ability to cancel (delete) outgoing Sale Orders and Purchase Orders directly via the API.
You now have greater control when using CartonCloud's API to automate Sales Orders and Purchase Orders— providing the same level of control through API as when operating directly within the web app.
This is especially useful in cases where an API order is created that you no longer want to be shipped or prioritized, allowing you to cancel (or delete) the order directly through the API, without needing to update the order within CartonCloud manually.
When canceling an order through the API (this is the same as deleting it), you will receive an instant notification with feedback on the cancellation — to help streamline your workflow.
For more information, visit the CartonCloud Help Page on API Roles here.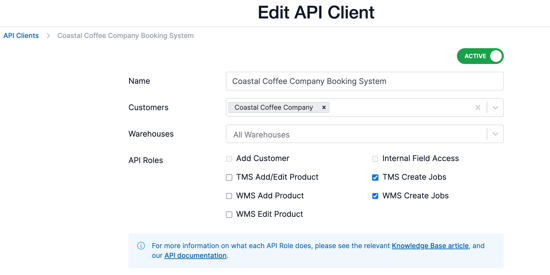 Remote Print troubleshooting update
With this latest update to the Remote Print Jobs screen on the web app, it's now easier to identify and correct printer connection issues in the moment.

The update includes additional data points to the Remote Print Jobs screen view. For each new print job, you will now have visibility over the following information:
Warehouse: The warehouse that generated the print job

Entity ID: The unique identifier for the Sale Order, Consignment, POP, etc., that initiated the print job.

Printer Status: Whether the printer is Online or Offline

Computer Status: Whether the computer is Connected or Disconnected
With access to this data, you now have more visibility over printer connection details to quickly and accurately troubleshoot remote printing concerns.
For more information, visit the CartonCloud Help Remote Print Jobs page.

Want to know more?
Check out CartonCloud Help for more Knowledge Base articles, feature updates, how-to guides, and much more. You can also reach out to our service desk team for your own unique log-in to the CartonCloud Academy where you can upskill your team (or yourself) on our software workflows and features!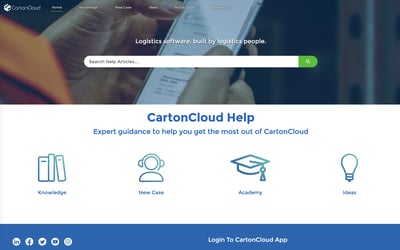 Looking for a new WMS/ TMS?
You can see our powerful Warehouse Management System and Transport Management System in action and explore our range of features designed to automate your data and simplify your operations, letting you do more with less. Contact our team to book your FREE Demo tour and see how CartonCloud can revolutionize your operations.