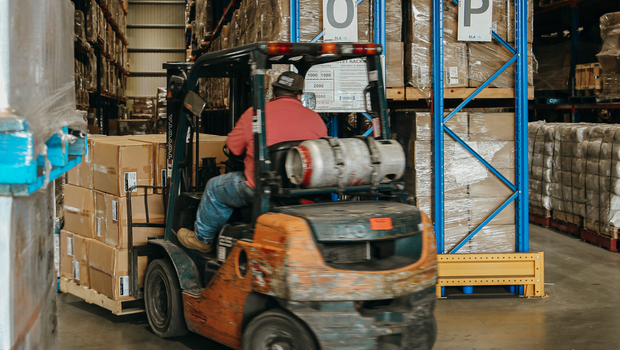 Could you be offering more to your existing customers?
The right software can allow you to take full advantage of the resources you have on hand to offer greater services to your customers; such as offering short-term freight handling and storage for transport companies or offering cross-docking services for warehousing companies.
As expectations continue to grow for faster delivery, the lines separating transport and warehousing services are beginning to blur; with providers branching out of traditional services to bridge the gap and meet demand.
Many providers may have the resources on hand to offer new services, but lack the systems needed to streamline ordering, customer details and inventory tracking across new areas. That's where an integrated warehouse and transport management system like CartonCloud comes in.
Integrated Warehouse and Transport Management System (WMS and TMS) software allows logistics companies to seamlessly offer new services to existing customers, and generate new revenue streams with ease.
Sharing data directly between transport and warehouse systems allows logistics companies to offer services outside of the traditional transport and warehousing boxes with ease and accuracy.
The cloud-based software allows seamless data transfer between transport and warehousing operations, meaning you can easily track orders, incoming and outgoing freight and everything in between — and never miss a charge.
Bring in new revenue, sooner
A simple and cost-effective setup is essential. From the systems to track, manage and fulfill new services as well as the hardware required to run the software — affordable, easy to setup and easy-to-use technology is removing barriers to setting up new services for customers.

CartonCloud is a software as a service (SaaS) company, meaning customers pay for the plan they need, on a monthly basis, with flexible monthly pricing allowing companies to trial additional services for an affordable amount, that can pay for itself in no time. What's more, the software can run on the computers and smartphones they already have on hand — meaning they can get started in hours or days, not weeks or months.
Seamless system integration
There's no denying, software systems are building new horizons for logistics companies.
While companies may have the resources on hand to offer new services, finding the time, managing space and tracking stock in and out can be time-consuming, and can make adding additional services seem impossible. However, easy-to-use software is making these barriers a thing of the past, allowing logistics operators to provide additional services and generate new revenue streams.
For example, a LTL transport company has freight incoming to a depot, which is then distributed across their fleet for delivery. In this case, they are already handling the freight — however, they could also provide short-term storage, sorting, or pick and pack. With CartonCloud, this is so simple. You can simply implement the WMS system and integrate with your existing transport system for seamless inventory and services tracking, or if you already have CartonCloud's TMS, simply add the WMS and manage your transport and warehousing pick and pack services through the one system with ease.
This means entering customer details only once and having a single, itemized invoice at the end, capturing all billable charges. It also means you have the ability to take on new customers who need additional services, and retain customers who would have alternatively sought outsourced services.
Now you can do more, with less
Traditionally, software system implementation may have required an entirely new setup, new devices, training and months of work to onboard operations. Not any more. The availability of cloud-based software has changed the game for good.
Cloud-based Warehouse and Transport Management System software gives flexibility, allowing companies to scale up as needed, take advantage of new features, and add additional services with ease.
An integrated warehouse and transport system allows you to easily allocate jobs to the correct person with ease, and transfer and track data from one service to another.
What's more, having a cloud-based SaaS system means you can do away with internal software management. Software as a service companies like CartonCloud provide continuous software updates for their customers, and have a dedicated team for customer support and onboarding. This means the software is continuously under improvement, with updates and new features being rolled out constantly.
Not only new features; SaaS software systems also include updates and improvements to ensure your system stays up to date with the latest software developments and operating systems. Put simply; you get all of the benefits of a cutting-edge system, with no software headaches.
Simplified logistics management starts here
The barriers previously restricting operators from providing additional services are being removed entirely with easy-to-use warehouse and transport management software.
CartonCloud has enabled many logistics companies to simplify operations, streamline data entry, and expand their services with ease. Designed for small-medium sized companies, CartonCloud's integrated system can be used on existing hardware, and the mobile app downloaded onto both iOS and Android smartphones. Simply pair the mobile app with a bluetooth scanner for under $100 and start barcode scanning! (Check out our recommendations for pairing barcode scanners here.)
Having the ability to start immediately, with the hardware you have, means companies can start bringing in additional revenue faster, allowing you to scale up and expand further.
Want to know more?
Get in touch with our friendly team today to book a FREE Demo at a time that suits you. See our software in action, talk to our experienced team about your operations and services, and find out how CartonCloud can help you revolutionize your operations with ease.