We're thrilled to share our top WMS customer rating for the 2023 Capterra WMS Shortlist! We love to hear our customer feedback, and see our customers grow their businesses and overcome their biggest hurdles thanks to CartonCloud.
CartonCloud is top-rated by users worldwide, thanks to our user-friendly design, powerful features, and intuitive data automation.
We've helped over 450 logistics companies worldwide to streamline workflows and grow their businesses with CartonCloud's Warehouse and Transport Management System.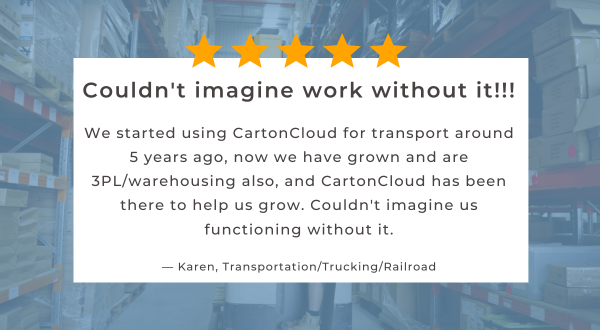 This year we're thrilled to celebrate CartonCloud's top user ratings for another year, with CartonCloud in the Capterra WMS Shortlist for 2023 with a 4.8 overall rating!
Capterra is an independent assessment that evaluates user reviews and online search activity to generate a list of market leaders in the software space that offer the most popular solutions.
"Couldn't imagine us functioning without it!

We started using CartonCloud for transport around 5 years ago, now we have grown and are 3PL/warehousing also and CartonCloud has been there to help us grow. Couldn't imagine us functioning without it."
— Karen J.

"The customer team is responsive and engaged —flexible platform that can be configured to fit a wide range of needs.

CartonCloud is a flexible platform that can be configured to fit a wide range of needs. The customer team is responsive and engaged, and helps build the solution that worked best for our accounts. It has been successful as a standalone WMS for a cross-dock operation, as well as integrating as a complement to our own WMS."
— Hannah G.

"Knowledge base is a treasure trove!

The knowledge base has been a treasure trove for me along with being a lifesaver. After using CartonCloud for almost a year, I still like to go through the Knowledge Base for anything extra that I might pick up."
— Meghna M.
Want to share what you love about CartonCloud? Add your review to Capterra here or review us on Google in North America or Australia/New Zealand.
Why logistics companies love CartonCloud software
We are proud to be top rated WMS and TMS software by customers worldwide! Our customer success is at the heart of everything we do, from our easy-to-use design, to features that are created by logistics people, for logistics people— to simplify your day and let you grow your 3PL.
"Best option in terms of price versus functionality!

We are a fulfillment company based in Georgia and we have been using Carton Cloud's software for a while now. We found it to be the best option in terms of price versus functionality when we were researching WMS options. The onboarding process was smooth and the customer support has been top-notch. We highly recommend Carton Cloud for anyone looking for a reliable and cost-effective WMS solution."

—Gabriel M.
Our top-rated WMS software is loved by customers and their teams, from our user-friendly design to feature-rich workflows built to simplify complex logistics operations and our exceptional customer service provided by local teams of industry experts. 💙
Want to know more? Book your free WMS software tour today!
We want to help you find the best WMS and TMS software for your business. Contact the CartonCloud team today to book a FREE DEMO and see our software in action. Our team of industry experts have years of experience, which means they understand your business and what you and your customers need to succeed.
You can also download the CartonCloud mobile app in demo mode to view a handful of features for FREE. Download from the Apple store or Play store to see for yourself!
We're logistics people too, so our team can understand your business needs and ensure your setup is correct to streamline your operations, and scale up your business. Get in touch today and see how CartonCloud can revolutionize your logistics business.