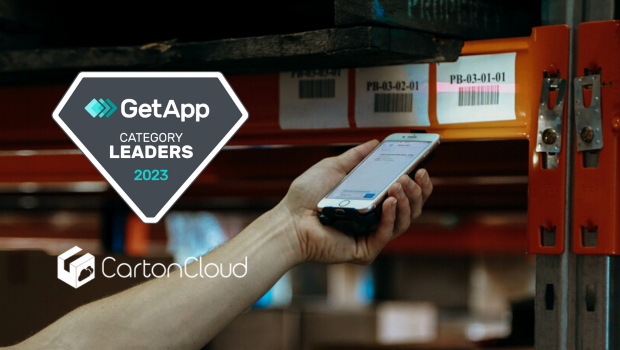 CartonCloud is top-rated by users in the GetApp Software Leaders List 2023 for features, ease of use, customer support, value for money, and likelihood to recommend. Find out why over 450 companies are growing worldwide with CartonCloud.
We've made the Top WMS Software Providers list again!
We love to hear our customer feedback and see our customers grow their businesses and overcome their biggest hurdles thanks to CartonCloud. Our customer success is what drives us to continue delivering intuitive, powerful software, supporting logistics companies to access the tools and features they need to grow their businesses their way.
GetApp software review site ranks the top warehouse management software of the year, according to five categories;
Ease of use
Functionality
Value for money
Customer support
User likelihood to recommend.
We're thrilled to see CartonCloud's WMS TMS top-rated by users in GetApp's Software Leader's List 2023. 🎉
CartonCloud has helped over 450 logistics companies worldwide to streamline workflows and grow their businesses with CartonCloud's Warehouse and Transport Management System.
The success of the CartonCloud software comes from a deep understanding of the key issues and trends impacting our industry — we're logistics people too.
Our features and our understanding of the industry is what keeps our product a cut above the rest — and this is why our customers continue to grow and succeed with CartonCloud.
Top rated by e-commerce 3PL warehouse users, multi-warehouse and transport, CartonCloud's powerful WMS/TMS software is packed full of features to simplify your day, and scale your operations.
"Very user-friendly app for your mobile device.
Likelihood to recommend: 10/10!
"All the information you need is right on your smart device. Organizing warehouse inbound and outbound in a quick and easy way. Gives you a snapshot of what the day will look like. You can then set up your daily tasks and use warehouse hours in the most efficient way possible. The tutorials online with step by step are really user-friendly and intuitive. The "Ask Anything" box takes you right to the process."
— Richard W, Logistics and Supply Chain.


"Great system, great people
Likelihood to recommend: 10/10!
"From day one the people have been helpful. Signing up, training, and assistance afterward has been very responsive and useful. Ease of use and the people. The system itself is easy to use for all levels and makes sense. Training with their experienced onboarding team was great, they was super helpful. Dealing with support has been quick and easy and the team has been available whenever needed since the beginning."

— Alanie F, Warehousing.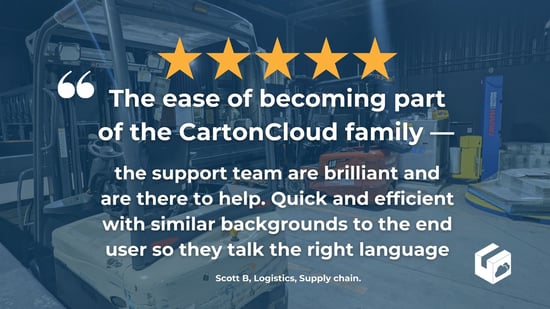 Join thousands of daily users growing their businesses with CartonCloud's intuitive web app (check out our thousands of software applications available to automate your workflows and simplify administration), and native iOS and Android mobile apps.
See more customer stories here, and see how CartonCloud's powerful features can help you boost your logistics business today!
Want to know more? Book your free WMS software tour today!
We want to help you find the best WMS and TMS software for your business. Contact the CartonCloud team today to book a FREE DEMO and see our software in action. Our team of industry experts have years of experience, which means they understand your business and what you and your customers need to succeed.
You can also download the CartonCloud mobile app in demo mode to view a handful of features for FREE. Download from the Apple store or Play store to see for yourself!
We're logistics people too, so our team can understand your business needs and ensure your setup is correct to streamline your operations, and scale up your business. Get in touch today and see how CartonCloud can revolutionize your logistics business.