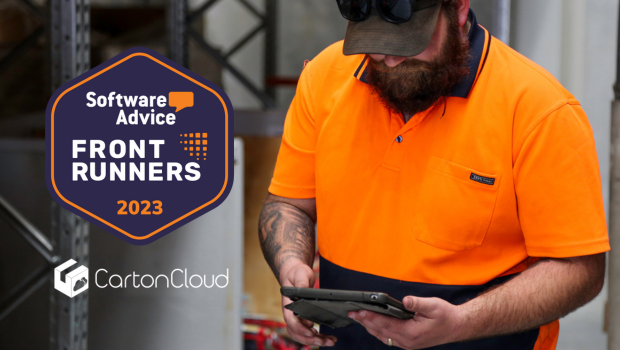 CartonCloud has been named the top WMS software for user satisfaction in the 2023 Software Advice WMS Frontrunners Shortlist! The shortlist is based on WMS user ratings to compare Warehouse Management Software solutions with real-world user reviews.
Once again, CartonCloud is top-rated by users worldwide, thanks to our user-friendly design, powerful features, and intuitive data automation. This time, CartonCloud has been nominated by users as the top WMS for user satisfaction in 2023, in Software Advice's frontrunners list.
One of the things that makes our software so unique is that our team are logistics experts, and we work closely with customers throughout their onboarding process and beyond — to ensure they are getting the most from their system and to ensure our new features and updates continue to provide the best warehouse system for our customers. 💙
Compared with other WMS systems on the market, CartonCloud is ranked highest for customer satisfaction.
We've helped over 450 logistics companies worldwide to streamline workflows and grow their businesses with CartonCloud's Warehouse and Transport Management System.
"Unparalleled Efficiency and Exceptional Support: Efficient, Reliable, Versatile, User-Friendly, Robust

The CartonCloud TMS & WMS software surpasses all my previous systems. Its seamless functionality and comprehensive features have significantly improved my workflow. The exceptional support from the teams undoubtedly sets them apart as leaders in the industry. This all-in-one solution is truly the best I've encountered."

—Kenneth, Logistics and Supply Chain
Our customer success is what drives us, and we are thrilled to see software reviews from users showing such a strong love for CartonCloud's powerful and intuitive WMS.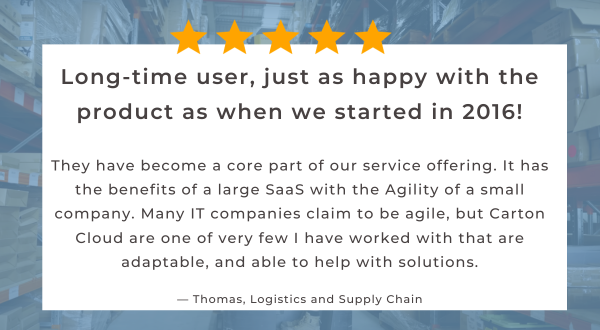 CartonCloud's customer testimonials speak for themself. Our intuitive and feature-packed software is a favorite WMS for growing logistics companies. Software Advice provides direct user reviews and software comparisons to aid users in finding the right software for them. CartonCloud has a 4.8 overall user rating, with in-depth software reviews by users of our warehouse and transport management system. But don't take our word for it, see what our customers have to say!
"Service from the team is always great and fast!

The team at CartonCloud are experienced in not just technology, but also the industry which means they can understand requirements and day to day operations."

"Long-time user, just as happy with the product as when we started in 2016!

They have become a core part of our service offering. It has the benefits of a large SaaS with the Agility of a small company. Many IT companies claim to be agile, but Carton Cloud are one of very few I have worked with that are adaptable, and able to help with solutions.
— Thomas, Logistics and Supply Chain

"Customize everything yourself through the knowledge base, integrate everything.

CartonCloud enables us to set up consistent onboarding processes and let prospective clients know exactly what we can and cannot do for them very quickly. [Having the] ability to find integration solutions for all 3PL clients through direct API integration, parsers, or logins to let old-school clients enter their own orders is a pro. Also visible history logs for orders, products & invoices helps keep track of changes and updates to all aspects of the warehouse."

— Mitchell, Warehousing
Want to share what you love about CartonCloud? Add your CartonCloud review on Software Advice here or review us on Google in North America or Australia/New Zealand.
CartonCloud's top-rated warehouse and transport software
We are proud to be named a top-rated Warehouse Management System software by our customers across America and the Pacific! Our easy-to-use interface, powerful integrations, and features built by logistics people, for logistics people are designed to simplify your day and let you grow your 3PL.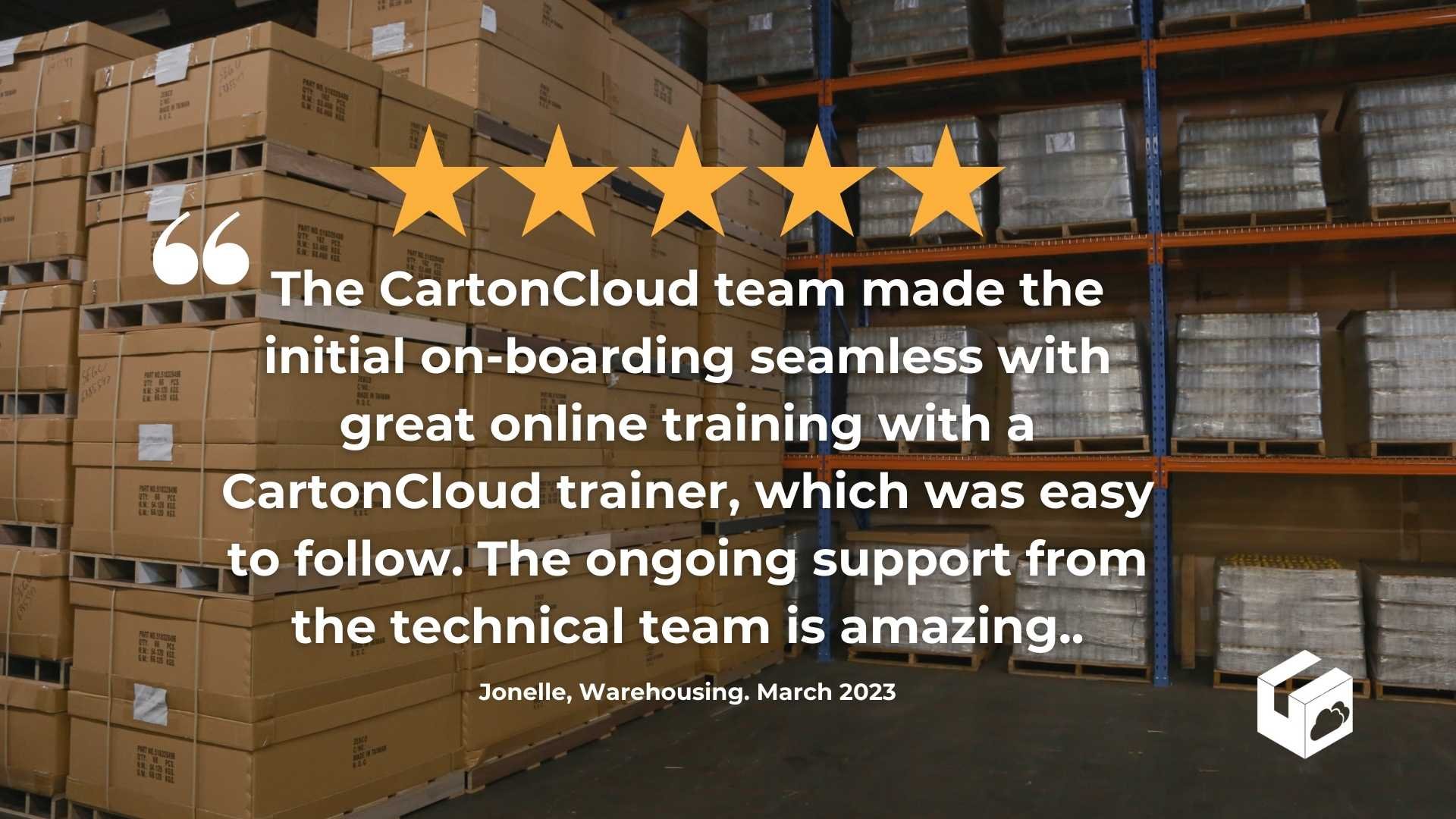 "CartonCloud is worth every cent !
We love working on CartonCloud, it is easy to use and very user friendly. It was so important to us that we also get great on-going support when needed and the CartonCloud team have always been really fast to respond and point us in the right direction if we have a query.

"The CartonCloud team made the initial on-boarding seamless with great on-line training with a CartonCloud trainer which was easy to follow. The ongoing support from the technical team is amazing.

If we have a query, we always receive a fast response/solution back within a few hours after sending. The team have been great to work with particularly in Integrations.

We have been using CartonCloud for over 18 months now and absolutely love the software. It is really easy to navigate. The system is well set up and covers everything we need for our 3pl clients. We love working on CartonCloud and highly recommend it to others looking for a great inventory management software.

CartonCloud is a cost effective solution without the large up front costs that most software companies charge. We wanted a cloud based system that included everything we needed for our business and CartonCloud ticked all our boxes."

—Jonelle, Warehousing, March 2023
Want to know more? Book your free WMS software tour today!
We want to help you find the best WMS and TMS software for your business. Contact the CartonCloud team today to book a FREE DEMO and see our software in action. Our team of industry experts have years of experience, which means they understand your business and what you and your customers need to succeed.
You can also download the CartonCloud mobile app in demo mode to view a handful of features for FREE. Download from the Apple store or Play store to see for yourself!
We're logistics people too, so our team can understand your business needs and ensure your setup is correct to streamline your operations, and scale up your business. Get in touch today and see how CartonCloud can revolutionize your logistics business.