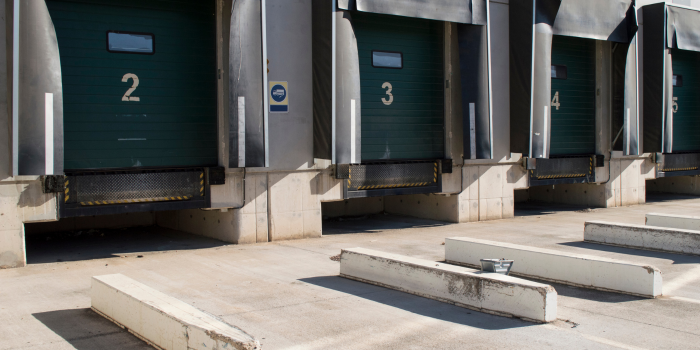 With cross dock operations, you can manage incoming and outgoing stock to reduce storage time, and optimize final delivery timeframes. Implemented correctly, cross docking can save you time and resources while reducing wasted miles and storage — and not just you, your customers will benefit from optimized sorting and delivery.
So what is cross docking, and how can you implement it in your warehouse for faster final delivery?
What is cross docking?
Cross docking is a WMS workflow that removes unnecessary warehouse handling and storage for faster and more efficient last-mile delivery.
To cross dock, you must have the ability to accurately validate incoming freight and easily see outbound information, in order to consolidate freight to outgoing consignments and delivery runs by grouping freight with similar final destinations.
Cross dock warehouses may use an area within the dock or warehouse as a staging point for stock to be assigned to outgoing runs, without first entering the stock into warehouse storage.
Why use cross docking? Using cross dock operations in your warehouse gives you the opportunity to make your supply chain as fast and productive as possible.
With cross docking you can;
Free up warehouse storage space
Speed up final destination delivery
Optimize your resources
Reduce waste and over heads
Offer more to your customers
Plan ahead to optimize outgoing orders.
Large shipments can be broken down and sorted, to consolidate outgoing orders based on similar final delivery locations, requiring fewer transport vehicles.
Why is this important? Often in global and American supply chains, in order to optimize transport routes with large freight carriers, stock may pass through several warehouses before it is assigned to the delivery run for its final destination.
Cross docking is used frequently in American logistics and global supply chains (alongside similar processes for transloading). Cross dock operations allow warehouse and transport operators to maximise efficiency for final destination deliveries by coordinating outgoing stock within combined transport consignments.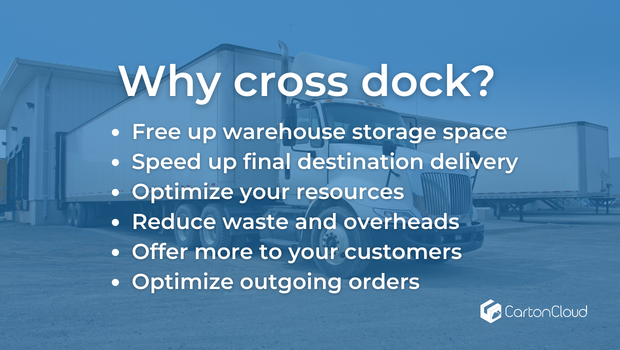 How does cross docking work?
Using the cross dock workflow, you can strategically manage stock awaiting outgoing shipments in a staging area, so they can be sorted together with other orders for delivery on a similar route.
In cross docking, speed and accuracy are crucial. You need to have eyes on incoming stock, and outgoing orders, and be able to locate and sort staged stock with ease and accuracy. Effective cross dock operations require management of many moving parts at once, but it doesn't need to be complicated.
On paper, this process can be extremely complex, but with the right software you can simplify cross dock operations, save time, and increase accuracy.
CartonCloud Cross Dock
CartonCloud's powerful cross dock features give you transparency over incoming freight and outgoing orders, in order to maximize consigment run efficiency.
With CartonCloud's Warehouse Management System, you can easily sort stock between numerous outgoing consignment runs, based on their similar final destinations, giving you greater accuracy and optimization in cross docking.
Using the CartonCloud mobile app you can access information on incoming freight, including outgoing order details, in order to automate freight allocations for outgoing consignments, based on similar end destinations.
Simply use the mobile app to scan incoming freight for validation and automated entry to WMS records, and assign to a temporary staging area. Here freight can be consolidated and/or consolidated for outgoing loads, based on the most efficient delivery groupings.
Manage multiple incoming loads nad outgoing delivery runs with ease, and use barcode scanning and automation for accuracy at every step.
Imagine an incoming truck with 10 pallets. Each pallet may contain up to 50 different deliveries, each requiring sorting, allocation, and dispatch in a short amount of time.
With CartonCloud's cross dock feature, this process is simplified. You can use the warehouse management system on a tablet or mobile view, to identify incoming stock requiring sorting, use barcode scanning to accept stock, and then simply allocate inventory to the most efficient delivery run. Saving time and increasing accuracy.

How to cross dock with barcode scanning
Paired with a Bluetooth scanner, the CartonCloud mobile app gives you the tools you need to start using barcode scanning immediately. To cross dock with barcode scanning, simply scan incoming freight to confirm incoming orders and enter the stock seamlessly into the WMS.
Using our powerful cross docking feature, you can then automatically allocate stock directly to a suitable outgoing consignment and run sheet, and scan the stock to confirm dispatch. It's simple and accurate, giving you the tools to increase daily output.
Cross dock benefits
Companies that cross dock can save time, reduce resource waste and offer more to their customers. By providing cross dock services to your customers, you can reduce storage and transport fees, to offer more competitive pricing, with faster delivery timeframes.
(Check out more on automating warehouse and transport rate cards for more accurate invoicing.)
Cross dock with CartonCloud's powerful WMS/TMS software
For cross docking operations in the United States, CartonCloud's integrated warehouse and transport management system software provides the ideal platform to optimize operations and increase accuracy.
Cross dock software needs to have the ability to automate order data for incoming and outgoing shipments, and coordinate transport times to identify the most efficient dispatch route for d final destination delivery.
CartonCloud is an American industry favorite, providing easy-to-use cross dock functionality within our intuitive and powerful, cloud-based WMS software system. Your cross-dock warehouse can optimize resources and streamline deliveries for faster last-mile and more efficient final destination delivery.
What's the alternative to cross docking?
Not all freight needs cross docking. Alternatively, incoming stock is accepted into the warehouse, assigned to a location and stored. It often includes pallet de-stuffing, and other inventory handling services required to input the stock into your warehouse storage — including storage and handling specifics.
This stock is then picked for orders and allocated to a consignment for dispatch. The waiting time between incoming and outgoing stock is longer, and the workflow required more hand on inventory and order management.
For some inventory, the traditional warehousing model is suitable, providing a valuable service to house and manage stock for orders. However, for stock that is incoming and outgoing in short timeframes, or requiring little to no handling services, cross docking can streamline the interchange between delivery runs and save time.
CartonCloud's powerful Warehouse Management System software gives you the ability to seamlessly manage warehouse inventory, orders, and operations from end to end, across multiple workflows and functions, to ensure you always have the best tools for the job.
Want to know more?
Contact the CartonCloud team today to find out more, or to book in a FREE DEMO to see our software in action. You can also download the CartonCloud mobile app in demo mode to view a handful of features for FREE. Download from the Apple store or Play store to see for yourself!
We're logistics people too, which means our team can understand your business needs and ensure your setup is correct to streamline your operations, and scale up your business.
.