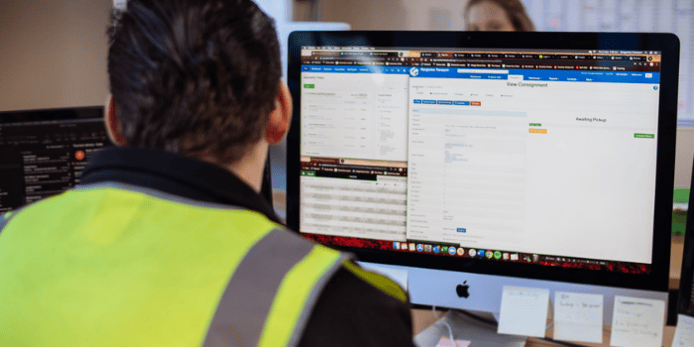 In an increasingly crowded, highly-competitive industry like 3PL, customer service is often the difference between success and failure.

You can spend months attracting a new client, bending over backwards to do everything right; only to have the relationship ruined by a terrible customer experience.

One of the best ways to avoid this scenario and keep your customers happy is to embed customer service into your culture by adopting a few simple principles that make it easier for every employee to put customers first.
Stronger Communication
Communication is the biggest factor in the success of any company. Missing consignments, damaged freight, and late deliveries often occur due to poor communication and can lead to customers looking elsewhere for a reliable solution. Here are a couple of examples about how better communication can reduce some of the headaches 3PL businesses deal with every year.
| | |
| --- | --- |
| The Problem | The Solution |
| Lost paperwork results in lost consignments and invoice confusion that aggravates customers. | Develop an automated, digital-based business that no longer needs paper documentation. |
| Missing cartons or pallets from consignment notes leading to delays and a poor customer experience. | Create prominent visual or digital reminders to double-check picklists before packing. |
| Delivery drivers creating impromptu routes, as opposed to sticking to run sheets and missing deliveries. | Establish permanent run-routes and adherence to run sheets through vehicle tracking. |
| Misplaced and/or expired inventory in racking which remains undetected over time. | Undertake routine stock-taking and stock rotation for greater accuracy and shelf life. |
Improve Record Keeping
Record keeping is almost as important as good communication to reducing customer friction. In fast-moving operations, it's challenging for many pickers, drivers and forklift operators to remember the actions they took yesterday, let alone last week. Keeping accurate records can be simplified or complex, depending on the information required. Here are a few simple things you can do to solve common problems with record keeping.
| | |
| --- | --- |
| The Problem | The Solution |
| Handwriting that is too difficult to read, especially on Proof of Delivery (POD) dockets. | Advising staff to write clearly, or consider transitioning towards a digital system. |
| Incorrect picking and missing freight, causing awkward customer inbound calls | Emphasizing the importance of correct picking and confirming the pick-slip has been marked. |
| Unexpected vehicle and plant breakdowns due to noncompletion of pre-starts. | Ensuring staff finish prestarts by ad-hoc supervisor checks and daily submissions. |
Sales Follow-Ups
Often the sales team on-boards a new customer, and believes their work is done. In many cases, the on-boarding process is merely a step forward towards a long term working relationship. We feel that the sales process has merely started here, not ended.
At CartonCloud, we believe in looking after customers for the long term. For many industries, including warehousing and logistics, this is best done through routine sales follow-ups. Here are some of the problems, and solutions, your business might be encountering.
| | |
| --- | --- |
| The Problem | The Solution |
| Customers begin to feel neglected and lose the personal relationships established throughout the sales process. | Scheduled friendly calls or visits to customers, which don't have to be sales-focused. |
| Customers turn minor issues into big issues because they feel they are not being treated like a customer. | Ensure sales staff develop a full understanding of individual customers, including their volumes and pain-points |
| Your customers may lie about lost consignments since they think you're not attentive. | Asking for feedback from customers as to how you, as an operation, can improve |
| Customers hold frustration about certain couriers but have no one to address this to | Create an equal focus on both the acquisition of new customers and caring for those existing customers. |
Despite living in such a digitally-focused world, old fashioned customer service is still well regarded in the industry.
Both old school and recently launched warehousing and logistics companies often find room for improvement in their customer service. After all, looking after customers pays the bills (and then some) plus has scope for further business revenue.
Building a solid foundation through world-class customer service can build your reputation. It separates you from the 99 other unreliable companies, whose main focus is on scraping through every month.
If you're looking to not just survive, but thrive as a 3PL operation, then reliable customer service needs to be your main priority.
To download our full White Paper titled "Your Guide To World-Class Customer Service" click here.