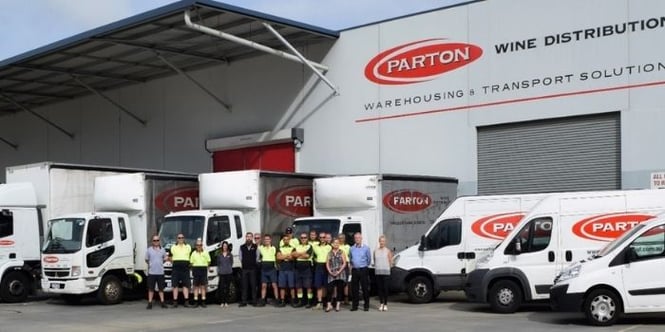 Parton Wine Distribution - Warehousing & Transport Solutions.
Data entry errors can cost a 3PL business hundreds of thousands of dollars a year in lost productivity, picking errors, and client remediation. But it doesn't need to be the case.
By taking humans out of the equation one of Australia's biggest wine, beer, and spirits 3PLs has managed to almost eliminate errors while assigning extra staff to the important role of growing the business through better customer service.
Established in 2007 initially to provide a pick and pack service, Parton Wine Distribution has now grown to become one of Australia's leading 3PL companies.
In it's home state of Western Australia, the company operates more than 4000sqm of warehousing at Welshpool 15 minute's drive from the CBD. The company has expanded in recent years and now also has sites in New South Wales and Victoria.
With customer order volumes ranging from $50 per week to more than $20,000 per week, CartonCloud's warehouse and transport management system has become instrumental in managing a broad client base across multiple sites.
The company's journey to using CartonCloud was fairly typical and like many current users started with elaborate Excel spreadsheets.
"We used to run the whole business on spreadsheets, and as the business grew so did the complexity of the spreadsheets," Parton's National Operations Manager David Raddon said. "We were picking orders directly off customer invoices and, as you can imagine, the error rate was higher than we would have liked."
"Over time our customer's wants and needs grew - they wanted to see live inventory, they wanted to sign on glass – so we needed a system that could handle those requirements."
After trialing another platform the company eventually made the switch to CartonCloud after seeing its success at their sister company, Parton Logistics.
"The fact you only pay for what you use and the simple on-boarding process were the main reasons we chose CartonCloud but we have since learned a lot more about the system and found a lot of other benefits," David said.
With multiple sites processing up to 1300 orders a day one of the most valuable features of CartonCloud has been the ability to interact with clients' systems using Parsers.
The word "Parser" is the name for software that automatically reads data in a given format, and then loads it into CartonCloud's platform. For example, when Parsers are created for Excel files, we're simply telling CartonCloud which column is which, so the import will be completed successfully.
David believes Parsers have had a transformative effect on the business by freeing up staff to focus on customer service, not data entry.
"The implementation of Parsers has probably been one of the biggest wins from using CartonCloud," he said. "Keying errors while inputting data was one of our biggest issues and took up a lot of time to manage."
"All of our clients can now upload using Parsers and the keying error rate has plummeted."
"Some customers use Xero and they upload directly into CartonCloud, MYOB customers just create CSV files that get emailed to CartonCloud and uploaded. For our largest customer, we created a full interface that generates orders straight into CartonCloud."
"One of the key things we focus on is customer service… CartonCloud's Parsers have allowed us to convert staff from data entry to customer service which has helped us win more business and grow our own business."
Why Choose CartonCloud?
CartonCloud, Australia's best warehouse management & transport management software, logistics software made by logistics people. With the development of CartonCloud, the aim was to build a warehouse management system with a transport management system integrated, whilst focusing on automating administration processes, accounting tasks to speed up cash-flow and create total transparency for customers while making it really easy-to-use.
To learn more about CartonCloud's Parsers visit our Knowledge Base article here