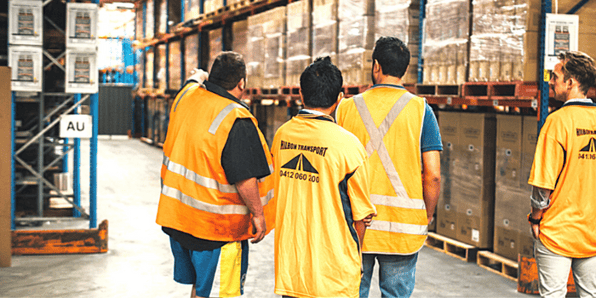 Recent years have seen the rise of e-commerce driving changes throughout the supply chain, especially in terms of customer expectations in last-mile delivery.

Meanwhile, global supply chains have also experienced bottlenecks, delays and restrictions responding to the global pandemic, resulting in a renewed focus and emphasis on building supply chain stability for customers and wider markets.

The CartonCloud Logistics Index Q4 2021 Report explored what these changes meant to Australian logistics providers. This included the services they offered to customers in order to bolster supply chain stability, and what customers were looking for.
Customer service in the last-mile
Many logistics providers are now offering multiple services under one point of contact, storage buffers to combat supply chain delays, and enhanced inventory tracking and delivery data.

Our Q4 research report showed the top three services logistics providers currently offered to customers were;
one point of contact for multiple services (35%),

customer access to tracking and delivery updates (33%)

and sufficient storage to provide inventory buffer (30%)
Boosting internal capacity

In order to offer greater warehouse storage, additional services and enhanced delivery tracking — it's essential that logistics companies also boost their own capacity, offering new services and support to enable them to compete with larger freight companies.

The report explored how companies planned to boost capacity to meet increasing demand in the coming year. There were two key approaches for dealing with growing demand.
Expanding physical resources;

expanding warehouse storage footprint or transport fleet and bringing on new staff was a popular plan for the new year for many members of the industry.

Implementing better data analysis; using data to provide to customers or for internal forward planning was a popular area of interest. Companies were looking to use inventory, sales, growth, demand and fulfilment data to project when and where resources may be needed during busy periods, have the ability to repurpose resources, manage customers to avoid bottlenecks or overlaps, and forward plan for when additional resources would be required.
As expectations for last-mile delivery timeframes shorten, using business intelligence data to forecast for the future becomes more important for logistics providers. Having the ability to forecast periods of high demand and optimise the resources they have on hand while ensuring they can resource additional staff or outsource services when needed, could make or break a provider in times of high demand.
"We're looking to use data more effectively to plan for what we need, when we need it." — Combined Warehouse/ Transport operations.
Supporting Customer Inventory Buffers

Providing storage space, data for forward planning, and staffing resources to create an inventory buffer for customers allowed logistics companies to offer a unique selling point.

Pre-stocking ahead of expected busy periods, and providing an inventory buffer for unknown sales periods allows customers to be more flexible with higher quantity orders, and ensure they can meet their end-customer expectations.

It also allows customers to move their inventory between multiple regional warehouses, to position stock in areas of high demand ahead of time — avoiding potential delays and bottlenecks that may slow delivery en route from a single origin point.

Building on this notion of pre-planning; the report found many respondents also offered analytics and data analysis as a service to assist customers in planning stock levels and locations. This may be from business intelligence tools like the CartonCloud BI, through manually exploring and analysing stock and sales reports, or providing early communication to customers to think about planning for upcoming sales periods.
What reporting or data analysis do you offer to your customers?

The gap between B2B and B2C reporting expectations has narrowed significantly in recent years, with data and reporting expectations growing — especially in last-mile providers. Industry giants have set standards that have influenced customer expectations and put pressure on providers to meet. In response, many small-medium logistics businesses are increasing reporting and data-analysis services offered.
Reporting and Tracking
The CCLI Report found customers were seeking 3PL and transport companies to provide greater communication and information on last-mile logistics, including tracking and delivery ETAs. There is a desire for real-time reporting and data, to assist the customer in their own future stock and sales planning, reporting on time taken to complete a task or delivery, weekly/ fortnight outputs, charge breakdowns, stock and consumable usage reports, and delivery estimates.

The report also highlighted many companies were looking at implementing software solutions with customer integrations, tracking and automated reporting, sign on glass, in order to meet these expectations and continue to compete with other major players in the industry.
One Point of Contact

Finally, in an industry with so many moving parts, a key factor logistics companies are offering for supply chain stability is to have one point of contact for multiple services.

While actions such as outsourcing to third parties was a key activity listed in dealing with increased capacity, having clear information between partners, to provide one single point of contact for customers remains a key priority in delivering greater supply chain stability. Companies may also be offering more services under one point of contact, including direct customer relations, or adding delivery or storage services.

"We are looking to increase our direct to customer distribution. We send wine usually on pallets DC's but have been getting more involved in individual cartons direct to customers." — Trafford Harris, Pallet and Barrel
Want to know more?
Download your FREE copy of the Cartoncloud Logistics Index Q4 report here.
Want to see how you can boost capacity and get the most from the resources you have on hand? Get in touch with our friendly team to arrange your Free Demo today, and start growing your business now.