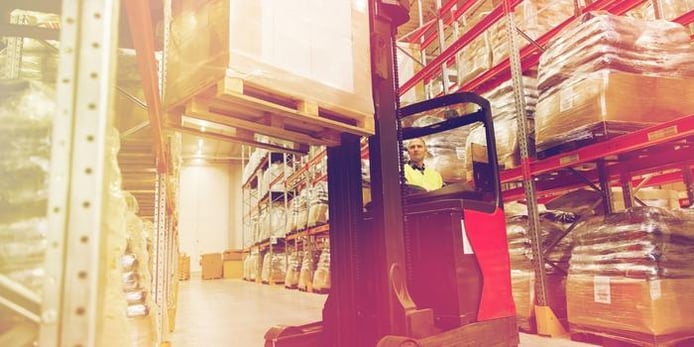 What are the pros and cons of cloud vs on-premise software solutions for your Warehouse Management System?
When selecting a new management system for your warehouse operation, a critical factor in the decision will be whether it's cloud-based or on-premise.
To put it simply, cloud-based software delivers computing services over the internet ("the cloud"). This includes everything from servers and storage to databases, networking, and analytics.
On-premises software is installed and operates on computers in your premises.
The capacity and capability of cloud technology has advanced significantly in recent years and its full potential still hasn't been achieved.
Let's take a look at the benefits a cloud-based software could bring to your operation and the key differences to on-premises software.

Costs
Typically, cloud-based warehouse management systems operate as a "software as a service" (or SaaS) platform. Up-front fees are typically very low (or non-existent) and often a subscription fee is all that's required to use the software. This eliminates the significant capital expense of buying the hardware and software required to set it up a management system physically on the premises running on data centres.
Running software through the cloud also removes the need for your own servers, 24/7 electricity access for cooling and power. An on-premises solution may also require in-house IT expertise to troubleshoot, problem solve and manage the ongoing software operation.
The costs associated with an on-premises system can add up quickly compared to the software as a service model of cloud-based systems.

Automatic Updates And New Features
With a cloud-based management system, your servers are the responsibility of the service provider and are located off premises. The provider can update systems automatically, which saves businesses time and money.
The same goes for new features. A quality cloud-based management system provider can be constantly developing new and exciting features for their customers. This capability can provide an advantage for operations with cloud-based software over their on-premises competitors.


Support
Warehouse management systems are technical pieces of software and that's why support must be front and centre when it comes to weighing up a cloud-based or on-premises solution.
Cloud-based management system providers often have customer support programs to help their users get the most out of the technology and the most bang for their buck. That's because providers are determined to retain customers long term.
A customer support program can help you transition to the new software and be available to solve any problems that emerge along the way.


Security
There are growing concerns over data security globally and no business is immune from being a target for cybercrime. Many cloud providers offer a variety of defences that can strengthen the security of you and your customers' data from potential threats. The provider will also be working to ensure the security is up to date as well.


The benefits of CartonCloud being cloud-based software
CartonCloud is an easy-to-use 3PL transport management system and warehouse management system. It combines everything good about cloud technology and logistics automation to let your business do more.
There's no lock-in contracts with CartonCloud because we're a SaaS company. A small supporting fee is all it takes to set going and then a weekly subscription fee covers your usage. You pay as you go and only pay for your usage.
The software is also secure. All communication with the CartonCloud system is SSL encrypted to prevent eavesdropping.
The ongoing development of CartonCloud is also really important to us. We have more than a dozen in-house programmers who collaborate with our support team. Their job is to deliver continuous development of the application with new features added every fortnight.
CartonCloud's built-in Knowledge Base has loads of tutorials covering everything from setting up the software to standard operating procedure and troubleshooting to integration and automation guides. This provides free, 24/7 online support for customers.
If you're wondering what the best management system is for your warehouse operation, get in touch with the CartonCloud team today for a free demo.