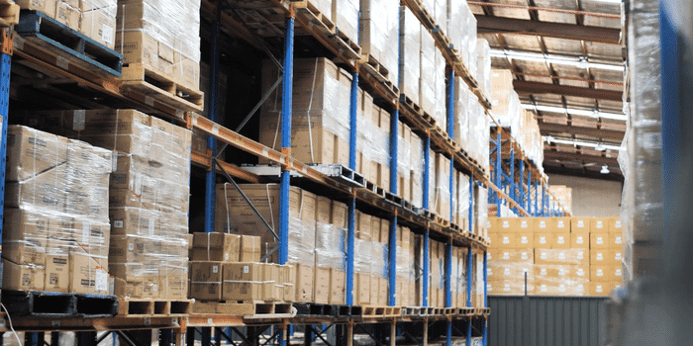 Find out how to reduce waste, eliminate lost inventory, and provide stock oversight to your customers with ease. Take a look inside these top-performing warehouses, to explore how they use inventory to make data-driven decisions and optimize efficiency in the warehouse.

WMS inventory management gives you the accuracy you need to run your operations. Inventory management systems and software allow you to maintain real-time oversight of stock levels and movement, keep customers and stockists informed, ensure timely restocking, and minimize lost or damaged inventory.
So, how does an inventory management system work? Inventory management systems and WMS software with inventory tracking and reporting are the secret weapons behind some of the top-performing warehouses across America — allowing them to perform better, make data-driven decisions, provide important information to customers, and reduce costly mistakes.
What is a cloud-based inventory management system?
First, let's look at inventory management and how you can achieve this with a high-performance warehouse management system like CartonCloud.

Top-performing warehouses are using cloud warehouse management systems for inventory management to optimize their processes, and boost accuracy at every step.

Take CartonCloud's new Mobile Task Picking update (released November 2023 for Apple and Android operating systems). This mobile functionality enables users to achieve end-to-end transparency and streamline their workflows for faster daily output, and greater accuracy.
What's more, the intuitive cloud-based WMS software enables real-time data tracking, with automated record updating so inventory records remain up-to-date in real-time.
How does inventory management work?
Ultimately, proper inventory management gives you greater inventory oversight, to manage your warehouse operations easily and accurately.
A cloud-based warehouse management system (WMS) provides accurate cloud inventory management to track and manage your stock with ease. The benefit of a cloud-based system is that each touch point, each stock movement, order updates, returns, and other data points can be entered in real-time, allowing you to track and manage stock at all times.
Removing the need for time-consuming manual data entry, CartonCloud's paperless WMS software gives you the tools to capture stock data from integrations, track stock location and movement throughout the warehouse, optimize storage management, increase picking efficiency and provide electronic proof of delivery (e-POD).
Benefits of using your WMS for real-time inventory management:
Make inventory decisions in real-time
Save time and improve accuracy with inventory location management
Break into e-commerce
Track specific inventory at any point, with a stock movement report
Use data to plan ahead for high demand
Manage stock by expiry or best-before dates with batch control
Avoid wastage or overstocking with inventory tracking
Tracking and managing inventory through your warehouse has never been more simple, or intuitive.
Make inventory decisions in real-time
With a cloud-based inventory management system, you can use real-time data for decision-making. Efficient warehouse inventory management relies on maximizing your capacity for product intake while optimizing storage space and increasing on-the-ground efficiencies to fulfill orders.
You need eyes on inventory from all angles, so top-performing warehouses are using inventory management software to up their game. Using a cloud-based WMS for warehouse inventory management allows you to;
Locate inventory for packing and orders
Track stock movement throughout the warehouse
Ensure sufficient supply and timely restocking
Monitor stock expiry or best-before dates
Avoid wastage or overstocking
Track inventory packaging and assembly from various distributors.
Save time and improve accuracy with inventory location management
Top-performing warehouses across the globe are using cloud-based inventory management software to provide access to the data they need, to optimize warehouse operations.
CartonCloud's WMS gives you oversight of your inventory items, and allows you to configure custom fields on stocked items to ensure you have the right data for each customer and their stock. This may be batch number, expiry dates, lot, serial, supplier, or any other stamp or date you might wish to assign for stock management.
With the ability to select stock for order picking based on custom fields, you can ensure the correct items are picked, based on the exact data in their custom fields. With barcode scanning, this information can be retrieved and checked off instantly, as your pickers select each item. You can also select the level of detail required across every step, and who sees it, assign warehouse storage or manage large orders with ease (such as an entire pallet or storage rack), or differentiate per individual item within the pallet in order to pick and pack for specific orders.


Break into e-commerce
With economic instability, and the fear of a recession on the horizon, having a system in place that allows you to diversify your revenue streams by offering new services can be a huge benefit.
Using your WMS for smart inventory management longside your other warehouse workflows and business management gives you the opportunity to offer your customers more services (e-commerce, transport and warehousing, customised packaging, etc), while seamlessly tracking data and capturing al billable rates.

Track specific inventory at any point, with a stock movement report
Your warehouse inventory management software should allow you to track inventory throughout the warehouse process, giving you up-to-date data at any point.
Picture this; earlier in the week you had a full pallet, this afternoon it's half empty, your staff have just changed shifts and you have a customer on the phone asking for a report on which orders have been filled and where the stock has gone… and they want it now. No problems.
Top warehouses are using their WMS inventory management to track stock and orders at every point, and provide real time data to customers with ease, and you should be too.
WMS inventory management lets you know the location and status of your inventory at all times. CartonClouds cloud-based WMS software allows you to track inventory data in real-time, and provide up-to-date stock balance and stock movement reports to your customers without hassle.
You can track the full life cycle of a product through your warehouse storage, picking and throughout production— so you know exactly what has been used, from where, and where it has gone. Tracking your stock movement also enables you to have in-depth oversight of product assembly, and inventory restocking requirements.
Plan ahead for high-demand
Keep your stock coming at the right time. Real-time inventory management means you have eyes on inventory at all times, so you can identify replenishment requirements early and easily communicate stock levels with customers.
Warehouse inventory system software like CartonCloud's WMS allows you to pull real-time stock reports to determine the exact balance of a product at any point in time. Avoid costly downtime between replenishment with easy-to-access, up-to-date stock reports you can share directly with your customers.
Manage stock by expiry or best-before dates with batch control
Avoid stock spoilage and increase packing efficiency by storing based on it's expiration date. CartonCloud's WMS allows you to control stock based on selected identifiers, including batch numbers, lot numbers, serial numbers, production dates or expiry dates. This gives you the data required to make decisions around how you will manage storage and location ordering (first in, first out, or ensuring easy access to stock that is first to expire).
Your stock movement report also allows you to track individual items within an order, understanding what inventory was delivered where, and when— and viewing important information such as expiry dates or best before of the particular order.
Avoid wastage or overstocking with inventory tracking
Inventory management can help you reduce costly overheads due to stock wastage. Through tracking expiry or best before dates on inventory, you and your customers can use this information to select stock for shipping, and plan timing for replenishments based on order frequency.
Warehouses providing assembly services require inventory management on inventory throughout the production journey. Utilising your inventory management system software to track batch and specific items provides you with full oversight of inventory stock levels, assembly status and order information throughout assembly and production.
CartonCloud's WMS offers mobile barcode scanning, allowing you to increase picking efficiency for each item, and instantly update the item's location and status in your inventory management.
Track raw materials and components from the warehouse floor, through picking and assembly, to order shipment.
Want to know more about using your WMS for inventory management?
Contact the CartonCloud team today to find out more, or to request a free demo. We're logistics people too, which means our team can understand your business needs and ensure your set up is correct to streamline your operations, and scale up your business.