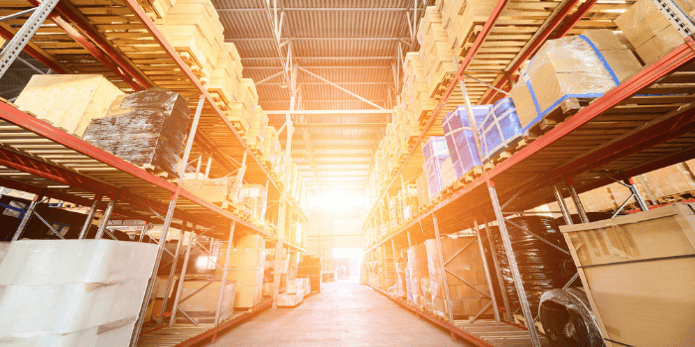 Let's look at how your customer service can skyrocket with an integrated WMS solution.
What is a WMS?
A warehouse management system (WMS) is a solution designed to provide visibility and oversight of your warehouse inventory and operations. A well-designed, cloud-based WMS system will change the way you do business. Your WMS provides access to real-time data, inventory tracking and warehouse location management tools, rate card automations, and more — ultimately saving you time and money.
Two ways to improve your customer experience with your WMS solution
Your WMS doesn't just help you, it helps your customers too — streamlining your entire operation, including customer communication and customer software integrations.
With a cloud-based WMS, you can give your customers access to their own dashboard in your WMS, and share data from your WMS to the software they use. This means you can offer transparency to customers, giving them access to inventory reports in real-time, as well as integrated ordering, accounting and management.
Customer access to your WMS software
You can set up a client dashboard, for your customers to view their inventory, orders and dispatch information. With access to your WMS's real-time warehouse data, your customers will be able to better manage their inventory and make informed decisions on restocking, and better manage their supply chain — without needing you to generate each and every report.
Give your customers access to;
Run stock reports
View order status
See stock movement reports
View damaged stock levels
Manage stock with expiry dates or best before
Plan restock dates and allocations
Set up WMS software customer integrations
Not only is it transparent and easy to access data sharing with customers saving you time and hassle, but software integrations are also an essential step in building effective business communications with your customers and partners. Being able to seamlessly draw data from other software such as ordering and accounting software saves you and your customers time on data entry, and increases efficiency, drawing from one single data point of truth. We've included a checklist below to support you in onboarding your customers to your WSM seamlessly.
Finding the right WMS solution
It's important to ask, what is a WMS solution's role in my company? CartonCloud's paperless WMS warehouse software not only gives you the ability to maximise your space and resources, optimise warehouse order fulfilment, track inventory location and stock levels but also offers
Giving your customers access to inventory oversight through your WMS saves you time and hassle while providing a better customer experience for them. Allow your customers to access real-time data and generate their reports, letting them manage their stock and operations, without requiring you to prepare the data for them.
In the logistics industry, we do not operate in a bubble or siloed environment of our own.
Instead, storage, assembly, and transport services work together in an integrated web to deliver end to end logistics. This is why CartonCloud has designed a WMS and TMS cloud-based solution, offering integrations for your partners and customers — so you can streamline your processes, end to end.
We've outlined a few key points below to help you and your customers with smooth integration and customer access set-up to make the process easier.
What to consider when bringing your customers on board with your WMS software
Onboarding and data integration will look different for each of your customers. Inventory management through your WMS warehouse data depends on the data you can input for each customer's stock and individual products.
For example, CartonCloud allows you to track inventory in a number of ways, by pallet or box on delivery, storage rack or warehouse location, right down to the individual product item. You can allocate specific data fields to help you maintain oversight over important details such as expiry date, or to track specific items to specific orders, through to delivery.
The way your WMS software tracks your client inventory will partly depend on your client's inventory product type and the data capturing they already have in place. For example, if they use individual product barcodes to track specific items, or have a box with a number of items that can be swapped and interchanged on packing.
To make life easier, we've made a checklist below with a few key things to consider when planning your customer onboarding to your WMS solution.
Customer checklist — ensuring your customers are prepared for the transition to CartonCloud WMS
Ask about the software they use, and consider the integrations they may require (MYOB, Xero, Shopify, etc).
Product identification and barcodes.
Discuss their data collection and product identification processes. For example, do their products have barcodes on each product? Do they need to consider expiry dates?
Ask about your customers current and future reporting needs. This will inform the data they need to be captured and tracked in the WMS software.
Specific storage requirements.
Define any specific storage requirements they may have for their products that will determine their warehouse storage and location.
Finally, if there are any questions you have about integrations or customer needs, you can speak with the CartonCloud team about integration set up, data collection tactics and processes through your WMS, or anything else you need to know — to ensure your customer onboarding is smooth and effective.
The mutual benefits of integrated WMS solutions
What is WMS to your customers? It means real-time inventory reports, oversight over stock movement and status, view of damaged stock levels and real-time delivery/ dispatch information, and much more. With customer access to your WMS software, they can view inventory levels and determine restocking needs, helping them avoid storage fines and helping you avoid over-stocking of unwanted inventory.
It means allowing you both to have oversight of inventory and greater transparency of order statuses, with ease. It means better customer service and more efficient communications.
Save you and your customers time and money, using your WMS to optimise your workflow.
Want to know more about how to improve your customer service through WMS customer integrations?
Get in touch with our friendly team to ask for your free demo, or to discuss setting up custom integrations.