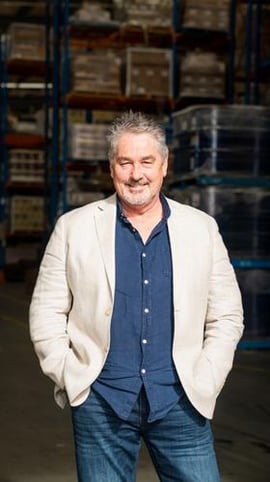 InterCentral Logistics Managing Director Mike Gammans was an early adopter of CartonCloud's warehouse and transport management software solution and has been using it successfully across the business for several years.
InterCentral has used CartonCloud to build a strong competitive advantage and ensure long term relationships with customers by undertaking major integrations of the platform with their customers' existing Tier One technology suites.
Intercentral recently completed integrations with small engine maker Briggs & Stratton and adhesives provider H.B. Fuller. Both businesses operate SAP.
"The platform came into its own when we undertook a series of integrations to get our customers' technology talking to CartonCloud and CartonCloud talking to them," he said.
"The integration of CartonCloud into a customer's existing technology is a delicate operation with many moving parts and competing priorities. The CartonCloud team executed it beautifully."
"Technology is critical to our ability to provide great value and efficiency to customers' and it is important we have a provider with the experience and understanding of the logistics industry to deliver a solution that works for everyone".
InterCentral, which has been operating for more than five years, has warehousing and distribution facilities at Keysborough in Melbourne, at Minto in Sydney and Richlands in Brisbane.
The company is a complete 3PL provider with a team of 40 staff managing a range of storage, picking, packing and distribution services with a complex suite of freight management, route optimisation, and logistics management technologies.
While CartonCloud already handles several integrations out-of-the-box - including major accounting systems and eCommerce platforms - it has developed particular expertise in building custom integrations with more complex enterprise management systems like SAP.
Mr. Gammans said trust played an important role in the success of the Briggs & Stratton and H.B. Fuller integrations.
"Our customers' are important to us and we needed to be confident that CartonCloud could deliver a seamless, cost-effective solution that worked," he said. "It is a big investment in time and resources but we are incredibly happy with the outcome and the project paid itself off very quickly."
"The key difference for us was that the CartonCloud integration team really understood logistics, they took the time to understand our business and our customers' business and develop a solution that worked for everyone."
CartonCloud Integrations Consultant Emanuel Kelly oversaw the InterCentral customer integrations and said the challenge was always the same regardless of the size of the business being integrated.
"The goal is always to achieve a seamless, automated, paperless solution that is easy for staff to learn and use and ultimately, delivers a more efficient warehousing and transportation system," he said.
"We can integrate just about any system with CartonCloud, ranging from basic Microsoft Office-level right up to sophisticated enterprise-wide systems like SAP.
"The beauty of our commitment to working with customers and getting their customers' systems integrated is we have seen just about everything and are happy to tackle just about anything."
Tier one CartonCloud integrations take between two and six weeks and includes an experienced onboarding team that manages the whole process.
If you're interested in speaking to us regarding your integration requirements please contact us at integrations@cartoncloud.com.au
To learn more about CartonCloud integrations visit our Knowledge Base article here