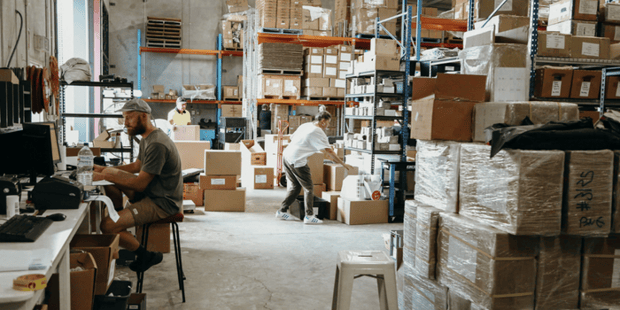 The world of logistics is a complicated web, and for the most part logistics providers will work with a range of other providers within the supply chain. The ability to seamlessly link in with other providers and platforms is essential in ensuring this web of connections is seamless and efficient. That's where integrations come in.
CartonCloud's fully integrated warehouse and transport system offers a range of software integrations out of the box, allowing you to seamlessly link in with accounting software, e-commerce platforms, inventory systems, route optimisation and shipping/ dispatch, and more.
Why Integrations are a must-have
In any business, effective communication is critical. In the digital age, this means integrations. We know our industry relies on a functioning supply chain, with many moving parts relying on effective communication and data flow. Having the ability to integrate with existing or partner software, directly into your WMS or TMS is a game changer for SME's, especially if you've been using a paper-based system until now.
CartonCloud integrations ensure your business can streamline ordering and workflows, meet customer last-mile expectations, and take on the heavy players in the industry.
This includes;
File uploads (direct file import from a customer email)
Zapier (a secure third-party integrations platform to connect web apps)
API (Application Programming Interface)
The changing world of e-commerce
The e-commerce world has experienced a massive boom over recent years, creating a serious shift in the logistics industry. The e-commerce sector is growing rapidly, with massive consumer spending in November and December last year, with consumer trends suggesting growth will continue.

With the right technology, businesses can optimise operations and get the most from the fleet and resources they have on hand. This means fast and effective communication across the supply chain.

E-Commerce and inventory system integrations enable you to easily import orders into CartonCloud directly from your customer's ordering platforms (either as Sale Orders or Consignments). Platforms such as Shopify and WooCommerce offer store holders the ability to set up and start selling online with ease, making them incredibly popular with B2C businesses of all sizes.

With simple two way integrations, secure data can move between your CartonCloud WMS/TMS system and your ordering platform. For example, orders created in Shopify will automatically generate new Sale Orders (outbound) in CartonCloud, and will be marked as fulfilled in Shopify once the order in CartonCloud has been marked as complete.
Meet last-mile expectations

Simple and secure one-way integrations allow data to flow between your CartonCloud WMS/TMS and other platforms; for example with our integration with Shippit. The integration transfers the delivery address, sales order items with the respective weights and volume, and creates the shipment record directly within Shippit.

"CartonCloud is a great piece of technology," Shippit Joint CEO and co-founder Rob Hango-Zada, said. "The ability to integrate the two platforms quickly and easily provides a range of optimisation benefits for eCommerce businesses."


"We are moving more and more quickly into a codeless world where retailers need to be able to switch technologies in and out, in line with their changing scale and operations," Mr Hango-Zada said. "The last thing you want to be constrained by is technical integration."
Extending customer service
With out of the box and custom software integrations, you have more ability to effectively link in, and share secure data with your customers and partnering providers — allowing you sto say yes to customer requests and new business.

Zapier is a third-party integrations which connects web apps automatically, and already supports integrations with hundreds of other applications including many e-commerce platforms. We're all about making your life easier — and our integrations will too. With connections from Zapier into CartonCloud, if your customers are already using Zapier, we can also easily connect the two together for you.

Simplify accounting
If there's one thing that is synonymous with CartonCloud, it's that we make sure invoicing is a walk in the park. To make your life even easier, we have integrations with Xero, Quickbooks and MYOB plus many more.
You can automatically pull data from your customer email attachments, or extract through an EDI or API integration, generating your sales order/ consignment note and invoices directly in your WMS/TMS. See how easy invoicing is with CartonCloud.
Establish connections, and grow
No matter what industry, e-commerce or otherwise, the main aim is to simplify the supply chain from beginning to end — and integrations that allow seamless and secure information flow through CartonCloud and other systems is critical.

Find out more about CartonCloud integrations at the Knowledge Base.
Want to know more?
Get in touch with our friendly team to book a free demo and see our software in action!
Get in touch with our friendly team to arrange your Free Demo today, and start growing your business now.