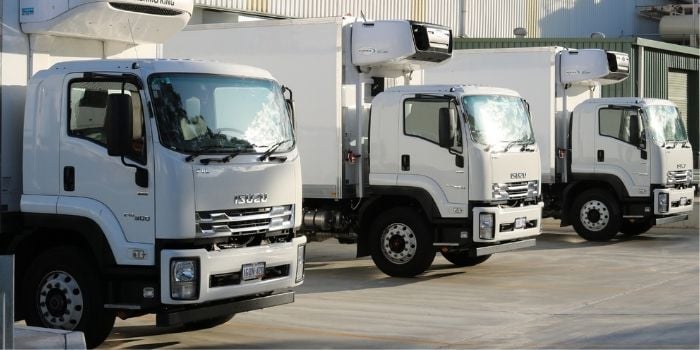 Our industry is in the midst of a boom in demand— with substantial recent growth in e-commerce, building expectations for faster delivery times, increased delivery requirements as a result of lockdowns, and recent industrial actions at Australian Ports. Your TMS software can keep you moving, with greater flexibility, better driver and customer communication, and time-saving automation.
Now, more than ever, transport companies are looking at how to optimise operations, save time and resources, and tackle day to day issues. Your Transport Management System (TMS) is the central nervous system of your entire operation — with integrated data input, automated invoicing, route optimisation, driver tracking, electronic PODs and sign-on glass, and streamlined customer reporting.
As we ramp up for the busiest period of the year, know you have the right TMS to keep your trucks moving.
In our Quarterly CartonCloud Index Report, we found 100% of transport company respondents said they expected business to boom in the coming six months.
The industry is bracing for increased demand while navigating the complexities of flow-on effects of recent industrial action at Australian ports; including shipping delays, unavailable parts, freight bottlenecks and uncertain delivery timeframes — often sending ripple effects across other parts of the industry.
It's become imperative to have a system that allows you to be agile, organised and fast-moving, optimising your own operations in order to meet demand and hurdle any obstacles along the way.
CartonCloud's TMS provides smart data integrations for easy consignment creation and invoicing, mobile access with barcode scanning and sign-on glass, as well as seamless automation for invoicing, route optimisation and reporting.
What if you could do more, with the fleet and resources you already have?
The right TMS can help you optimise the resources you have at hand, to do more with less.
Manage delay flow-on and provide faster turnarounds from order to dispatch and delivery.
Make the most of your fleet with route optimisation.
Streamline deliveries with driver ETAs and sign-on glass.
Provide up to date reports to customers for greater transparency.
Save time on admin with automated invoicing and data integrations.
CartonCloud's powerful transport software is a favoured TMS in Australia and global markets. Our system has been tailor-built for small to medium businesses, designed by logistics people, for the logistics industry.
All of the features you need to keep your transport company on the road.
Faster Turnarounds
With CartonCloud you can reduce the time it takes to allocate consignments to your fleet, meaning you have greater flexibility to deal with delay flow on effects and still meet customer expectations. At CartonCloud, we've made it easier for your drivers on the road to keep moving, with electronic proof of deliveries and sign-on glass. What's more, by automatically grouping con-notes together, your drivers only need to get one signature for that address.
Simple Route Optimisation
Never again will you accidentally send two vehicles to the same delivery address on the same day. With CartonCloud's TMS Australia software, you can optimise routes for faster deliveries, and increase the capacity of your fleet.
Cross Docking
With the flow-on impacts of recent industrial actions in our ports, cross-docking capability is a valuable functionality of any Transportation company. With stock delays requiring speedy turnaround for dispatch and flexibility in route optimisation mapping, CartonCloud's cross-docking features can change your entire operation.
Automated Data Entry
Pull data directly from customer excel spreadsheets with Electronic Data Interchange (EDI) software, inbuilt into your TMS. Not only will EDI software save you time, it also ensures higher accuracy for your internal data.
Automated invoicing
On so many levels, automating your invoicing will save time, and increase invoice accuracy. With CartonCloud you can automate complex rate card calculations, so you never miss additional charges — and with sign-on glass technology, you can automate your invoices to be generated as soon as the delivery is completed.
Data integrations with your current tech
Our software is designed to make your life easier. That's why CartonCloud comes with in-built software integrations for common office software, like timesheet management, customer ordering platforms and accounting software.
If we don't offer integration for one of your existing systems, don't worry — our development team can also work with you to build custom integrations.
As we face the busiest season of our industry, along with delays and flow on implications from industry actions, it's never been more important to have a TMS system that will keep your company moving.
Powerful Transport Management System (TMS) Australia software at your fingertips.
You can customise CartonCloud's TMS dash to suit your business and customer base, setting up customer dashboards to provide greater transparency and up to date reporting for your customers 24/7.
Enhance efficiencies across your business with powerful TMS Australia software for planning and optimisation.
With the mobile app, you can empower your staff, with barcode scanning, online consignments and route optimisation, sign-on glass ePODs with image attachments for driver comments, and more.
The best part? It's simple to set up and easy to onboard your team and customers.
change the way you do business for the better
Great TMS software is what we do.
We work with industry professionals and listen to each of our customers, to ensure we are constantly optimising our own product to remain a leading TMS software for Australian logistics.
CartonCloud is the affordable, capable solution that's changing the game for Australia's small to mid-sized transport companies. If you're looking for powerful TMS Australia software, look no further.
With faster delivery times, greater transparency, automated invoices, and the ease and convenience of electronic proof of deliveries, you'll be able to do more with your time and unlock your business's potential.
What to know more?
Contact our friendly team to arrange your free demo today, and see how CartonCloud can change your business, to let you do more with the resources and fleet you have. Get your free demo today.
Hear from our happy customers
Check out our customer stories here, to see how CartonCloud's TMS software has transformed transport companies across Australia.