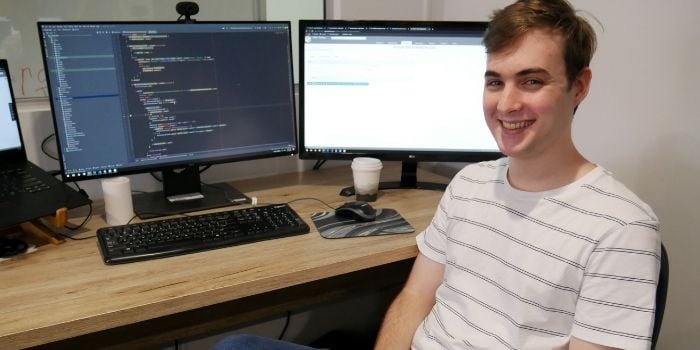 This week we're shining a spotlight on our superstar intern, Ewan Lister who's back for his second year as our CartonCloud intern.
Ewan is a rising Computer Science student with Griffith University, specialising in PHP back end coding, and this year, we welcome Ewan back for his second summer internship in a row, working with the CartonCloud Run Team.
"It's great to work in a company where the work they do actually matters, it makes a difference in people's lives and businesses," Ewan said knowing that the end result of the software is actually being used by customers across the globe was really exciting.
"It's scary! Good scary, you know. People in Canada are using this and it's changing the way they work. It's pretty cool," he said.
This summer, Ewan has been working with the Run Team to write web tests for product updates and enhancements; automated tests that run over the application before deploying, as part of the quality assurance process. Ewan has become known across the team for his incredible work ethic, attention to detail and general thirst for learning new skills.
"I really enjoy automating sequences like the web tests," he said. "It steps through a program as a user would, mimicking the flow they would use, to ensure each section functions correctly."
"I'm excited to be back for another internship," Ewan said, "I really like the work, the team are friendly, and you can actually see the work in action, out in the community. It makes a difference to the community, and that's really cool to be a part of."
After finishing the first year of his Computer Science degree with Griffith Uni, Ewan reached out to our CEO Vincent Fletcher, to ask if there was potential for an internship. He had heard of the company and was interested in the work in the development team, but he wasn't quite expecting to have a quick call and intro, and then start later that week!
Since then, Ewan has had the chance to work with the team on projects improvising customer experience, and quality assurance, using his degree skills in real-world experience.
Eyes on the future
Ewan is now majoring in Artificial Intelligence, with two trimesters left. He hopes to build his coding knowledge and explore how new technology can be integrated into everyday solutions.
"I'm really interested in AI and AR technology," he said of Artificial Intelligence and Augmented Reality technology developments, "and how we can use these features for automating everyday processes, like with driverless transport and self-driving cars for example."
The developments in AI and AR also have huge implications for the logistics industry, from AI warehouse technology as seen with recent developments in robotic picking and packing technology and automated vehicles.
At CartonCloud, we're proud to support the next generation of developers and innovators through internships and workplace learning. We're committed to supporting our customers to bring their workplace into the 21st century with paperless technology, automated workflow and data intelligence, and we're committed to seeing the industry continue to thrive, with the next generation coming through.