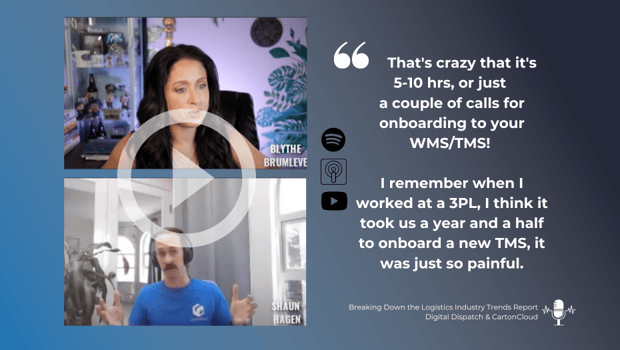 Our expert support and exceptional customer service is at the core of what we do — and it's conversations like this that show us how much of a difference fast and supported onboarding makes for businesses implementing their WMS TMS software.
Time is one of the most precious resources, especially in the logistics industry — and one that is hard to get. However, with the right systems in place, you can save time with automated data and invoicing, streamlined workflows, seamless data sharing and integrations, and more.
For small-medium sized logistics operators (5-11 employees) running their own assets and providing 3PL warehouse and freight services, having the right system to run your warehouse and transport operations on is essential.
This month, CartonCloud COO Shaun Hagen spoke with Blythe Blumleve on the Everything is Logistics Podcast to dive into the recent data and insights of the CartonCloud Logistics Index report — and explore how easy-to-use tech is changing the way logistics companies operate and compete in the industry.
Check out the full discussion in this episode of the Everything is Logistics Podcast, by Digital Dispatch on Spotify or Apple Podcast, or watch the interview here!
Want to know more?
You can find out more about scalable warehouse systems from other industry members with WMS customer stories and testimonials.
Want to know more about CartonCloud? To learn more about our software and how we can help you take your business to the next level, simply hit the link below to fill out a form to request a free demo call — and our friendly team will be in touch in no time.