Join CartonCloud CEO Vincent Fletcher onsite at an on-demand 3PL warehouse, as he shows how to optimize workflows and boost accuracy by paperless pick and pack with CartonCloud.
Step one: Put down the pen and paper.
The first thing you will notice is that there's no paperwork. Orders are entered directly into the CartonCloud WMS through software integrations with ordering platforms like Shopify, or can be pulled directly from email attachments through automatic EDI transfer. Once orders are in the WMS, they appear instantly in the CartonCloud mobile app.
*If you'd like to test out the mobile application flow for yourself, you can download the app for iOS or Android in demo mode from the Google Play Store or Apple Store.
Step two: Bluetooth barcode scanning for pick and pack
Simply pair the mobile app with a Bluetooth scanner, or use the CartonCloud system on a mobile computer to start mobile barcode scanning. That way, you can view the order on the mobile app, scan the item as you pick to confirm it is the right inventory, and check it off the sales order— without having to stop work to update the system manually.
You can also use the barcode scan feature to find warehouse locations, as Vincent demonstrates in this how-to video. It's so simple and intuitive that even someone who has just stepped foot in the warehouse can find the right warehouse location and locate the correct inventory from the sales order.
Step three: Finalize packing and prepare for dispatch
Once each item has been collected and checked off, simply click 'finish picking' and the order will be checked off within your WMS automatically. One of the key values of a cloud-based system is that your workflows and inventory data are linked at every step. By checking off the picked items as you go, your stock records are automatically updated and the order fulfilment is now recorded.
For your customers using their customer access dashboard, they can now see in real-time their current inventory levels and the progress of orders in the system — without you needing to pick up the phone.
Step four: Print the label and send
For 3PLs who use a range of various suppliers for distribution, having a cloud-based, integrated WMS/TMS system simplifies the order transition from warehouse to transport. Simply print out a new label, with the carrier and delivery information selected from the system, and it's ready to go.
While our mobile app is designed with features for warehouse or transport roles on the go, the CartonCloud desktop application is also tablet friendly, so you can take your WMS with you, wherever the day takes you.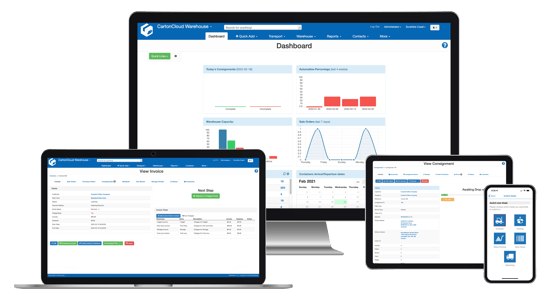 View more of Vincent's onsite Tips here.
To learn more about paperless pick and packing using CartonCloud visit our Knowledge Base article here
Want to know more?
See how CartonCloud can revolutionize your business, streamline your operations and let you scale up your business. Book a FREE DEMO with one of our team today.