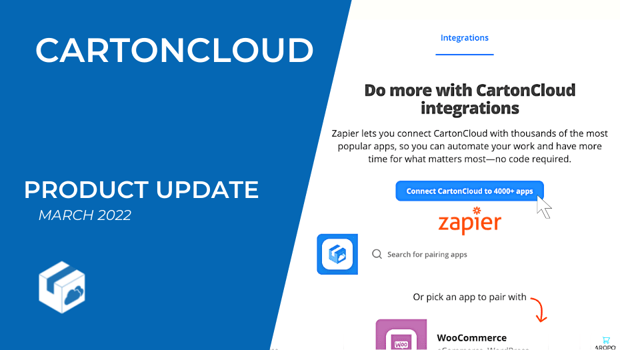 We've made it easier to share data between your CartonCloud account and other software. Build your own integrations with our Public Zapier and streamline even more of your workflow. ✴️📲
We are proud and thrilled to announce the availability of our Public Zapier integration! Zapier is a powerful tool that allows our customers to integrate CartonCloud with thousands of different applications. Using your own Zapier account, you can now use the Zapier functionality out-of-the-box to connect CartonCloud with applications of your choice.
🔧 How does it work?
Leveraging our Public Zapier you can create integrations that enable automated workflows, reduce manual work and foster greater data sharing and visibility across numerous applications.
Using our existing API Clients functionality, all you need to do is simply create an API Client and have a Zapier account to begin creating your own seamless Zapier integrations.
📁 Integration Templates
Making this experience even easier for you, the CartonCloud team have designed templates for our most common connections. This means the majority of the information is pre-populated and reduces the amount of work required to set up the integration.
For example, one common connection is Shopify pushing Sale Orders into CartonCloud. Using our templates, you can easily set this up for one or more of your customers that use Shopify.
😍 Improve your workflow and boost customer service
In an industry reliant on effective communication and data flow, having the ability to integrate with numerous applications easily is a must. Now you can meet your customer's needs with improved transparency and simplified data flow, while growing your business. With CartonCloud's Public Zapier, SME's have more capacity to take on the big players in the industry, with greater control and streamlined workflow.
For those who are already running integrations with other platforms using Zapier, you now have the opportunity to run even more of your integrations from one spot.
Here at CartonCloud, we want to ensure you are maximising the benefits of our WMS and TMS software. By making our Zapier public we encourage you to further integrate CartonCloud and leverage all its benefits to create an even more automated and seamless operation and experience for your customers.
📦 Want to know more?
To find out more information about our Public Zapier please check out our Knowledge Base Article.
We are planning to add more capability into our Public API and our Zapier Integration options, so, keep an eye on our release log and product update blogs/emails for more information!
Contact the CartonCloud team today to arrange a free demo, and discuss how these features can take your operation to the next level.