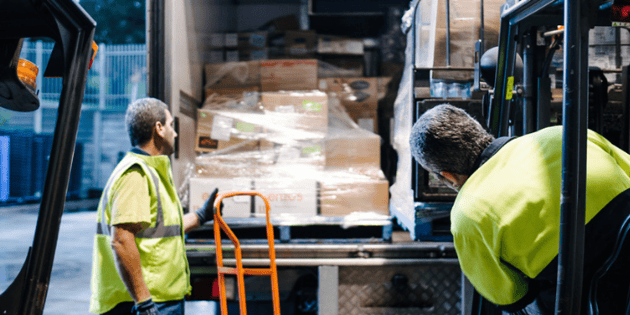 What are SSCC barcode labels and what does SSCC stand for? We take a look at how to make and read SSCC labels within your WMS, and when to use them.
What is an SSCC Barcode Label?
Serial Shipping Container Code (SSCC) barcodes are used as a universal identifier for freight across many touchp[points in the supply chain. SSCC barcodes are unique labels that identify a freight item or logistics unit (pallet, container, etc) to provide important delivery information including contents, destination, and other handling criteria.
Put simply, SSCC labels are used to provide all the information you need, presented in one label, on the outside of your pallet or container, to provide freight visibility throughout the supply chain.
When Do I need an SSCC Label?
The value of using an SSCC label is ensuring all touchpoints within the supply chain or delivery journey have access to essential information, in an easy-to-access place and uniform layout. Other barcodes used by logistics handlers and companies for sharing and tracking internal information can vary significantly in layout, location and the information they hold. However, SSCC labels are designed in a uniform layout and positioned on the outside of freight, to be easily recognizable and read by multiple handlers and different logistics touchpoints.
The easy-to-locate SSCC label identifies each carton or pallet shipped and its contents, consolidating information from a range of sources, including your order summary, inventory data, transport data, tracking and more.
How do SSCC Labels work?
The unique freight information is condensed into an SSCC label with barcodes, numerical codes and text. The elements are segmented into various zones of the label, in order to be easily read and interpreted throughout the supply chain. This way, personnel at any stage of your freight distribution journey can scan and identify your freight, what is inside and where it is going.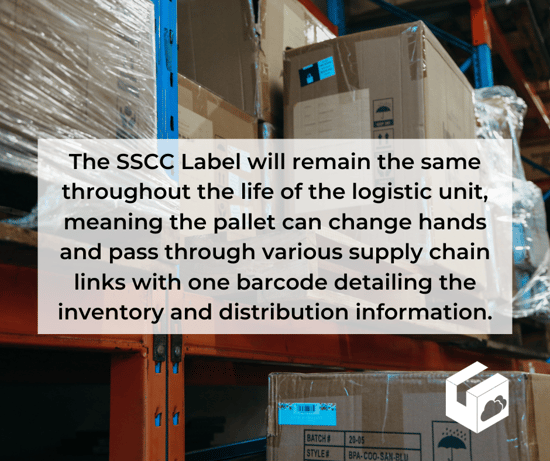 What is the difference between an SSCC barcode and a Logistics Label?
You may have heard the terms Logistics label, pallet label, and SSCC label used interchangeably and be wondering what is the difference?
A pallet label, or logistics label is the label on the outside of a pallet — if this label includes an SSCC barcode, it can also be called an SSCC label.
The SSCC barcode is one section of this label allowing each item of freight to be individually tracked and traced throughout distribution and transport — and has a uniform layout accepted and used across multiple areas and touchpoints of the logistics industry as a universal identifier of freight. We'll take a look at what each section of the SSCC label looks like a little further down in this article.
Importantly, the SSCC label is globally accepted and symbolizes adherence to the GS1 standards (find out more about getting your GS1 Company Prefix below).
Remember, Serial Shipping Container Codes provide a single point of truth for your freight. It outlines what the order is, who is sending it and where it is going; in a universal layout that can be read throughout the logistics supply chain.
Using SSCC Labels in freight
The main benefit of using SSCC labels is providing consistent freight information throughout the entire logistics supply chain. This ensures suitable handling, identification of sender, and clarity on delivery.
From end to end, the SSCC Label will remain the same throughout the life of the logistic unit, meaning the pallet can change hands and pass through various supply chain links with one barcode detailing the inventory and distribution information.
Logistics providers rely on scanning and reading SSCC labels to accurately process the inbound freight, and to automate incoming freight data into the warehouse management system (WMS).
This allows trading partners to easily access information, and also enables automation through barcode scanning, enabling faster processing and turnaround time.
What does an SSCC Label look like?
SSCC labels are universally accepted labels that used by freight handlers, to identify logistic units during shipping and dispatch. It will contain an SSCC barcode, item information, sender and delivery details.
Each pallet in freight is to be assigned a unique SSCC label, with specific text and barcodes displaying the freight information for the lifetime of that freight.
Attaching an SSCC label to your freight means you have a logistics label that is recognised internationally, throughout the logistics industry.
How do you generate an SSCC Barcode Label?
Also referred to as a GS1-128 barcode, your SSCC barcode will typically contain information including the Purchase Order, sender details, distribution location and item information.
How do you create an SSCC Barcode? The SSCC-18 barcode is an 18-digit number generated into an SSCC barcode for automated scanning and sorting.The universal design of the SSCC ensures each logistics item can be tracked throughout distribution, from the sender to the end receiver.
The 18-digit number includes numerical identifiers for the following areas;
Application Identifier (indicated the SSCC structure)
Extension digit (0 is used to increase the capacity of the Serial Reference, but has no defined logic otherwise)
GS1 Company Prefix (a globally unique code

required for each company

, before they can start using GS1 identification standards)
Serial Number (assigned by the GS1 Company Prefix to uniquely identify a shipping container, containing the inventory details, and can be used for up to 12 months).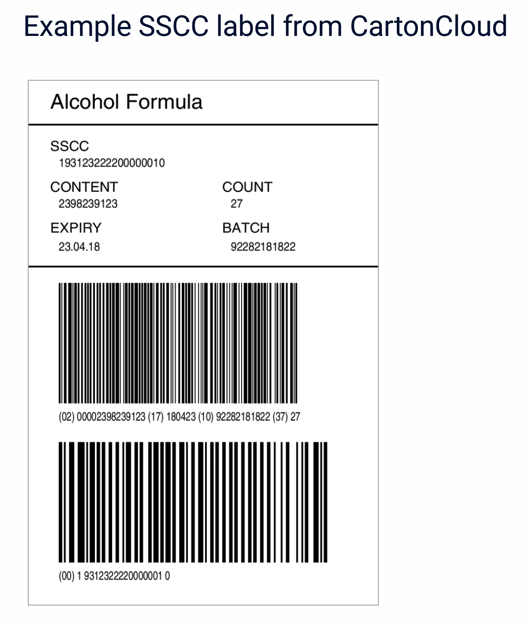 How to read an SSCC Label in the warehouse
Like other stock barcodes, you can scan SSCC barcodes on incoming freight to access inventory information. Using your warehouse of transport barcode scanners, you can simply scan the SSCC barcode on the pallet label and view the order details.
Each SSCC label will include information including product description, number of cartons, sender details and order information, used by warehouse or transport companies to identify the next steps for this freight.
How to create an SSCC Label
The SSCC label is made up of various zones, with different supply chains using different versions based on their specific needs. When generating an SSCC label, the bottom zone of the SSCC label (Zone I) is generally where the SSCC-18 barcode is placed.
Keep in mind, to generate an SSCC barcode and SSCC label, you first need to ensure your company is registered with a GS1 Company Prefix.
Create SSCC Labels with CartonCloud logistics software
There are two ways to generate an SSCC label; when stock is received as a Purchase Order, or when stock is packed as a Sales Order.
CartonCloud supports GS1-compliant SSCC label generation and scanning, and provides easy to follow, step by step instructions detailing how to create SSCC labels through your WMS or TMS software in their knowledge base. If you are a CartonCloud customer and have questions about how to generate your SSCC label or SSCC barcode generation, get in touch with the CartonCloud team for more information.
It's important to get your SSCC label right, to avoid costly mistakes including freight rejection or delays. SSCC labels are recognized internationally as a shipping and freight code for containers and pallets and form an important part of sharing information across handlers.
To find out more about how to create SSCC barcodes and Logistics labels through your WMS or TMS software, contact the friendly team at CartonCloud for a free demo today.
Find out more about SSCC barcodes
There are over 100 GS1 MemberOrganisations in countries all around the world. You can find out more information on SSCC-18 barcodes at GS1-128 Info and GS1 barcodes and shipping labels here.