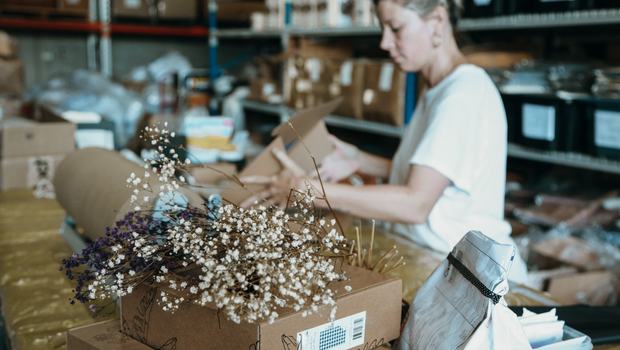 E-commerce has risen in popularity over the last two years, and online shopping numbers are set to continue. With the rise in e-commerce, a shift has come in logistics, with 1PL and 3PL providers taking on more e-commerce fulfillment than ever before.
Alongside the rise in demand, online shopping has also fuelled consumer expectations for fast and trackable delivery — once again, driving change within the logistics industry to meet and maintain consumer expectations.
Before taking on e-commerce fulfillment in your warehouse, you need to ensure you have a system in place to support the complexities of e-commerce ordering and inventory data. Today, we're taking a look at how to simplify e-commerce fulfillment — making your life easier, and keeping your customers happy.
Easy e-commerce fulfillment starts with the right system
As soon as the checkout button is clicked from an online shopping cart; the logistics of e-commerce fulfillment begins. From the online order to the warehouse, the item is picked, packed and prepared for distribution; then collected and transported either directly or through a chain of providers or depot centers, for final delivery to the doorstep.
However, this order does not exist in a vacuum. This is one order amongst millions. One of hundreds in a day that a single warehouse will process, and potentially one of thousands that a warehouse group will process, sending each order to the right warehouse based on the inventory required, or the order location.
It's also a single order in a wide network of logistics operations required to ensure the ordered item is in stock or the parts are available for assembly. The order may contain items from different warehouses, requiring additional logistics internally before the items can be packaged together for distribution, or requiring tracking of various items in various transport paths, against the one consumer order.
That's a lot of information that needs to be captured, tracked and managed in order to ensure the successful delivery of the order. That's also a lot of moving parts and various touchpoints, each requiring staffing, operational tools, time and management. In order to successfully provide e-commerce fulfillment with a profit, you need to know you have the right systems in place to simplify workflows, take the heavy lifting of data management off your hands, and provide opportunities to automate processes where possible to save time, and ensure the most efficient operations.
It begins with software integrations
Let's start from the order once again. One of the benefits of e-commerce from a consumer and marketing point of view, is the ability to provide omnichannel ordering options to consumers, making the purchasing process as simple as possible. However, as outlined above, simplifying purchasing for the consumer often means complicating things on the logistics end.
This means that for e-commerce fulfillment, your warehouse management system needs to have the ability to easily share data between systems and online ordering platforms. CartonCloud's seamless software integrations pull data from online ordering platforms to generate a sales order for the warehouse.
From the point of the order checkout, you need to have seamless data flow between each point of your supply chain. From the original order, through the warehouse (or warehouses), transport (or multiple transport legs), and onto the final delivery.
Customer expectations for fast or same-day deliveries also means the entire process needs to be optimized for speed. Once again, your software integrations, showing stock levels, connecting warehouse data, tracking order fulfillment and deliveries and more, allows you to make decisions with up-to-date data, to plan ahead, and ensure your operations are streamlined between each moving part.
Cloud-based Warehouse Management
Cloud-based warehouse management systems like CartonCloud simplify and streamline the process from order to delivery, allowing you to pull orders into your system from multiple sources, track order fulfillment, track inventory levels in real-time, and provide transparency in reporting for your warehouse customers to view orders, stock levels and more from their own online portal.
How to deal with multiple SKUs
The warehouse sales order is created by automatically connecting the online order with the warehouse product SKUs in your WMS. For e-commerce fulfillment, this means having the ability to handle multiple SKUs within the system, along with warehouse location data and stock levels for each particular SKU.
For 3PLs handling multiple brands and products, they may have multiple customers who each have hundreds of SKUs for their products, detailing product size and color combinations, and more. It's essential to ensure your system can handle multiple SKUs, and that you have a quick and accurate process to locate, identify and pick the correct item for each order.
Accurate picking
For most warehouse operations, this accuracy relies on using barcode scanning for order picking accuracy. Barcodes can be used to identify warehouse locations for easy and accurate inventory location, and to confirm the correct item is being picked for the order. Using a cloud-based warehouse system with barcode scanning also allows you to capture order fulfillment data as you work; allowing you to track the order, and automatically updating inventory levels to reflect the picked item.
With hundreds or thousands of orders picked a day, keeping inventory and stock level reporting up to date is essential for forward planning and ordering new stock. (With CartonCloud, warehouse customers can access an online customer portal where they can view their stock reports and updates in real-time, and even receive low stock notifications alerting them of low stock thresholds.)
Accepting returns
Having the ability to accept returns, return stock to the shelf and instantly update inventory records so they can be sold, is a game changer. With CartonCloud, returned stock can simply be checked for quality, and then scanned back into the system and returned to the floor, ready to be picked for the next order. It saves time, keeps data accurate, and streamlines the workflow to allow greater customer support for returned items.
Cloud-based Transport Management
Once the order is picked, packed and ready to go, the next step is transport. Time is money in the transport world, and having a cloud-based transport management system with the ability to easily pull incoming orders directly from your warehouse system or customer emails not only saves you hours of admin time, but also drastically reduces your order turnaround times.
CartonCloud is a fully integrated warehouse and transport management system, that can be used as a stand-alone warehouse or transport system, or as an integrated system across both. This gives you greater control and accuracy in fulfilling orders, tracking progress, allocating jobs, and streamlining invoicing across services.
Using cloud-based technology, you can view and manage transport consignments with ease and accuracy. Data is automatically entered into your system, and consignments can be allocated directly to drivers (who are using the mobile app). The mobile app then allows drivers to view their consignment list, optimize their delivery route for the most efficient journey, and record electronic PODs which are sent directly to your TMS system for automated invoicing.
You can also optimize transport and provide faster delivery timeframes with cross-docking, where freight can be docked from one truck for a short period of time, to be packed onto another vehicle for a more efficient delivery route.
Once again, software integrations are key. You can connect your TMS seamlessly to a range of other software, allowing you to work with partnering providers across delivery networks, with accuracy and efficiency.
Faster and more accurate e-commerce order fulfillment
The secret to simplifying e-commerce fulfillment, with greater accuracy and faster delivery, is having the right systems in place — and this starts with having the right warehouse and transport management systems in place.
Want to know more?
To find out more about optimizing your operations for e-commerce fulfillment, get in touch with our friendly team today. Book a FREE Demo at a time that suits you, and we will be in touch to look at your operational needs and how our software can support you to grow.