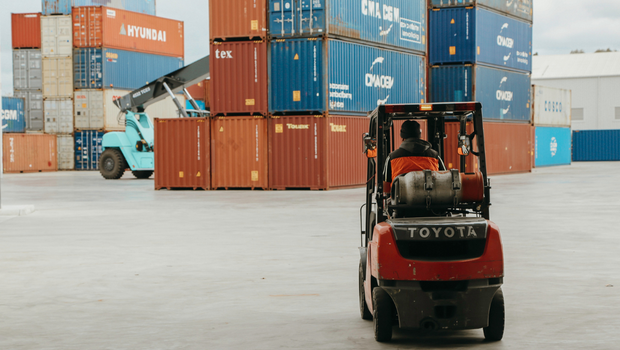 When TNS Logistics first started offering warehouse services from their family-run transport business, they had just one rack— they now have a 4,000 sq meter warehouse with the capacity to hold over 5,500 pallets, providing expert, end-to-end 3PL services to global customers.
We take a look behind the scenes, to see how they transformed their business, with accuracy, mobility, and transparency.
Prior to launching their 3PL warehouse, TNS had been offering limited warehouse storage to a few select clients, capturing charges manually on paper, using excel spreadsheets.
"Our first e-commerce customer brought our first real headache, with over 600 SKUs" Mr Norton said.

"We thought, how are we going to manage that on an excel spreadsheet?"
They needed a solution, fast. They knew they needed a cloud-based system to allow the, to easily view incoming orders and outgoing consignments in real-time, track and manage operations, capture charges automatically, and provide transparency to their customers— all from one place.
Capturing and tracking the right data
The team at TNS streamlined their operations using CartonCloud's cloud-based Warehouse Management system, from business management on the desktop app to operational accuracy and accountability through the warehouse mobile app.
The warehouse team can view orders and scan picked items on the move with the easy-to-use mobile app, providing real-time data and transparency from every touchpoint.
Once orders are picked and packed, they are transferred to consignments for courier collection. The crew at TNS have even set up an iPad at their loading bay, to allow couriers to accept consignments via sign-on-glass, directly captured in the system, to show when the order is dispatched from the warehouse, without paper.
Optimized warehouse storage and pick locations
Tracking inventory levels are tracked across each storage location, with the ability to use low-stock level notifications or alerts to manage restocking and replenishment.
In order to optimize their warehouse footprint and racking, the team at TNS can break down pallets, allocating inventory to various warehouse locations for long-term storage or easy pick faces.
Capturing Ad Hoc Charges
Never miss a charge! The team at TNS knew an excel spreadsheet model wasn't going to cut it for the operation they wanted to create.
With Cartoncloud, they can ensure all services are captured directly into the system; accepting incoming stock, allocating to warehouse storage, capturing stock movement and handling, order pick and pack, and on to dispatch.
Flexible rate cards can be applied for various clients or unique services.
Invoices are automatically generated, based on set triggers (such as order dispatch).
Online ordering and software integrations
Using software integrations, TNS can link their WMS directly into their customer's online stores (like Shopify, WooCommerce, and Magento), allowing them to accept online orders from the store, directly through to the warehouse for pick and pack.
They can also integrate with freight forwarders, shipping aggregators (like Sendle, Shippit, StarShipit, and DeTrack) and couriers, to assign the consignment for delivery and capture the freight's real-time collection from the warehouse.
End-to-end transparency for clients
The last piece of the puzzle was providing great customer service, with transparency and accurate reporting, 24/7. TNS provide exceptional customer service and end-to-end transparency through the customer portal, allowing their customers to view inventory records, track orders, manage stock, and more, from anywhere in the world, at any time.
The growth doesn't stop there.
Each new e-commerce client TNS brings onboard brings new SKUs, packaging options, storage and handling requirements, and more. At TNS, they know they need the ability to be adaptable and flexible for each new client, while maintaining their scalable operations, and ensuring their operations remain streamlined for efficiency.
"The other thing we were looking for was a system that came with support," Mr Norton explained.

"We were quite new to warehousing, we needed someone with industry experience who we could ask questions, and they could give us advice on how to set up the best operations.

"The CartonCloud team have a warehouse background, and could help provide advice and support to ensure we are getting the full use of our system.

"Our warehouse manager now comes in each morning, he can clearly see the day's orders, the warehouse team can pick directly from the mobile app — using barcode scanning for accuracy.

"They pack the order and through the integrated WMS and TMS, simply send the packed order as a consignment, which the couriers can pick up, with sign on glass. All of this is tracked and updated in real-time, so customers can log in and see their orders being fulfilled, accessing the most up-to-date information 24/7.

"All of the charges are captured automatically and the invoices can be automated to be sent directly out to our customers."
TNS have now joined over 23,000 other logistics people using the CartonCloud app daily, and have grown their 3PL to offer services to global customers — with ease and accuracy.
Want to know more about 3pl management software?
Get in touch with the team at CartonLCoud to find out more about how our cloud-based WMS and integrated TMS can help you take your 3PL warehouse to the next level.
Request an obligation-free, FREE Demo to see our software in action today, and make sure your 3PL is ready for the peak season demand.