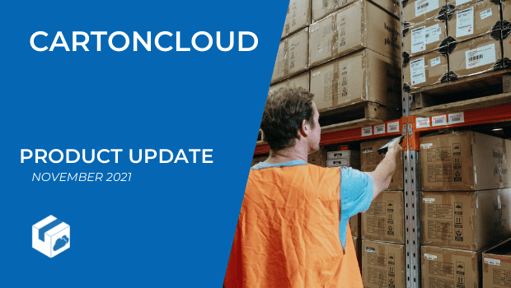 For full service logistics providers, the ability to streamline your workflow between warehousing and transport can revolutionise your processes. Having your Warehouse Management System automatically creating and populating your consignment information for delivery is a huge benefit of having a single software solution for your warehouse and transport requirements!
Our latest Product Update allows you additional flexibility in how you can link your Warehouse Units of Measure to automatically populate the Consignment details for the associated Consignment.
The Unit of Measure mapping enhancement streamlines your workflow — saving time on admin and simplifying rate calculations for increased efficiency in invoicing.
You can now assign specific conditions for warehouse inventory to be automatically applied to a Consignment Order as a Transport Product, defining the Transport Type and custom rates— allowing you to simplify your process.
Unit of Measure Update
In CartonCloud, when generating a Consignment Note from Sale Orders, the warehouse stock selected on the Sale Order is automatically assigned to the Consignment Note using the Warehouse Product Unit of Measure.
Previously, a Warehouse Unit of Measure would have to be customised for each Product Type, in order to correlate to a specific Transport Product for correct handling and rates (eg warehouse cold pallet storage in the warehouse would correlate to cold pallet in transport).
However with this update, you can now use a single Warehouse Unit of Measure (eg a pallet) to correlate to a range of different Warehouse Product Types (eg cold pallet, ambient pallet, oversized pallet) — by defining the Transport Product Type logic for each Warehouse Product Type.
For example, on a sales order for chilled and frozen stock, both chilled and frozen stock will be measured as 'pallets' in the warehouse. With the new Product Type Mapping update, you can use logic assigned to the Warehouse Product Type (eg chilled, or Frozen) to define the correct Unit of Measure for the Transport Product Type (eg chilled carton, or frozen carton). This automation enhances your invoicing process by automatically determining the correct Transport Product rates based on the sales order products.
Simplifying your workflow
With greater control over your Product Type and Unit of Measure fields from the Warehouse through to Consignments, this update allows you to enhance your workflow and simplify your admin.
What's more, with this update you can automate future custom rates for each Product Type and Unit of Measure, removing the need to manually update Consignment Fields each time, and allowing you to automatically calculate customised rates for invoicing.

For more information on Unit of Measure updates to Consignment Fields/Transport Products, you can visit the CartonCloud Knowledge Base or contact our friendly team today.