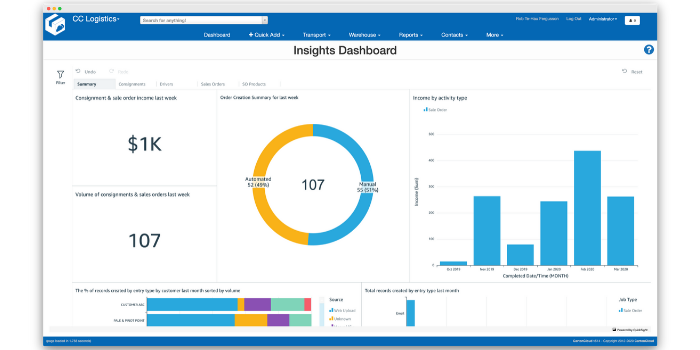 "Business intelligence software" - It sounds technical, but what is it really at the core?
Often known as BI software, you'll find inside tools to help you analyze and present your otherwise complex operational data into digestible reports.
While not used as commonly in the warehousing, transport and logistics industry just yet, more decision makers are realizing just how important this software is to long-term growth.
Today we're going to stretch beyond the question of what is business intelligence software and highlight features as well as showing you how to make best use from such solutions.
Let's begin.
Business intelligence in the workplace
Business intelligence is feedback. It's a constant loop of information that can help you with strategic goal planning.
Yet intelligence data is hard to capture given its labour-intense nature, unless you do decide to have business intelligence software implemented. From our own experience, such software provides these benefits:
Highlights opportunities for growth. This is the key reason why BI software is implemented.
Allows everyone to quickly reconcile data from multiple teams at the same time.
Provides a bigger picture of your organizational movements so you can anticipate future outcomes.
But that comes at a cost. For smaller operations it's quite obvious why such software hasn't yet been implemented - it's expensive, complex to run and let's not forget the initial learning curve.
Now at a certain point in the growth of your operational, the benefits will begin to outweigh the costs. This differs not just on the size of your operation, but the industry you serve, the volume of clients and the projected growth of your business.
When it's time to go with software
At some stage in your future, you're going to start the search for business intelligence software for your operation. When we started CartonCloud, very few BI software packages were cloud-based. Today in 2020, that has really changed.
Like CartonCloud, using a cloud-based BI software package allows real-time data to flow through to each user while also providing role-based access and restrictions to sensitive corporate data.
While not as popular, you can also view BI software reports on mobile devices in the field. This is a favourite with traveling company directors who opt for a quick glance at their analytics while in transit.
When it is time for you to choose software, we recommend the type that is a solid fit for your enterprise. But what is a 'solid fit' anyway? One that is affordable, easy to learn and has accurate reporting tools. Sure - that's a given. But most importantly: Look at intergrations. Both the software you use currently and the operating systems in-house.
Australian industries that use BI software
There are numerous industries that use business intelligence software in Australia already.
The benefits they have are:
Retail - allows very close monitoring of inventory levels
Food - easier mapping of distribution routes and consumer spending habits
Telecommunications - total consolidation of phone usage patterns across regions
Mining - ease of monitoring geography, production and dispatch fields plus market fluctuation
Retail - helpful in predicting consumer trends and reduce product liquidation
Big Pharma - greater monitoring of use-by dates both in stores and in distribution centers
In summary
It's clear that business intelligence software is better suited for larger organizations. However, those who are building their operations into national or multi-national companies should pay closer attention.
As with constant intelligence data comes feedback. And such feedback allows decision makers to better optimize their operation.
Optimization which also comes in the form of the basics of reduced picking errors, faster dispatching times and real-time monitoring. CartonCloud has this covered and much more, so get in touch with our team today.