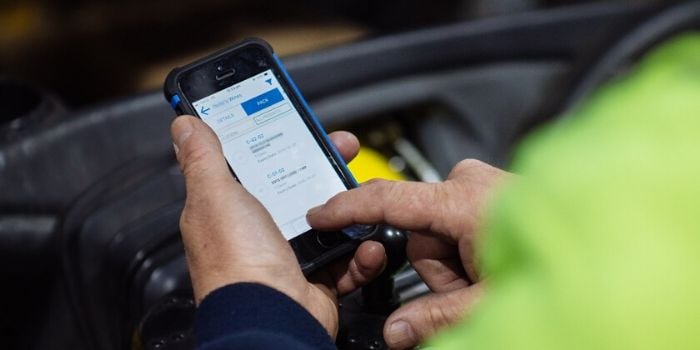 Why pay when you can find free warehouse management software? Smaller operators may wish to spare subscription and initial set-up costs when transitioning to digital, however using free WMS software to run your core business operations can be a costly mistake.
You want to streamline your operations, but you don't want to spend a fortune. As talk of recession continues to grow across global markets, small business owners are looking to cut costs and reduce overheads where they can. However, cutting corners on systems could actually cost you more; resulting in lower accuracy, limited features, low reliability, unhappy customers, and other problems.
The thing with free WMS software is, if you're not paying for your WMS there's no support or service to reach out to if issues arise, if you need to scale up or down, or if you need to use new features. For any small or medium-sized logistics business looking for the most cost-efficient means of digitizing and optimizing their operations, you're better off finding a 3PL software system that suits your needs and the needs of your customers, so you can do more, with less.
The best option for a
low-cost WMS
is to find the right fit for your company —
Find the features you need
Future proof your processes to win new business
Streamline operations, reduce waste, and minimize overheads
Automate manual tasks to free up your time
Ensure you have access to great software support and customer service
Select a pricing model that suits your business growth plan.
We take a look at five three reasons that a free warehouse management system is not free.
1. Free Warehouse Management Systems have limited features
Any free software has a catch. The 'free' version of any software is generally a limited feature release, with reduced workflows and functions, no customization, and a fee to access any additional add-ons.
It might seem like a lower cost initially, but once you pay to access the full suite you require, or once you limit your own operations to fit within the workflows and functions provided, you'll find you're missing out and losing money regardless.
With a cloud-based software as a service (SaaS) software subscription, you can pay as you go, giving you access to new feature roll-outs, great customer support and onboarding, and consistent security and uptime.
2. You're missing out on customer set-up and support
Generally those who pay get looked after significantly more. With software providers that offer a limited free version and a full-suite version, you'll certainly get looked after if you upgrade. When you're starting out, you're bound to have a lot of questions and so having a team on standby that you can get assistance with when you're otherwise busy running your operation is paramount.
Rather than wait until things have gone wrong, it's better to start your set up for success from the beginning— with the support and experience of a support crew who can give you the guidance you need, and access to the features you need from scratch.
3. Free WMS software has compromised security
Often the developers who offer free software for warehousing management aren't investing in their security. You wouldn't want your company data getting into the wrong hands. You also want to ensure customer data is safe in your system, and that software integrations and connections to customers and partners are secure.
Software bugs and errors are most common when you choose to take on a free package as opposed to investing in the longevity and efficiency of your operation. When you subscribe to a system, that company has available a panel of software engineers and programmers to iron out the system for efficiency.
Finding a low-cost WMS
Every business will have unique requirements, unique customers, and their own budget requirements. The important thing to do is to make informed decisions that will allow you to find the right system; with features, workflows, functionality, support and security for what you need.
Next, it's important to not only look at cost for implementation, but also how long it will take to start seeing higher accuracy, increased daily output, reduced overheads and new business won — in order to calculate your return on investment (ROI).
This is a much more effective way of looking at the cost of your software. For some systems, like CartonCloud, the benefits you will see from implementation mean the software starts to pay for itself very early on, with increased profits and lower overheads continuing to grow your business revenue.
See Lexington Logistics's story below. This 3PL decided to implement CartonCloud's WMS software early, with only a few customers — in order to ensure they had the foundations set for data automation, optimized warehouse workflows, as well as automated rate cards, invoicing, and reporting, to help them win their ideal customers and scale up operations seamlessly.
"Implementing CartonCloud's 3PL WMS was the best decision we made— and without it, we wouldn't have won the business we did." Founder Lexington Logistics, Deanne Luke.
Best WMS software for customer success
The key takeaway here is to look beyond the initial cost and consider the long-term benefits or limitations of your WMS software choice.
Choosing a WMS for your logistics business is no small decision, this is the software you will run your entire business on; from orders to warehouse and transport management and optimization, invoicing and rates, tracking, partner integrations, customer reporting and success, and everything else. It needs to have the features, workflows, and ability to set your business up for success.
The right WMS for your business will revolutionize your operations and give you the ability to scale up, win new business, and optimize your processes.
With that in mind, consider the long-term value of the right warehouse software, the ROI you expect, and the features you need before considering up front pricing. The long-term financial implications are much more important, and can be the difference between actually saving you thousands and allowing your business to grow — or saving a few hundred dollars upfront.
Getting started
When you're ready to take this journey seriously, CartonCloud would love to have a chat. Get in touch with us and we're happy to show you a free demo of our secure, fast and reliable solution built by logistics people, for logistics people.
Book a free demo today for a guided tour of our software, with our experienced and friendly team — and see how CartonCloud can revolutionize your business!