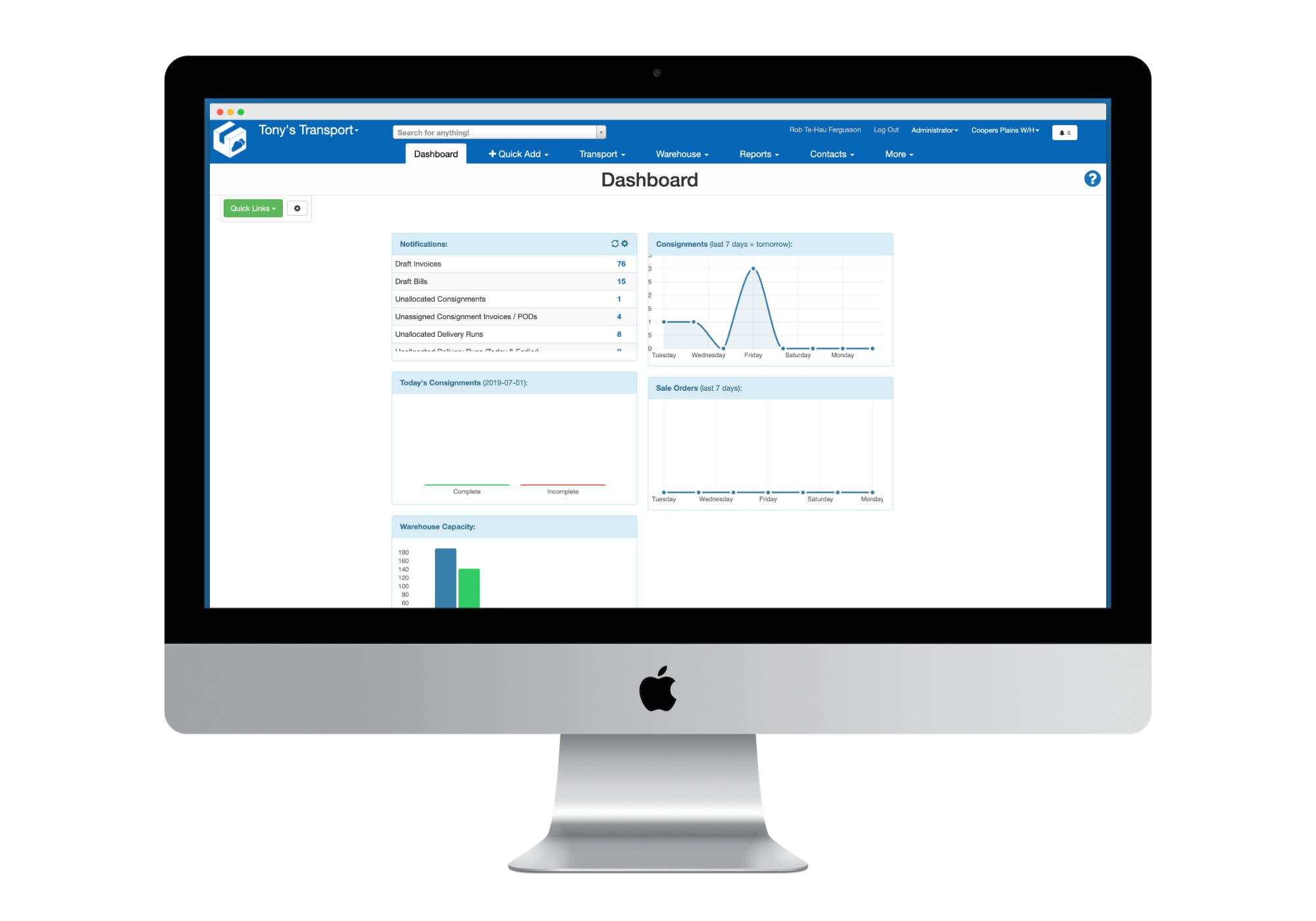 Switching from manual data entry and record-keeping not only saves time (a lot of time), there are many advantages of using cloud-based warehouse and transport system software. With a cloud-based system, you can also increase accuracy across the board (from invoicing to inventory reporting), save time on data entry, streamline workflow by automating timely manual tasks, provide greater customer transparency and set your business up for growth.
Make a measurable impact on your business bottom line
You're saving time, increasing capacity and accuracy, and removing revenue leakage by ensuring complex rate cards are calculated correctly and on time.
Make the most of your staff and fleet
One thing about saving time is it means your staff and fleet can do more with the time they have. You can optimise warehouse activities and driver routes, to ensure the most efficient workflow, saving time, and increasing the capacity of the resources you have.
Access expert support
Leave the technical side to us. With a cloud-based warehouse and transport management system, you can also enjoy the benefits of (SaaS) software as a service. This means access to our friendly support team and knowledge base to answer any questions you have, or log any issues. Software updates and improvements are taken care of by our expert team of developers, which means the software will continue to improve over time, and will continue to stay up to date with best practices and new technologies.
Product updates and improvements
Our team are constantly providing product updates to our software to make sure we keep making your life easier. Within warehousing systems, this may translate to new picking algorithms, enhancements to the way in which the mobile app works and/or completely new integration capabilities that didn't previously exist. CartonCloud had no mobile warehousing app until 2017, when it was released we immediately made it available to all clients at no additional cost.
Simple, automated data entry
Automated data entry is a game-changer. Using parsers, API and EDI integrations, CartonCloud can automatically pull data directly from customer emails or software (like Shopify or Xero) to generate invoices, quotes, sales orders and transport consignments. CartonCloud receives most warehouse orders via Email (extracting data from attachments using Parsers), FTP and API / EDI, which not only saves you an incredible amount of administrative time, but it also increases the accuracy of your data entry, keeping your operations running smoothly.
Check out how simple it is to input data from a purchase order, directly from the dock, with CartonCloud.
Access your data anywhere, in real-time
Being able to access data on the go is commonplace these days, so why should your warehouse or transport operations be any different? With a secure, cloud-based system, your staff can safely and easily access order details, picking lists, transport consignments and delivery information from the mobile app.
In addition, your cloud-based warehouse management system provides greater client-side visibility (so they can see what is being stored in the warehouse without needing to call). You customers can also use their customer log-in to access their inventory, order and delivery details with up to date reporting at the click of a button. Best of all, your staff and customers can access the data they need without any intervention from you — saving you time to work on growing your business.
Capture all billable activity
Say goodbye to revenue leakage. Our intuitive cloud-based warehouse/ transport management system can handle complex rate card calculations including varied storage rates, handling fees and complex transport rates, to calculate an accurate and simple invoice in no time. In fact, with CartonCloud, users are prompted to check off ad-hoc fee's and when something doesn't look right CartonCloud will alert you — which means you'll never miss an invoice, charge or fee again.
With automated invoicing, you can even have invoices immediately generated when an electronic Proof of Delivery is received (or any other trigger event).
Check out how to automate invoicing in seconds in this tutorial.
Do more with less
Save money on overheads, reduce errors and lost or incorrect paperwork. With CartonCloud's warehouse and transport management system, you can scale up your operations and start saying yes to new business. Want to know more? Get in touch with the team today to see how CartonCloud can bring your business to the cloud.
Want to see how CartonCloud can change the way your business operates?
Get in touch with our friendly team to arrange your Free Demo today, and start growing your business now.