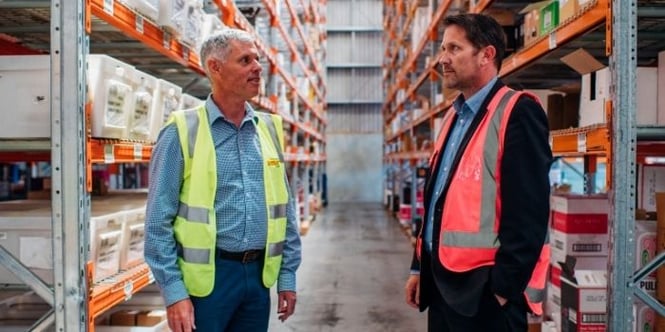 Implementing a new Warehouse Management System (WMS) should simplify your life, letting you scale with ease and do more with less... but it does require a little bit of planning before you get up and running. Being prepared can change your entire onboarding and training experience and ensure you see ROI faster— so we've pulled together the top 5 things you can do to prepare for your new WMS.
The benefits of warehouse management software (WMS) for third-party logistics (3PL) logistics providers reach from improved efficiency and accuracy to improved customer service, staff enjoyment, business scalability, and much more.
However, like any system, it needs to be in use to start producing benefits. This means you want to get your WMS up and running as soon as possible!
Check out these 5 tips to help you prepare for your WMS implementation, and start seeing results faster.
Top 5 Things You Can Do To Be Ready For A Warehouse Management System for Faster ROI
1. Define your objectives
Before you start, you need to know what you want to achieve. This may vary slightly from business to business, depending on your services, your customer needs, and the pain points (the daily issues you face) that you're trying to resolve with software.
Don't forget to include the team on the warehouse floor and in administration when discussing how to boost efficiencies, or to understand where mistakes are made, or where time is currently being lost. Understanding the issues that impact your team is critical to successfully implementing a new system to overcome them!
Here's a quick checklist to prepare your warehouse:
Order integrations (How are orders currently implemented into your system? How much time is taken in this process? Are there mistakes made? Are your customers happy?)
Stock reports (How accurate are your inventory records, and how are they kept? Does customer reporting require someone to manually generate a report each time?)
Rate cards and charges (How are you capturing charges for all stock movement, handling, and storage? Is there any revenue leakage?)
Invoicing (How long does invoicing take your team to complete? Do you rely on paper records to be collected and filed for each invoice? Does manual invoicing delay your pay cycle?)
SKU management and accuracy

(How does your system handle multiple SKUs and ensure order-picking accuracy? Are you able to use barcode scanning?)
3PL shipping/ transport integrations (Are you able to track orders across warehouse and transport activities with accuracy? Are you able to manage end-to-end warehouse and transport for your clients if required?)
Team efficiency and enjoyment (Does your warehouse team have high accuracy levels? Do they enjoy the workflows and tools in place, and do they have the tools they need to achieve?)
Taking the time to review your business goals and having a clear understanding of the blockages or inefficiencies in your existing systems will help to show you where your WMS can address that — and help you define the features, workflows, automation, and integrations that you want from WMS.
2.
Organise your data

This refers to the data you already have, like customer information, current inventory and warehouse location records, orders, rates, etc — as well as how you want to arrange your data within the system to boost accuracy.

Your WMS system is only as good as the information you put into it. That is true for your initial data setup or migration, as well as how you use your system into the future.

Your initial data migration will also include a variety of cleanup and new governance rules so that you ensure the information your new WMS uses to manage your business is correct. Ensuring your current data is clean and up to date will make migrating into the new system straightforward.

Hot tip: Make sure you protect yourself from a loss that can occur or damage that can be done to information during attempts at cleansing by having a backup separate from what is being used.
3.
Involve your whole team

Your WMS will help you to optimize workflows and processes across your entire company, so it's important to ensure each step in the process is considered, and your team is kept up to date.

Deploying a new WMS across your business successfully relies on the buy-in of your entire team. If you ensure your team see the benefits and long-term impact of using the system, they will have a much larger buy-in, and be more inclined to use the system in place.

By bringing your team into the whole process, including planning, there will be a strong understanding of the value of a good WMS and how it will increase efficiencies and save them time, energy and headaches!
4.
Milestones and timing

Setting key milestones that are specific and measurable will ensure that your WMS implementation project does not become drawn out and expensive — and will keep your main goals in sight. Generally you'll be working closely with your software provider throughout the implementation and set-up. At CartonCloud, we provide implementation support and regular 'health checks' to our customers, to ensure they can ask any questions, learn new workflows and how to use new features, and ensure they are getting the most from their software.

When implementing any kind of change, it helps to keep your entire team up to date. Regularly updating your team on the progress of the WMS rollout ensures everyone is ready for the change.

We've made CartonCloud so easy to set up and use, that training often only takes a few hours after the initial set up and data entry is complete. One benefit of using intuitive software like CartonCloud, is that is it easy to strain new staff on, as your company grows.
5. Remember your ROI
Finally, it's important to remember why you started, and see the value in finishing your project within your timeframes. Most 3PLs and warehouses implement their WMS to reduce overheads, increase efficiency, and give them the opportunity to grow or bring in new customers.
When you're coming from an inefficient system, or no system at all, it can sometimes feel like you don't have the time to bring on a new system — but the truth is, if that's how you feel now, you never will! If a new system gives you more time in the day by automating manual data entry, boosting accuracy, reducing mistakes, and increasing your scalability, you need to make time to implement the system.
The best way to do this is to look at the price value of what you're currently missing out on with manual tasks and data entry, time-consuming workflows, and other areas of revenue leakage that are preventing you from growing.
The time it takes you now to implement your new system is getting you closer to having automated workflows, increased accuracy, scalability, and your other goals to grow your business. So, start now! Start chipping away at it now by researching different solutions, gathering the data you need, requesting software demonstrations and guides, and make sure you're always getting one step closer to your ROI.
Why choose CartonCloud?
CartonCloud is a favourite warehouse management system & transport management system for small-medium sized logistics businesses.
Our powerful, user-friendly software is made by logistics people, for logistics people!
With CartonCloud, you can be onboarded in days, not weeks, with your team trained in minutes, not hours. Our customers have cut their admin hours by 80% while increasing their output by 40-50%. We've helped logistics companies in the USA, Canada, Australia, and New Zealand to revolutionize their businesses, thanks to our intuitive software and local support. But, don't take our word for it, see for yourself with a free software demonstration led by our expert team.
Page updated April 2023