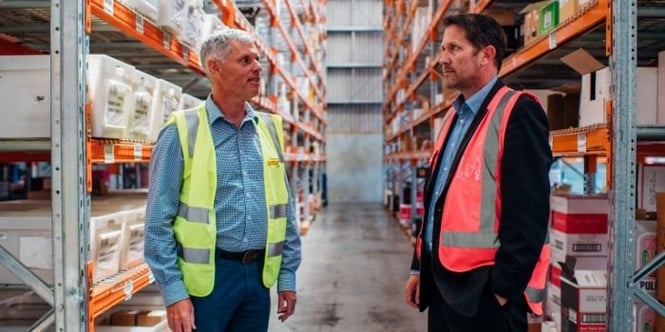 The benefits of warehouse management software (WMS) are now widely-known throughout the 3PL industry with many platforms delivering users improved efficiency and greater profits.
To prepare yourself and your operation for a Warehouse Management System like CartonCloud there are a few things you can do to prepare for the rollout of a new WMS, and start reaping the benefits.
5 Things You Can Do To Be Ready For A Warehouse Management System
1. Define your objectives
You need to have a clear understanding of the pain points and blockages in your existing systems and understand how a WMS can address that. Setting the objectives is part of the overall planning and implementation phase which is critical to the overall success of a WMS rollout.
You need to have a clear plan with a defined timeline and ensure the entire organisation is aware of the objectives. Don't forget to include the team on the warehouse floor and in administration; these teams are critical to change success.
Clearly document what you want to achieve from a WMS and assign leaders from each part of your business (floor, admin, finance, management, trainers etc) and ensure they have been allotted time to review, digest and plan.
2.
Organise your data

In its simplest form, good data going into your WMS system is critical. Your WMS system is only as good as the information you put into it.

It is essential that the data you have from your existing system can be migrated to your WMS accurately and quickly. Data migration also includes a variety of cleanup and new governance rules so that you ensure the information your new WMS uses to manage your business is correct.

Make sure you protect yourself from a loss that can occur or damage that can be done to information during attempts at cleansing by having a backup separate from what is being used.
3.
Involve your whole team

Deploying a new WMS across your business successfully relies on the buy-in of your entire team. Many people may just see it as another 'thing' they need to do on top of already busy schedules.

By bringing your team into the whole process, including planning, there will be a strong understanding of the value of a good WMS and how it will increase efficiencies and save time..

It is important that implementation of a WMS doesn't become siloed in the IT or administration teams. Your IT team will ensure the technology performs as it should, but your operational team will receive the largest benefit and ROI from your WMS, and should therefore be a part of the process. Your operational team will ultimately be the end-users of the WMS, so their involvement is critical in testing, training and conversion.
4.
Milestones and timing

Setting key milestones that are specific and measurable will ensure that your WMS implementation project does not become drawn out and expensive. Make sure ownership of the milestones are clear and the timelines are optimistic but achievable.

Empower key members of your warehouse team with the resources, time and tools needed to make the rollout process successful. Specifically, task them with seeking regular updates on achievements towards attaining the key milestone dates and escalating barriers to success. This role is critical to maintaining a sense of urgency.
5.
Communicate regularly

Keep your entire team, from the Board down, up to date with the progress of the WMS rollout with a detailed communications plan. Broadcast updates, benefits, successes and barriers regularly and give the team a chance to ask questions and voice concerns; change resistance is a normal human trait and each staff member will have questions that need to be answered before they become positive and active change champions.

Make sure you identify people who are skeptical of the new system and take the time to explain the benefits for the business and them as an individual.

If your goal is to adopt a WMS in 2021, the time to start planning is now. By making sure you and your team are in the best possible place to rollout a successful implementation you will start to see benefits sooner.
Why choose CartonCloud?
CartonCloud, Australia's best warehouse management & transport management software, logistics software made by logistics people. With the development of CartonCloud, the aim was to build a warehouse management system with a transport management system integrated, whilst focusing on automating administration processes, accounting tasks to speed up cash-flow and create total transparency for customers while making it really easy-to-use.
To learn more about CartonCloud's Warehouse Management System visit our Knowledge Base Article here.