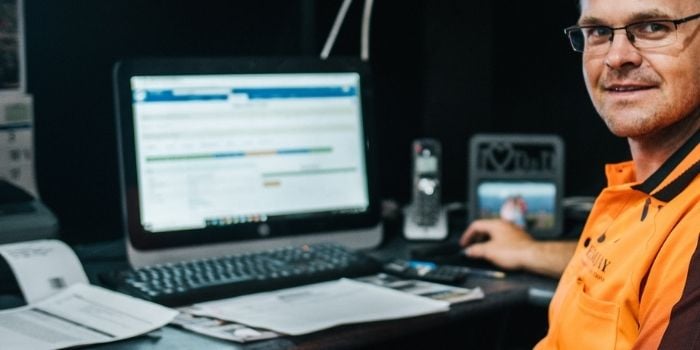 What if you only had to remember one login, to manage your entire operation? CartonCloud's warehouse management system (WMS) software makes life easier, streamlining your warehouse management through cloud-based software that you can access at any time, from anywhere.

Access easy to use software integrations, multiple user logins for your team, mobile app access, and even customer dashboard WMS logins — to streamline your processes, optimise workflow and increase data efficiency. Manage your entire warehouse operations through the CartonCloud WMS login via desktop, smartphone or tablet.
One place, for your entire operation.
Manage your warehouse processes with ease, with one WMS login providing access to everything you need. From admin and invoicing to stock entry and movement, warehouse locations, stock reports, sales orders, order picking, and so much more.
Get the most from your WMS, with everything you need via just one login. CartonCloud WMS is a cloud-based software solution, which means you can simply login to your WMS and access your stock data, customer information, accounting and invoicing, sales and orders, and reports. Your CartonCloud dashboard is the go-to for all of your warehouse management automations, actions and data. From here, you can have eyes on everything that's currently happening and everything that needs to be done, within your warehouse operations.
What's more, storing your warehouse data in the cloud with an integrated WMS not only makes data access easy, but it also means you can automate processes for greater efficiency and accuracy, and provide access through multiple WMS logins for your team, and unique dashboards for your customers.
In this blog, we take a quick look at how you can optimise your warehouse team and operations, keep your customers informed, increase data efficiency and let you take on more business.
What if you could update records on the go, with multiple users across multiple devices, keep customers informed with secure logins, and ensure your data is accurate and up to date?
Find out how to optimise your warehouse operations from one place, with CartonCloud.
Take a look at how one login can access
Intuitive integrations to streamline and simplify operations
Allow multi device logins through the mobile app
Optimise picking, packing and put away for the whole team
Keep records transparent with user history reports and
Keep customers informed with customer logins.
Simplify your warehouse processes with one WMS login for all your operations.
Use intuitive integrations to simply processes.
Save time and increase accuracy with WMS integrations, allowing you to link to, and share data, with your existing software tech, directly within your WMS login.
CartonCloud offers a range of software integrations for sales and ordering, timesheets, accounting and invoicing, including Shopify, SAP, MYOB and XERO, and also allows you to streamline data entry by pulling existing data directly from email attachments or through API links. Through using electronic data transfers like this, you can save time and increase accuracy for reporting, invoicing and accounting — and you can do it from the one WMS login.
Access stock levels, movement and status from any device.
With the CartonCloud mobile app, you and your team can update your WMS in real time; from Android and iOS smartphones or tablets.
Your team can access and update stock movement and status on the go, directly from the warehouse floor, keeping your records up to date, and optimising operations.
Here's how. The mobile app barcode scanner streamlines operations on the warehouse floor, from deliveries and incoming stock management, to setting and finding warehouse locations, identifying inventory and updating records on the move.
You can even optimise picking orders as you go, based on the latest orders at any time, allowing your floor staff to increase picking efficiency. As the orders are processed through your WMS, the software can automatically optimise and allocate the required inventory to the picking team.
Increase efficiency with user WMS logins for your team.
Update inventory movement and order status in realtime, and keep eyes on your operations from every angle.
Setting up your team with individual CartonCloud WMS logins allows all members of the team to access and update data, receive and process orders, assign and locate stock and more. With CartonCloud, you can tailor each user's WMS login access to define information and actions they can access or see through their individual WMS login, keeping your business and your customer's data secure.
Control and track user logins and access for greater security and transparency.
With CartonCloud user tracking history you can also view your data history, along with user actions — including order creations, completion, changes and even deleted orders. With CartonCloud, you have the flexibility to view user history for absolutely everything, giving you greater transparency and oversight of your full warehouse operations.
Streamline reporting and orders with customer logins.
CartonCloud also provides customer dashboards, meaning your customers can access certain information regarding their own inventory data through their own login to your WMS.
Through giving your customers access to their data within your WMS login, they can view stock levels and generate their own reports, view order summaries and manage inventory restocking without requiring you to log in and generate data for them. Customers can even run their own stock movement reports, stock reports and stock history reports through their CartonCloud WMS login.
The Customer dashboard provides access to the following widgets, giving your customers more autonomy over their own inventory;
Total consignments for the last 7 days
Undelivered consignments today
Sales orders history
Invoicing
Customer pallet count.
Looking to simplify the customer WMS login even further? Add the CartonCloud login page to your website for easy access for your customers to login.
Want just one login, to manage your entire operation?
CartonCloud WMS software has helped over 300 SME logistics companies in Australia and NewZealand to optimise operations and grow their businesses. If you're interested in seeing how CartonCloud can help you optimise your warehouse operations (or warehouse and transport), get in touch with the friendly team today and ask about your free demo.