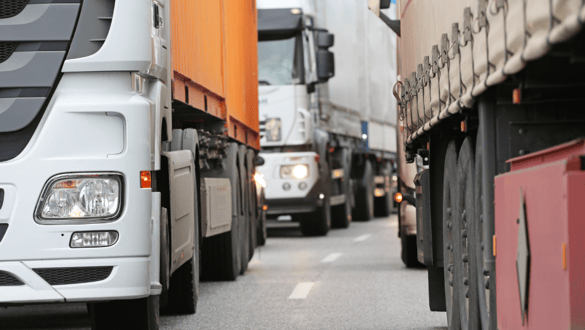 Our industry relies on road transportation, as the primary mode of transport across America, Canada, and Australia — which makes our logistics opeations extremely susceptible to fluctuating fuel prices. So what can be done to combat rising fuel prices?
When oil prices jump, it's like a shockwave that messes with our whole operation. Every mile driven is another dollar spent on fuel, and the costs can add up fast. For smaller operators in the logistics scene, it's survival of the most adaptable.

The last few years saw oil prices reach an eight-year high, a rise that impacted all levels of the supply chain and logistics industry, and continues to make waves. Our most recent CartonCloud Logistics Index report highlighted 75% of industry members had experienced rising operational costs in the last 12 months, with 55% of transport companies saying their operational costs had risen.
For SME logistics operators, this sustained price increase has meant operators must have the ability to adapt to changing market costs to survive.

How can transport companies navigate rising fuel costs?
Transport companies can mitigate the impact of the rising prices by reducing their fuel usage using route optimization for more efficient deliveries, and also capturing additional fuel costs in their charges.

How? The key to tracking operational costs is transparency and tracking — and the key to implementing this successfully into your transportation business, is automation. We take a look at how you can minimize fuel usage where possible, optimize operations, and capture fuel levy rates.
.
What is a Fuel Levy Calculator in logistics?
👉 What is a fuel levy? A fuel levy is simply a surcharge that is applied in addition to your typical transport rates to cover fuel cost variances in the market. It means rather than using fixed service rates with a client; you can adapt transport rates to include the additional cost of fuel.
👉 What is a fuel levy Calculator? CartonCLoud's fuel levy calculator uses adjustable fuel levy rates to provide operators with an essential level of flexibility in the face of market fluctuations, allowing them to manage the rise in costs and continue to deliver their services throughout the rising costs.
With flexible charging systems in place, small businesses can account for changes in market costs and continue to budget appropriately for their own costs of services — to keep their fleets running and continue to provide freight transport services.
👉 How do fuel levy calculations work? Fuel Levy in CartonCloud is easy to set up and highly configurable, to allow you to charge precisely the correct rate to the right customer, so you don't miss out on precious revenue. You can configure a primary or default fuel levy set at varying rates; and the system's automated fuel levy calculator will automatically calculate the rates applied for each service or customer, depending on your set-up, and add to your invoices transparent and simplified payment.

From there, your invoice is automatically generated in CartonCloud and can be automatically pushed through to your accounting software, saving you time and ensuring your rates are correct each time.
Though fuel levy automation is not the only way to reduce overheads for transport operators looking to ease economic burden, you can also optimise your operations to reduce overheads and increase daily deliveries.
Reduce overheads with optimized delivery routes
Route optimization, fleet management, and intelligent software applications can make a significant difference for small and medium enterprises — allowing you to optimize resource allocation and reduce fuel use where possible.
🗺️ Route Optimization and Transport Lanes
Transport companies can use route optimization software to find the shortest path or configure a route for the least amount of time to cover the deliveries, and reduce overheads.
In CartonCloud, we take this one step further, to manage routes across multiple trucks and a wider geographical area, you can also implement transport lanes to operationally group consignments and then allocate them to drivers or trucks. Transport Lanes can be used to dictate which delivery run a consignment is assigned to in your TMS, to optimize your fleet use for time management, resource management, and distance travelled.


Find out more about transport lanes here.
🚚 Automated Consignment allocation
With consignment allocation, you can use your TMS to allow drivers to amend consignments on the go (even when out of service), and keep your operations moving. (In CartonCloud a consignment is the term used for any transport job.)

Directly allocate consignments from incoming sales orders with simple data integrations, to be automatically assign to drivers, to save admin time and significantly reduce overheadsby as much as 60%.

What's more, with your drivers using the mobile application, they can easily navigate to the designated pick up or drop off location at the destination, view details on who to speak to or how to buzz in, and collect and also electronic proof of delivery, including attaching images and any documentation against the job. It's faster, smoother, and more accurate — allowing your drivers to complete more delivery jobs, faster.
"When CartonCloud came along and all of sudden it's doing the run sheets for us and it's so simple, it's just a matter of entering a number and when it's actually giving me a count, I'm going WOW this is unbelievable." — ANGELO IANNACE - Iannace Refrigerated Transport
Automate transport invoicing
Your accounts team will love us, and your customers will too. . With CartonCloud, you can easily track stock movement, sales order fulfilment and consignment delivery — and customers can view reports and updates through their customer dashboard login 24/7, meaning you can provide transparency and up to date reports without lifting a finger.

With electronic Proof of Delivery (ePODs) and sign on glass, invoicing can be calculated as soon as it's delivered. CartonCloud's intuitive desktop and mobile apps are designed to fit seamlessly into your operations, with features to simpl


"It saves on costs. It saves on having to employ more staff. Because if I didn't have this program, I would have to have probably two admin people with me because there's no way that I'd be able to do the volume of work that we do." — Emily Harris - Owner Motus Transport
.
Want to know more?
CartonCloud takes efficiency to a whole new level with our integrated 3PL transport and warehouse management software that's filled with useful features. Our aim is to help you do more, with less.
Our team provides friendly and helpful onboarding support to get you up and running in no time, with ongoing support and as always, no lock-in contracts. For powerful, intuitive and easy to use 3PL warehouse and transport software that will revolutionise the way you work.

To find out more about how to optimize your operations with CartonCloud, contact the team for a FREE DEMO and see how CartonCloud can help you grow your business.
*Page updated Nov 2023