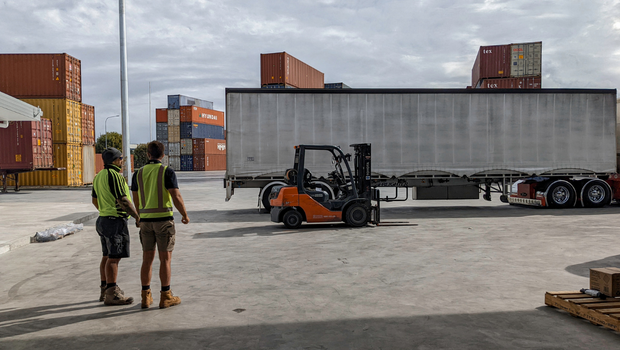 In logistics, there's the 'busy season' and the 'even busier season'. Ours is an industry that never sleeps. As companies start to brace themselves for the fever pitch of holiday demand, we're taking a look at how you can prepare your business and optimize operations for the upcoming peak demand season.
The peak demand season has ramped up since August and will last until after the end of year holiday period, with increased online ordering for holiday provisions, e-commerce, gift-giving, and more consumer and business activity to drive up demand. Add in public holidays and bulk ordering over the holidays, and it's even more essential to have the ability to plan ahead and streamline operations for your customers.
The peak season is not just for operators with DTC (direct to consumer brands) — operators with B2B (business to business) and wholesale clients also see demand increase over the holiday season as communities prep for the holiday season activities, working around public holidays to meet demand in a shorter time. This means more emphasis on planning and prep, as well as clear tracking and customer communication throughout the season.
This is where CartonCloud comes in.
What creates the logistics peak season?
The logistics peak demand season is created by a number of factors and converging holidays. Starting with back-to-school shopping after the summer break, and rolling into Black Friday and Cyber Monday sales (with stock required for both in-store and online shoppers), holiday season food and beverage orders, and of course, holiday season gift-giving. Sales, shopping, and stocking up on food and beverages hit a new level for both businesses and individuals alike.
Goods need to be available online and on the shelves, with omnichannel delivery (or in-store pickup) becoming increasingly expected. This means clear, forward planning for stock, ordering, and dispatch throughout the season, from supply to storage and last-mile delivery.
How to prepare for the peak logistics season
The busy season stretches from the peak shipping season (Aug- Oct) and rolls right into the holiday shipping season (Nov- Dec), placing extreme pressure on operators for almost half the year). However, for operators with scalable systems, the increase in demand is easy to accommodate — meaning they can use the increase to their benefit, increasing profits and growing their business.
The key factor in preparing for the peak of the logistics busy season is to ensure your operations are scalable. This means replacing manual data entry and calculations with automation, providing seamless data tracking and reporting, and keeping your customers easily informed without even having to pick up the phone.
Replace manual data entry and calculations with automation
Removing manual data entry will save you hours each day and also ensure your data is accurate and up to date. With CartonCloud you can remove manual data entry in a number of ways; including automated order entry and invoicing.
CartonCloud provides a number of out-of-the-box, seamless integrations to a range of software, including one or two-way integrations for accounting, eCommerce, transport, and route optimization software — or, you can also use our public API and Zapier connections to create your own integrations.
In addition to out-of-the-box integrations, CartonCloud also integrates with applications through XLS, CSV, XML, EDI, and many other types of files via direct Email and FTP/SFTP. This allows you to share data between a range of software and platforms in a fast, secure, and simplified way, saving you time and ensuring your data is always accurate.
You can also automate even the most complex rate card calculations, to automatically generate invoices as you sleep. You can even integrate your preferred accounting software, like Xero, Quickbooks or MYOB, and CartonCloud will automatically calculate your rates, generate the invoice and send it through to your accounting software and your customer for faster payment.
Provide seamless data tracking and reporting
One other way to remove manual data entry is to automate inventory tracking and reporting throughout your operations.
It's one thing to have your stock reports and order details ready at the start of the day, but as orders are picked and packed throughout the day, inventory is moved to different locations or accepted into the warehouse, consignments are delivered or picked up — it's essential to ensure you can capture all of this information and update your records on the go.
One of the benefits of a cloud-based warehouse and transport management system is that data can be captured and reports updated automatically throughout your day-to-day activities. Information can be entered and updated through software integrations as mentioned above, as well as through the mobile app via barcode scanning or manual entry, instantly updating the system to show order status, inventory levels and location, and more. This means your staff and customers always have the right information, at their fingertips.
CartonCloud is designed to let you do more with less, scaling up operations as you grow, and to meet demand. Features such as wave picking and cross-docking allow operators to optimize their resources, time and space to scale up and meet demand with ease.
Enable seamless Returns
High volume ordering and high volume returns can create a headache on the best of days. In peak season, anything you can do to reduce manual work and simplify operations is a huge win for you, the team and your customers. CartonCloud's Return To Sender feature simplifies returns, allowing you to easily process return orders, reenter inventory to your system and return stock to the right location in your warehouse, in no time.
Check out the video below to see how stress-free return inventory can be.
Optimize Driver Consignments
Ensure you have the most efficient routes for your drivers this peak season. We've worked closely with our customers over the years to ensure our driver consignment allocation and optimization help you to streamline your transport operations with ease.
One way we've done this is to ensure you have flexibility and control in your driver route optimization, allowing you to determine the factors that are most important to you to drive efficiency. Select start and end points that make sense for your team and operations, optimize routes based on primary customer drop-offs, or based on the shortest route possible to save on wasted miles. Check out the video below to see how drivers can optimize their route directly from the mobile app.
Keep your customers informed with ease
Another benefit of a cloud-based system is the ability to provide your customers with the most up-to-date information and reporting 24/7, available online. You can set up your customers with access to their own dashboard, where they can enter orders, view reports and inventory levels, and more.
The best part is, they can access up-to-date reports and view their stock information without you having to pick up the phone or generate the report for them. It's simply updated as you go.
Want to know more about preparing for the busy season with CartonCloud?
Contact the CartonCloud team today to find out more, or to request a free demo.
We're logistics people too, which means our team can understand your business needs and ensure your set up is correct to streamline your operations, and scale up your business.