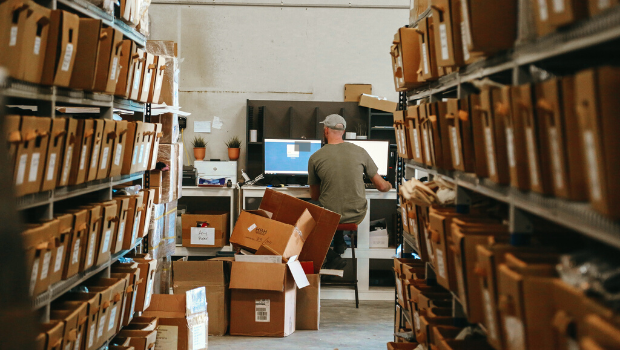 A recent survey of logistics professionals uncovered one of the main barriers preventing small-medium-sized logistics businesses from investing in new technology was not knowing which solution was right for their business. With technology adoption and innovation growing in the logistics industry, it can be difficult to know which solution, or combination, is right for your operations.
To know which solution is right for you, you need to look at the size of your operation, your services, customer and partner requirements, what issues or barriers you want your technology to help you overcome in your business, and of course your budget.
ERP Software
ERP stands for Enterprise Resource Planning. ERP software is designed to manage resource planning across the entire business, including a company's financials, supply chain, operations, commerce, manufacturing, stock level management, restocking, ordering, reporting, and other operational procedures.
For businesses manufacturing their own products, such as breweries or wineries; an ERP system can support the wider management of their business, including sourcing packaging and ingredients, identifying low inventory for restocking, human resource management, and more.
Warehouse management is one area included within ERP management, and in some cases, WMS software can be integrated into the ERP system to manage incoming and outgoing orders, stock storage and locations, warehouse and handling charges, picking, packing, and order distribution.
Inventory Management
Inventory management software monitors stock levels, including the ordering and reordering of materials, managing acceptable minimum levels, as well as stock reporting and forecasting. An Inventory management system can also be used to track stock across multiple warehouses or distribution centers, and forecast inventory movement required to maintain the ideal stock levels at each location.
Inventory management software is generally used by companies who own and manage their own warehousing and distribution, providing business insights into stock levels and ordering requirements.
3PL WMS Software
Third Party Logistics Provider (3PL) Software is designed for public warehousing operations, where a warehouse business provides professional storage, stock handling, and order fulfillment services to a range of other companies who have outsourced their logistics operations.
3PL warehouse management system (WMS) software is designed to digitize warehouse management, from incoming orders to storage optimization, warehouse location management, stock tracking, optimized order fulfillment, and dispatch. Cloud-based 3PL WMS software like CartonCloud also provides automated workflows and data input to streamline your operations and save time.
For 3PL inventory reporting, a cloud-based WMS provides the ability to update stock reports automatically, as you complete stock movement, pick sales orders, or ship consignments. With barcode scanning (simply pair the CartonCloud mobile app with a Bluetooth scanner to start barcode scanning for under $100) you can increase picking accuracy and easily update inventory records in your WMS on the go.
3PL software also automates data entry and invoicing, pulling order information directly from online ordering platforms through software integrations, or customer emails through EDI — and entering accurate data directly into your WMS for processing. Invoicing is generated as you sleep, automatically calculated from complex rate cards to ensure you never miss a charge.
With stock records updated as you go, your customers can access their own up-to-date stock records (including stock movement and historic stock records) at any time, simply by logging onto the customer dash — saving you hours in generating customer reports and keeping your customers happy.
Integrated WMS/TMS for 3PLs
For 3PL providers offering combined warehouse and transport services, an integrated WMS/TMS solution provides streamlined workflows, reduced admin and data entry, simplified allocation, and automated invoicing. Seamlessly send data between your warehouse and transport operations, while maintaining complete warehouse oversights and transport management.
An integrated WMS/TMS also provides the ability for transport companies to offer warehousing services to customers, or for Public Warehouses to manage transport operations for their customers through subcontractors, under one order. You can also save time and space, and offer faster delivery with cross-docking.
Budgeting tech investment and start-up costs
Another common barrier found to prevent many small-medium-sized logistics businesses from investing in technology, was their concerns over high set-up costs — especially when unsure which solution presented the best fit for their business. It's important to consider your own budget when exploring logistics management software options, while also identifying the potential savings on admin hours, reducing mistakes or returns, capturing all chargeable rates, increasing workforce output, and improving customer satisfaction.
At CartonCloud, we've helped our customers to reduce admin overheads by 80% while taking on new business, eliminate lost freight or picking mistakes, and reduce revenue leakage by never missing a charge.
What about paper-based operations & spreadsheets?
Is this you? It would be amiss to not include paper-based operations and spreadsheet planning in our list. Many small-medium-sized logistics businesses operate on paper records and spreadsheets, with manual data input, paper records, and workflows that are reliant on one or a few members of the team to 'just know' where stock is, or what delivery routes are preferred. These processes may work for small businesses at the start, but they aren't suitable for scaling up operations, training new team members, or bringing on new business.
Paper-based processes require time-consuming manual data entry, are often inaccurate, and rely heavily on the individual knowledge of a small few. In order to boost efficiency, bring in new staff with ease, and scale up operations, you need to have a system in place that will allow you to do this with ease.
Save money with streamlined operations
For 3PL providers looking to grow their business and expand operations, making the investment in logistics operating software should be your first consideration. CartonCloud Logistics Management software is designed specifically for small-medium enterprise businesses, with features and workflows created by logistics people, for the logistics industry.
Our flexible pricing starts at just $99/week, with scalable options to grow with you. You'll have the support of our experienced onboarding team to set up your operations based on your business, and we can have your entire team online and trained in hours or days — not weeks.
Make sure you get the best logistics management software for your business.
Want to know more?
Get in touch with our friendly team today to book a FREE Demo at a time that suits you. See our software in action, talk to our experienced team about your operations and services, and find out how CartonCloud can help you revolutionize your operations with ease.