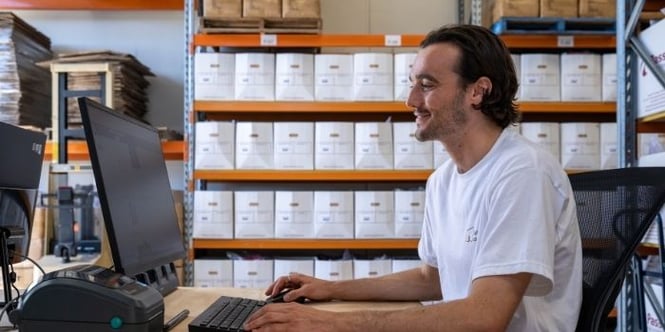 Rate cards are a very important feature of warehouse and transport operations and used extensively within (3PL) Third Party Logistics companies to calculate charges for their clients. We talk about the flexibility CartonCloud provides you for calculating your rates ensuring your maximising revenue and helping you to eliminate manual data entry.
Usually, your company may have a range of clients, each with different ways they are charged and varying pricing structures. These charges may relate to storage, pick and pack, delivery etc.
As you can imagine, this can get pretty complex and especially with a manual rating system, and it gets worse if you have a paper-based system or rely on an Excel spreadsheet. The calculations can get pretty detailed and tie up a lot of your administration resources.
You might have one client who is charged on a total weight basis of their goods in storage, and another who is charged on how many pallet spaces they occupy. Yet another may be charged on the total volume of their goods in the warehouse. And, of course, clients may be charged by a combination of these methods.
With CartonCloud, you can build these rate cards to automate all of these calculations and produce a resulting invoice for all charges, picking and packing, and the storage for all jobs that have occurred.
The software calculates all the rates you have pre-loaded for each client and eliminates any manual work in producing the invoice. What the system calculates will always be exactly what you'd expect based on the entered data and rates.
Having an automated rate calculation and invoicing feature is critical for any transport management system or warehouse management system.
Here are 5 ways To Simplify Your Warehouse & Transport Rate Card.
1. Be Clear and Concise
Have your cards and rates clearly named and identified. This will eliminate confusion for operators entering data as to what charges they are allocating. You can set rate cards for a single customer, multiple customers or all of them, just ensure they are clearly labelled for easy identification.
2.
Consolidate similar items under a single rate

Consider consolidating similar charges under a single rate charge. This will reduce complexity and make inputting data easier and more accurate. Having many different charges with various names for what is essentially the same charge can cause confusion for both staff and customers alike.
3.
Ditch your spreadsheet

Getting rid of the spreadsheet and other manual methods is one of the best ways to take charge of your rate cards. By keeping things simple and with secure back-up in the cloud, CartonCloud packs many powerful features to fine-tune your warehouse management.
4.
Know your costs

Cost management is vital for an efficient warehouse management & transport management system. Understanding them and ensuring they are accounted for will improve profitability. Passing on the correct charges to clients in a transparent fashion will avoid confusion. Ensure that charges are clearly outlined in your terms and contracts and that they are clearly replicated in your invoices.
5.
Invoice regularly

Cash flow is the lifeblood of any business. Reducing complexity with rate cards and ensuring the correct charges are allocated to each job with CartonCloud will allow you to issue invoices accurately as soon as the job is completed. Complicated and unwieldy manual systems can delay invoicing, and this will in turn hurt your cash flow.
Why Choose CartonCloud?
CartonCloud, Australia's best warehouse management & transport management software, logistics software made by logistics people. With the development of CartonCloud, the aim was to build a warehouse management system with a transport management system integrated, whilst focusing on automating administration processes, accounting tasks to speed up cash-flow and create total transparency for customers while making it really easy-to-use.
To learn more about rate cards using CartonCloud visit our Knowledge Base article here