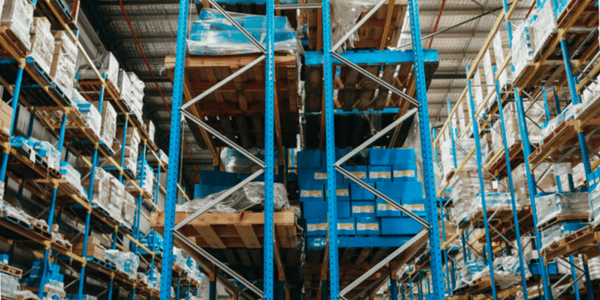 Low rental availability in logistics hubs has combined with high prices to create increased overheads for 3PL providers. SMB logistics providers are feeling the heat of rising costs combined with fewer rental opportunities, creating difficulties in managing the high demand which has been present since the beginning of COVID lockdowns two years ago.
The question is; when more space is not an option, how can 3PL providers cut overhead expenses in other areas, or build revenue by offering services other than storage to their customers?
In Vancouver and Toronto, the vacancy rate for industrial space has fallen below the national average of 2.2%, as low as 0.9% in Vancouver, and 1.1% in Toronto, according to data from real estate advisory Altus Group Ltd. This is combined with increasing costs for industrial real estate, which have risen by 40% in Vancouver and Toronto over the past 3 years.
For some providers, seeking warehousing in other, less expensive areas may provide some relief from rising prices. However, for those with customers wishing to stock their goods in specific locations close to last-mile dispatch (reducing the risk of long-supply chain delays or disruptions), 3PL providers need to be able to continue to operate in major cities and logistics hubs.
When there's no more space, it's time to offer new services
Public warehousing is not simply storage for freight and inventory. The value of a 3PL warehouse lies in the professional services that accompany stock storage, handling and order fulfillment for customers. This includes providing specific storage conditions, such as wet/dry storage or temperature-controlled storage zones, long-term storage, or specific storage and handling for products with best before or used by dates.
Public warehouse 3PLs also champion simplified ordering integrations, streamlined pick, pack, distribution, and managing or processing of returns. Each of these services provides extensive value for businesses looking to outsource their logistics and inventory handling — and this also provides an opportunity to extend on the services customers value or require to offer more and raise additional revenue.
Enhance your Public Warehousing services
There are a number of additional 3PL services you can offer your customers to increase service value and generate additional revenue without needing more space.
This could include;
Invest in streamlining operations to save money and increase capacity
At CartonCloud, we've helped our customers to succeed in significantly reducing operating costs — cutting admin overheads by up to 80% and taking on 50-60% more business.
Our cloud-based, fully integrated warehouse and transport management software provides streamlined workflows, automated data entry and invoicing, features like barcode scan and printing for accuracy, cross-docking functionality, and much more. For our customers, the system has literally saved them hours a day, reducing admin overheads, minimizing mistakes and errors, and boosting their team's capacity to take on more business.
Let your software do the heavy lifting for you
With CartonCloud you can;
Use automated workflows like wave picking bulk items, saving time, and increasing picking capacity.
Automate sales order allocations for pickers.
Seamless software integrations allow you to connect with customer software and automate sales order data, saving time on manual data entry and boosting accuracy.
Provide instant access to customer reports without phone calls or emails.
Bring your operations online with cloud-based warehouse management software
With a cloud-based warehouse management system like CartonCloud, you can streamline operations from end to end, with one, easy-to-use system.
Cloud-based software as a system also allows you to pay as you go, reducing the entry-level investment and allowing you to reap the benefits sooner. Automate data entry and invoicing, and optimize workflows to boost workforce capacity and increase daily output.
Install wi-fi in the warehouse
This is a game changer, allowing your team to utilize the mobile app with ease at each step.
The CartonCloud mobile app (for iOS and Android) provides automated workflows and instant access to sales orders, stock movement records and more, simplifying warehouse operations and keeping your data up to date at all times.
Streamlining picking tasks with wave pick or replenishment features gives your team more efficiency and accuracy, keeping stock levels automatically updated and ensuring pick accuracy.
Introduce barcode scanning
You can implement barcode scanning for under $100 with entry-level Bluetooth barcode scanners, or for a few hundred if you're looking at an all-temperatures, rugged mobile computer (see our hardware advice to find the hardware that's right for your public warehousing).
The return on investment for barcode scanning, from accuracy and inventory management alone, can cover the cost of implementation in no time.
With barcode scanning in your warehouse, you can accurately identify warehouse and product locations, and immediately check off products as they are selected — updating your stock records and sales order instantly. You can also easily read and capture important information from Serial Shipping Container Codes (SSCC) and custom barcodes.
What's more, for cross-docking or warehouse inventory management, the scan move barcode scan function can save time, boost accuracy and literally change the game for your operations.
Say goodbye to paper processes
Paperless warehouse management will save you time and money, and allow you to expand your operations and services with ease.
If you want to reduce costly overhead and do more business with the resources you have on hand, it's time to do away with complex spreadsheets, paper pick sheets, and manual data entry. Cut hours of manual work, with automation and optimized workflows designed specifically for logistics businesses.
Manually entering orders, calculating rates, and generating invoicing can take hours of your time. Instead, you can use software integrations to automate data entry with unrivaled accuracy, use automated rate card calculations to generate invoices in no time, and with a cloud-based system used by your team at each step, you can ensure your data is always updated- with easy, 24/7 access provided to your customers to view up to date reports and records without you needing to lift a finger.
With rental prices soaring and available space becoming less and less, it's essential for Public Warehousing 3PL providers to find new ways to save costs and maximize their capacity and services offered.
Want to know more?
Get in touch with our friendly team today to book a FREE Demo and see our software in action! Speak to our local team, based in Canada and Australia. We are logistics people too— which means we can work with you to identify the features you need, and how our software can support your business operations.