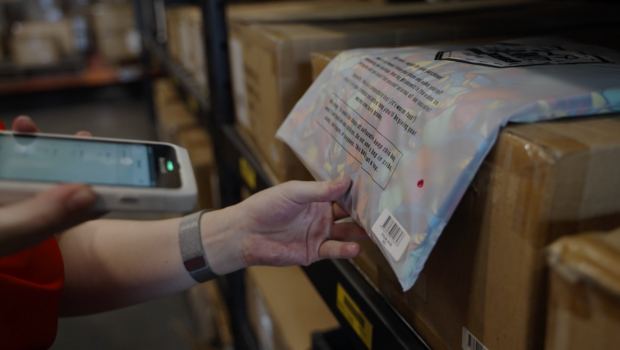 Whether you're a 1PL, 3PL or freight forwarder, maintaining up-to-date inventory and stock records is essential in ensuring your warehouse runs smoothly. As peak season approaches and companies look to how they can optimize their operations and make the most of the seasonal demand increase — the million-dollar question is; how do you achieve warehouse stock accuracy in real-time?
The answer is using automated Warehouse Management Software (WMS) to track your tasks and inventory movement throughout the warehouse as you work. Keep your stock records up to date at all times, with automated data capture and entry, stock movement records, order tracking, and more — all completed for you.

Can automated WMS software track inventory?

Warehouse Management Software syncs your products across its various selling channels, updating inventory at a moment's notice. This can prevent inadvertently running out of stock, or the dreaded double-sell scenario — and can also provide up-to-date reporting and insights you can use to plan ahead for replenishment, stock orders, and even how you position stock within your warehouse, to simplify pick and pack for fast-moving goods.
How does automated inventory tracking work?
For warehousing and logistics, Software as a Service (SaaS) solutions are making access to powerful automation and workflows easier for businesses of all sizes and operations, reducing costly human error and enabling small businesses to do more, with less.
Inventory tracking then:

Before automation was available, in traditional brick-and-mortar stores real-time inventory was maintained through a pen, notebook, and many hours of manual data entry.

Inventory tracking now:

Over the years, AI tech, automation, and robotics have enhanced and become commonplace in our homes and industry. Innovative software has simplified many areas of our lives from voice command AI like Alexa and Siri, to Google Maps routing with real-time updates, online shopping, and omnichannel ordering, to name a few — and the warehouse and logistics industry is no different.


Can SMB logistics companies rise above the economic downturn?
Peak season demand may fall short this season, according to the 2023 shipping report by the Wall Street Journal, as businesses continue to navigate excess inventory and create new strategies to near shore and plan ahead for supply chain stability.

Those hit the hardest by the peak season fluctuation are likely to be small and medium-sized enterprise (SME) logistics operators.
"For SME logistics operators, the peak season often provides a substantial segment of their yearly income," said CartonCloud COO Shaun Hagen.

"In addition, daily operational costs like rent and fuel are continuing to rise, and these costs are often out of the control of logistics businesses in their financial planning — so they need to find other ways to reduce overheads, and offer more services with less resources," Hagen explained.

"More often than not, this is where operators turn to technology like CartonCloud, to streamline operations, reduce overheads, and allow them to scale up without any difficulty. The automation and operational efficiencies they gain from their WMS and TMS software make a huge difference to their annual success and the end-of-year bottom line."
Listen to Shaun's interview with The New Warehouse Podcast, exploring how CartonCloud's technology can support smaller operators to expand and grow despite rising operational costs.
Get real-time warehouse inventory records
With automated WMS software like CartoncCloud, you can track and analyze inventory levels (inbound and outbound), provide alerts for understock or overstock, track fundamentals such as shelf time and best-before dates, track serial numbers end-to-end, and access workflows to streamline orders, replenishment, and put away, for greater operational efficiency.
Maintaining inventory records at scale
Cloud solutions work best for maintaining real inventory at scale. Users can make stock adjustments, updates, inventory transfers, and order tracking within seconds, with updates appearing within moments across the network.
Powerful WMS software created by logistics people
CartonCloud's DNA lies in being logistics software built by logistics people for logistics people. In fact, CartonCloud was originally created as a 3PL warehouse solution for our CEO's own logistics company, over a decade ago.
They knew they needed a solution to automate data and allow them to increase daily output without increasing their headcount, and when they couldn't find a solution on the market that suited their needs and daily workflows, they created their own.
Using the mobile app, you can pair your smartphone with a Bluetooth scanner to start using warehouse location barcodes, incoming freight barcodes, internal barcodes, and order barcodes.
Want to implement mobile barcode scanning in your warehouse? Find out everything you need to know about setting up barcode scanning in your warehouse here.
Implementation
So when should you start using automated WMS software in your warehouse? The answer is, it's never too soon to set up the right systems — especially with a cloud-based system that can grow and scale with you.

Setting up your automation and workflows from the beginning can simplify growth in the future, and allow you to start offering more to your customers, or to attract new customers right away.

Lexington Logistics 3PL reached out to CartonCloud when they had only a few initial customers.

"We came onboard with CartonCloud when we were quite small," said Lexington founder Deanne Luke.

"I've seen the retrospect when working with other businesses implementing different software, where they do it so late in the game, and it's such a big catch-up.

"I probably only had 3 clients on board, but they didn't see that as a problem — they just said ok, what can we do to set up some really good systems and processes now to enable you to bring on clients quicker and much more effectively in future.

"There are so many things a system can provide you that you think was possible! That was a crucial part in identifying what we could be doing differently we could be doing better — and also letting go of the things we were doing, that we may not have been doing as productively.

"By having CartonCloud come on board, it's been one of the best moves that I could have made, and I don't think we would have won as much business as what we do."
Why local, expert support matters
Every warehouse operation is unique and requires a solution with the features, functionality, and set-up that suits their business, customer needs, and services.
This is why at CartonCloud, our implementation starts with learning about your operations. Our team of logistics experts scope the needs and functionality of each client individually, creating tailored demonstration tenancies to walk you through the software, so your demo is specific to you and your needs.
Working with you, each step of the way
Once a customer selects CartonCloud, our expert implementation specialists work with them and their wider team to ensure the setup is correct, and they are getting the most from their system. What's more; CartonCloud offers extensive online training resources, including feature details, set-up guides, troubleshooting, and more.
We don't believe in a one-size-fits-all approach— with CartonCloud you can grow your business your way. Each implementation is carefully considered with the client's needs in mind, with limited to no disruption to your current workflow.
Why does this matter? Maintaining real-time inventory is generally achieved soon after implementation. Users often find the enhanced speed and ease of sync across inventory locations to be an immense benefit, in addition to maintaining their real-time inventory needs.
Get in touch to find out more!
Here at CartonCloud, we've helped over 450 logistics businesses across the globe to scale up their businesses with ease. Drop us a line or click the button below and see how we can integrate with your current operations.
*Page updated October 2023