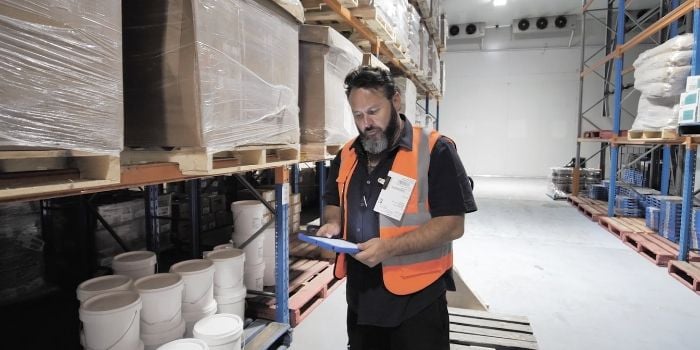 Having a strong warehouse sock control system means that you'll get stock in and out faster with less working hours and reduced chances of mis-picks.
Building a stronger Warehouse Stock Control System
Managers should be doing regular audits to see how they can better optimize their operations for easier, faster and safer access to stock locations. In this guide, we'll be showing you some best practices to help you streamline your operation.
1. Determine the fastest moving stock
You should be tracking your inbound and outbound freight to see which is moving the fastest. Those which are consistently moving at the higher volumes should have BIN locations closest to the receiving and dispatch areas.
With this change of floor plans, not only will you reduce labour time, but you'll also reduce unnecessary wear and tear on machines while improving team performance. Consider also that the fastest moving SKUs should be at waist and shoulder height.
2. Streamline your racking
While floorplans are important, so too are the racking systems. Aim to have clear signage and labels to help personnel navigate their way through the warehouse racking without confusion.
The racking should also have sufficient room for inventory overflow, especially doing seasonal spikes. Lost freight is common when warehouse staff don't have sufficient space to put away stock.
3. Labels make the system work
A stock control system in a warehouse has its roots in the barcodes. By labelling your stock with barcodes instead of permanent markers, key information about the stock including its receiving date and correct storage location can be noted.
Employees are then able to scan inventory pick lists and work out the location in real time without the guess work. A barcode label doesn't need to be complicated either, as just the basic information is needed initially.
4. Implement cycle counting
We recommend that you audit your system quite regularly. One of our favourite methods is cycle counting which is different than a stocktake. A cycle count simply audits a small section of inventory at a time on a rotating schedule.
Essentially, each week a small area is checked for inventory counts instead of waiting for the quarterly stocktake and later discovering missing inventory. This means an entire stocktake doesn't need to be scheduled.
5. Be nimble
Managers need to be willing to optimize their stock control system as time goes on. This includes the changing of floor plans, enhancement of dispatch stations and responding to seasonal trends and the hiring or purchase of new equipment.
Too often warehouses that have been in operating for 5+ years have an ingrained culture of "This is the way it's always been done..." and while that may be true, a manager's focus should be on continous improvement.
Getting started with software
Managing stock control becomes significantly easier with a reliable and scalable software package in place. CartonCloud is ready to help you achieve your warehouse and transport goals, so reach out to our friendly team today for a free demo.