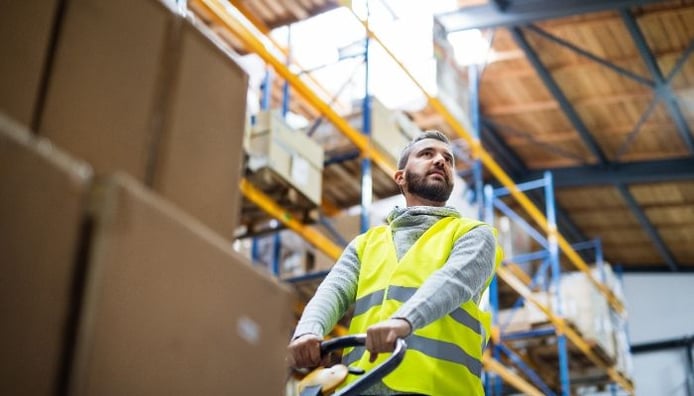 Let's take a look at the top challenges facing 3PLs and how a Warehouse Management System or Transport Management System can overcome them.
The logistics industry is playing a bigger role in Australia's economy than ever before. Third party logistics providers (better known as 3PLs) are moving everything from retail goods to mining equipment and even vaccines around the country. And every consignment helps to keep the Aussie economy ticking over in one way or another. But modern logistics operations are incredibly complex and 3PLs are facing significant challenges in the supply chain.
End-to-end visibility
Not having end-to-end visibility of all logistic operations is becoming a major cause of headaches for 3PLs if they haven't kept up with the pace of technology. That's because everyone in the supply chain today expects to know where an order is at any given time. It's why even companies like Domino's let their customers track how their pizza order is coming along.
Being able to provide visibility greatly increase customer experience. But if a 3PL doesn't have the technology to provide end-to-end visibility, customers are in the dark.
One of the best advantages provided by Warehouse Management Systems and Transport Management Systems is the capability to provide end-to-end visibility for customers. They can access real-time data and updates and make decisions on their operations based on the information. Software can eliminate black holes and visibility constraints you may be experiencing in your supply chain. It also encourages efficiency, accountability, and proactive communication with your customers. 3PL software can overcome the challenge of providing end-to-end visibility.
Meeting and exceeding customer demand:
eCommerce giants are behind a tectonic shift in customer expectations over recent years.
The 'Amazon Effect' describes the impact created by companies like Amazon on traditional business models, including the logistics industry. The Amazon Effect has created a challenge for 3PLs because there has been a shift in demand and customers have come to expect goods to be delivered faster than ever before. The turnaround time expected of 3PLs has never been tighter due to the surge in e-commerce.
Investing in a TMS or WMS can make it easier to keep up with the rapid world we operate in. 3PLs can leverage software to overcome demand challenges increase capacity and create efficiencies:
Remove manual data entry
Create ePODs
Automate invoicing
Allocate consignments easier
Automatically build delivery runs
Driver tracking
Generating these efficiencies with a TMS or WMS will help your business meet and exceed customer demand by quickening turnaround times. As mentioned earlier, customers have also come to demand visibility because of the surge of eCommerce and a TMS/WMS delivers that as well.
Advancements in Technology
Despite the significant advancements in logistics technology, it's surprising how many warehouses and transport operations are still running paper-based processes. Persisting with inefficient, paper-based processes that are prone to loss and error is a common mistake.
Manual records can be easily lost or destroyed and manual entry of data is one of the biggest sources of errors. Paper-based processes consumes one of your most precious commodities – time. Not only can paper-based processes cause headaches to fulfill, but it greatly puts you behind your competition.
While one business is wrangling with manual data entry, their competition is focused on other key areas of the operation.
A paperless warehouse management system streamlines invoice management, which improves customer service and helps to improve your bottom line.
Customers are also now expecting 3PLs to have modern technology like online customer portals, real time tracking, and the ability to check the status of orders in the warehouse.
Why Choose CartonCloud?
CartonCloud is software that can help businesses overcome the challenges currently facing 3PLs. It's Australia's best warehouse management software. It's logistics software made by logistics people.
With the development of CartonCloud, the aim was to build a warehouse management system with a transport management system integrated. The focus was on automating administration processes, accounting tasks to speed up cash-flow and create total transparency for customers while making it really easy to use.
CartonCloud is a feature rich WMS/TMS solution that will streamline your supply chain and logistics operations and help you provide a superior customer experience.
Key features such as easy to use rate cards, electronic POD's, customer online access, automated consignment allocations and automated invoicing, will help fine-tune your transport operations.
If your business is struggling to meet customer expectations or struggling to keep up with technology, get in touch with the CartonCloud team today.