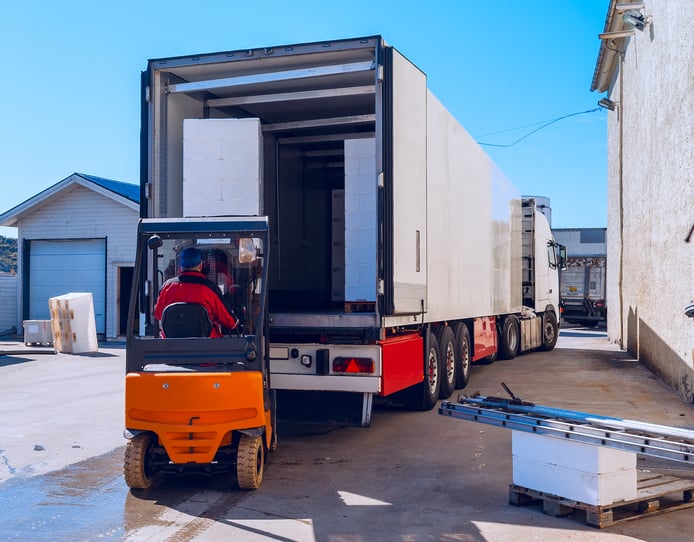 How warehouse and trucking software can make your life easier and level up your operation.
Turning an inefficient operation into a streamlined profit-making powerhouse is one of the motivating factors for a business to integrate trucking software.
And the practical benefits of trucking software, such as a transport management system (TMS) and warehouse management system (WMS), are clear in terms of electronically housing records and managing day-to-day operations.
But a peek under the hood reveals many ways trucking software simplifies processes and solves issues in a way you might not have expected.
Let's look at three issues and how a TMS or WMS can provide solutions.
1 .Trucking Software Automatically Captures and Calculates Costs
Challenge: Manually calculating costs and inventory carrying costs can be burdens on a business' bottom line. Inventory carrying costs are associated with holding stock or inventory in a warehouse to fulfill orders. These costs can build due to inaccuracy and poor visibility of stock volumes and movements. Manually capturing and calculating costs can also consume one of your most important commodities: time.
Solution: Integrating a transport and warehouse management system generates efficiencies by automatically capturing and calculating costs. Trucking software empowers businesses to automate consignments coming in and automatically allocate the consignments to a driver. This reduces admin overheads by as much as 60% and provides a primary record with all of the history about everything that happened to a consignment throughout its life cycle.
CartonCloud also saves your admin team significant time by automating rate calculations and invoicing. Trucking software can also allow you to Mobile Barcode Scan, which confirms that you're picking the right product. These capabilities add up to increase visibility of inventory, support management of stock and reduce inventory carrying costs.
2. Trucking Software Is Perfectly Customiseable To Your Operation
Challenge: Different logistics businesses have different demands. And every delivery run or order received can be different from the last. The industry demands transport and warehouse operators to be able to handle and ship goods in non-standard packaging with alternative sizes and weights and to locations here, there and everywhere. Whether the operation is big or small, businesses require solutions that are customisable - not necessarily one-size-fits-all.
Solution: Transport and Warehouse Management Systems can often scale to the requirements of a particular operation and there are many features that help businesses achieve their unique goals. The ability to construct custom fields against virtually every different type of item is a feature businesses should look for when choosing a management system. This allows you to customise what information is relevant and recorded, whether it's the Container Number on a Purchase Order or a Carrier Consignment Note number on a Sale Order.
3. Effortlessly Build Reputation and Trust With Trucking Software For Customer Retention
Challenge: Now more than ever, customers are demanding faster delivery and turnaround times. This is putting pressure on logistics businesses to review how they operate and what can be done more efficiently to meet demands. Every customer also has different requirements and logistics providers must be able to adapt.
Solution: Trucking software can allow you to customise your document templates to your customer's specifications and requirements. This helps to optimise operational requirements and workflows. Trucking software can also deliver branded invoices and labels to enhance customer experience.
Management systems can also provide secure user groups for your customers to login with. Customers can then see the warehouse orders and stocks and transport jobs that are related to their particular business without seeing anything from any of your other clients. This helps build relationships with customers through transparency and visibility.
CartonCloud Is Trucking Software That Makes Life Easier
CartonCloud is an easy-to-use 3PL transport management system and warehouse management system. It combines everything good about cloud technology and logistics automation to let your business do more.
It's a feature rich WMS/TMS solution that will streamline your operations in ways you might not have expected and help you provide a superior customer experience.
Key features such as easy to use rate cards, customer online access, automated consignment allocations and automated invoicing, will help fine-tune your transport operations.
If you're wondering what the best management system is for your transport warehouse operation, get in touch with the CartonCloud team today for a free demo.