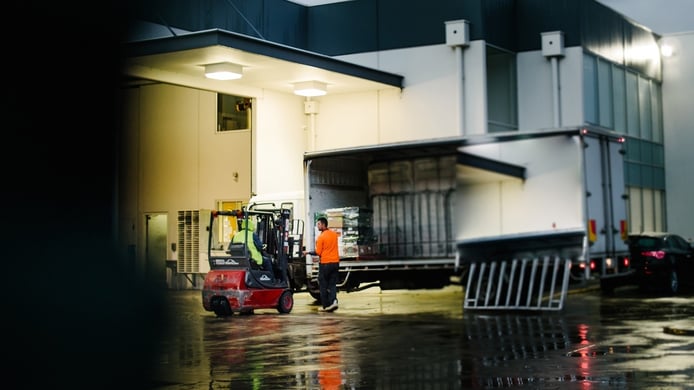 Transport visibility goes far beyond simply knowing the time a truck will reach its destination, it includes knowing the route your driver is going to take, allowing your customers to have access to real-time data, and being able to plan effectively.
Transport visibility is crucial for all parties in a supply chain, in order to monitor business performance, finances, and output.
A transport management system (TMS) can provide you with the kind of visibility your supply chain needs, and allow you to pass on vital data to your customers.
Improved Customer Experience
Providing real-time transport visibility and data to your customers gives them the opportunity to make smart business decisions, based on; when their goods will arrive, transit details, charges, and more.
With a transport management system (TMS) software you can use automated transport updates, electronic proof of deliveries (POD) and clearly communicate estimated time of arrivals (ETA), providing your customers with online access to check in on their freight 24/7, so that they can plan and run their operation more effectively.
Streamlines and Increases Delivery Efficiency
Even the most precise planning requires flexibility, because in logistics, there is so much outside of your control that can impact travel time, delivery turn around, data capture and more. However, the more touchpoints you can link in and integrate, the more control and forward planning you can have.
With integrated systems, you can track other processes that will impact timing, easily communicate with other parties, and view incoming orders ahead of time. With the ability to integrate multiple moving parts, you can optimise and plan your drivers' route, track their progress throughout the day, shift jobs as needed when they are on the road, and have this all automatically communicated to the driver and other parties involved.
Ensures Data Accuracy and Updates in Real-Time
Supply chains rely on accurate and real-time information to be able to operate effectively. Without reliable on time data, breakdowns and black holes appear in your logistics network. The pressures and flow on disruptions experienced throughout COVID lockdowns was a prime example of this happening, with global impact.
If issues occur during transit, or one party is unable to meet their delivery time, the knock-on effects is felt by all parties involved in the supply chain. This is why it is crucial that you are able to easily record and communicate when unplanned events occur.
Using the right TMS software, your can view incoming orders and customer requests and plan your driver routes and truckloads accordingly. Furthermore, drivers will be able to communicate their own status easily with customers and other partners, and provide photos to ensure plans are able to be flexible and adaptive to real-time information and changes.
This not only improves customer service, but it allows you to be proactive and deal with challenges as they arise and remediate the situation quicker.
Transport Visibility with CartonCloud
A cloud-based TMS software, such as CartonCloud, eliminates any black holes and visibility constraints you may be experiencing in your supply chain. It enforces efficiency in your operations, accountability, and proactive communication with your customers.
CartonCloud is a feature-rich TMS solution with automation and cloud in mind. It will streamline your supply chain and logistics operations and help you provide a superior customer experience.
CartonCloud's TMS is designed with key features such as easy-to-use rate cards, electronic POD's, customer online access, automated consignment allocations, automated invoicing, and driver tracking to help fine-tune your transport operations.
Want to know more?
Get in touch with our friendly team today to book a FREE Demo at a time that suits you. See our software in action, talk to our experienced team about your operations and services, and find out how CartonCloud can help you revolutionize your operations with ease.